Joined

Jun 4, 2017
Messages

1,568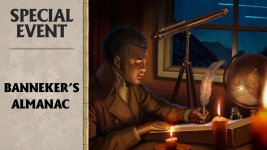 This weekend is our Banneker's Almanac Event! Enjoy these discounts for a limited time!
Event lasts from 15:00 UTC 2/14 until 15:00 UTC 2/17.
25% off the following building upgrades:
• Farms
• Caravans
• Redoubt
• Catapult
33% off the following troop upgrades:
• Ranged Siege
• Armored Car
• Wall Miner
• Bazooka
Benjamin Banneker, born during slavery to free African-American parents, was a self-educated farmer, writer, mathematician, and astronomer who successfully predicted lunar and solar eclipses. He helped survey land for the new capital of the United States and corresponded with Thomas Jefferson, challenging him to ensure racial equality. Banneker is best known for the almanacs he published from 1792-1797 which contained a wide array of scientific and literary writings, including his own astronomical calculations.