Big Huge Moderator
Staff member
Joined

Apr 21, 2015
Messages

304
Awards

2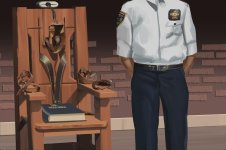 This weekend is our eighth Black History Matters Event focusing on the execution of George Stinney.
In March 1944, the bodies of two young white girls were discovered in Alcolu, South Carolina. Police arrested 14-year-old African-American George Stinney as a suspect of the crime. Stinney was questioned alone, without his parents or an attorney present. Police stated that Stinney had confessed to the crime while in custody. However, no confession statement signed by Stinney is known to exist. The only written record of his confession was in the form of notes provided by an investigating deputy. The entire court proceedings for Stinney took a single day with the all-white jury deliberating for less than 10 minutes before convicting Stinney of first-degree murder. The judge sentenced Stinney to death by electrocution. Three months later, in June 1944, Stinney was executed. Stinney's parents were only allowed to see him once between the time of his arrest and his execution. Due to the threat of being lynched, the family was not allowed to see their child any other time. George Stinney is still the youngest American to be sentenced to death and executed. On December 17th, 2014, Stinney's conviction was posthumously vacated, 70 years after his execution. The judgement noted that while it was possible that Stinney could have committed the crime, the prosecution and trial were fundamentally flawed. It was ruled that South Carolina had failed to grant him a fair trial, and that the execution of a 14-year-old constituted cruel and unusual punishment.​
During this time, you can get 33% off Heavy Infantry, Ranged Infantry, Supply Vehicles and Wall Miner troop upgrades as well as all War Coalition upgrades.
Event lasts from 14:00 UTC 8/21 until 14:00 UTC 8/24.