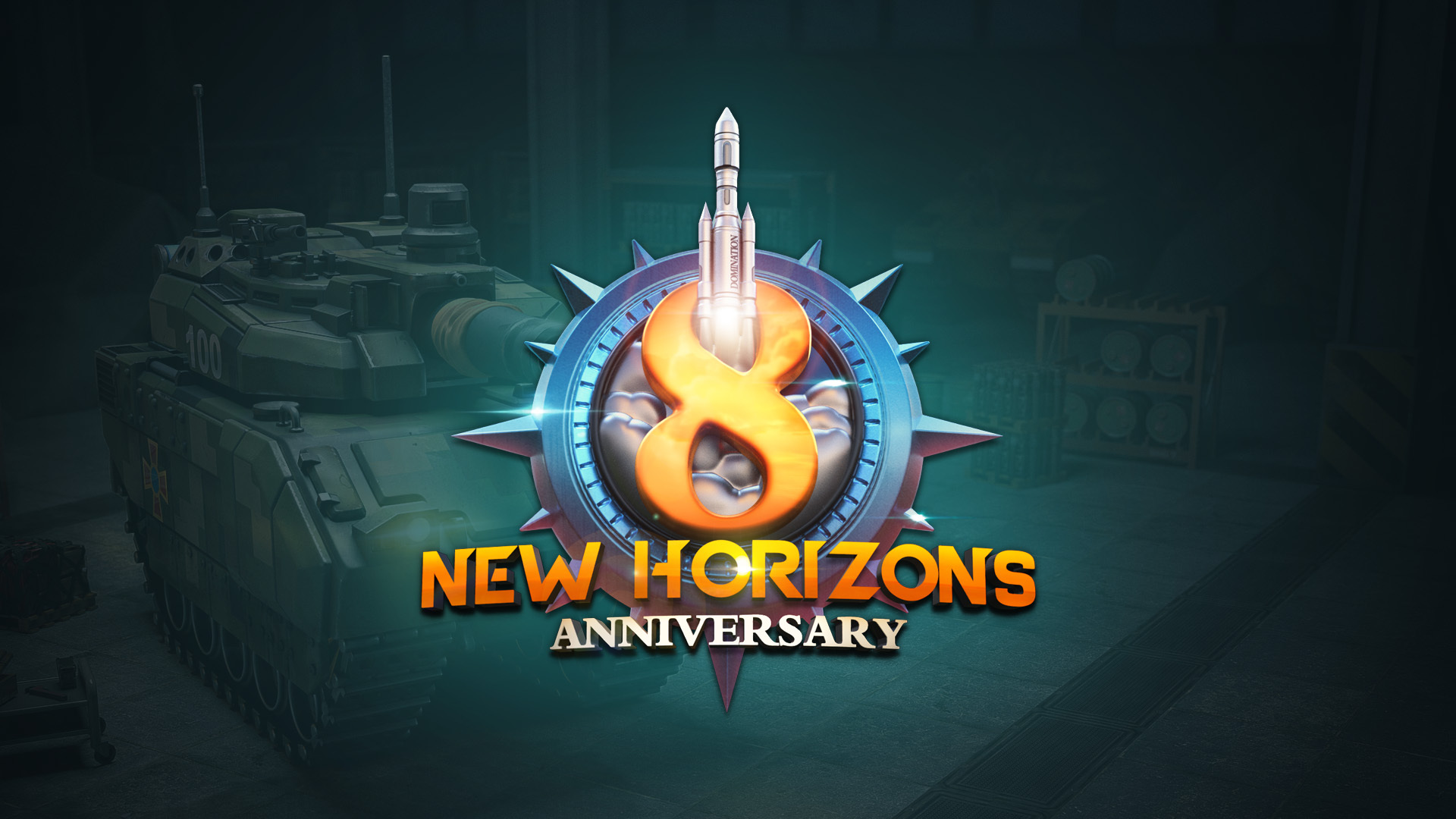 Sitrep #3 is Live!
Greetings Leaders,
Welcome to Sitrep 3, we're ramping up for our 8th Anniversary and have some details on the road ahead for DomiNations! Today we'll be talking about more reward opportunities, our new seasonal format, and the newest Drone Age Upgrades!
Dom 8th Anniversary New Horizons
We hope you're enjoying our Countdown to 8th Anniversary Event! As the event wraps up you'll be jumping headlong into the 8th Anniversary Season: New Horizons, with plenty of discounts and sales to look forward to.
You'll start April with access to tons of Special Council Committee Recruitment packs that feature Uncommon or better Councilors each week!
April will begin the new Season Pass, and each week you'll have access to additional Episodes to increase your rewards.
Additionally, you can expect a slew of boosted Units coming in HEAVY during April's Season Event! We'll go over full details on the boosted units in a blog post on our forums in the near future. It's certainly an explosive season to look forward to!
Seasonal Update
Starting with Season 1: New Horizons, you'll be participating in what the future of Seasons will look like going forward!
Seasons will run month to month, for four weeks, and offer a Season pass that features new bonuses, goals, and rewards for you to obtain!
For Season 1 we're going to increase the firepower of Heavy Tanks, with the caveat of decreasing their overall health. This will include the Heavy Tank Mk6 and Mk4 Troop Tactics.
Be careful leaning into this new boost as Defenders will see a damage increase to Anti-Tank Gun, Defenders Spawning from your Bunker, and Bazooka Towers! There's plenty more to this season and you'll definitely want to check out our forums for the full details!
In future seasons we'll continue to highlight specific units and buildings. Looking to prepare for a season ahead of time? You may want to consider the types of units you're receiving in your Episode Passes.
Seasons and Episodes
Seasons will feature multiple passes for you to gain even more rewards! You'll have access to a Season Pass that will last the entirety of a Season, and each week you'll be able to purchase an Episode Pass.
Players will continue to obtain rewards the way they originally did during Events. Previously there was only one Event Pass in a week, but in the future, we're going to stack multiple Passes giving you additional opportunities for rewards!
The Season Pass will last as long as a Season for a total of up to four weeks!
Each week during a season we'll feature these Weekly Episode Passes! You'll make progress with goals that can also align with the overall season, and gain rewards that will prepare you for subsequent seasons!
Season Passes and Episode Passes will both have a Free track and a Premium track that is available to purchase. For just completing Event Goals you'll gain even more rewards than you did before when only one Event Pass was available! Gain access to even more rewards when you upgrade these Passes to Premium Passes.
New Uni Leader
We're working on implementing an electrifying new University Leader to support your endeavors! We'll be sure to give you a jolt of information in the near future!