Joined

May 6, 2022
Messages

418
Awards

1
This week we're kicking off our Countdown to 8th Anniversary Event, and offering plenty of opportunities to complete your Legendary Artifact collection!
Events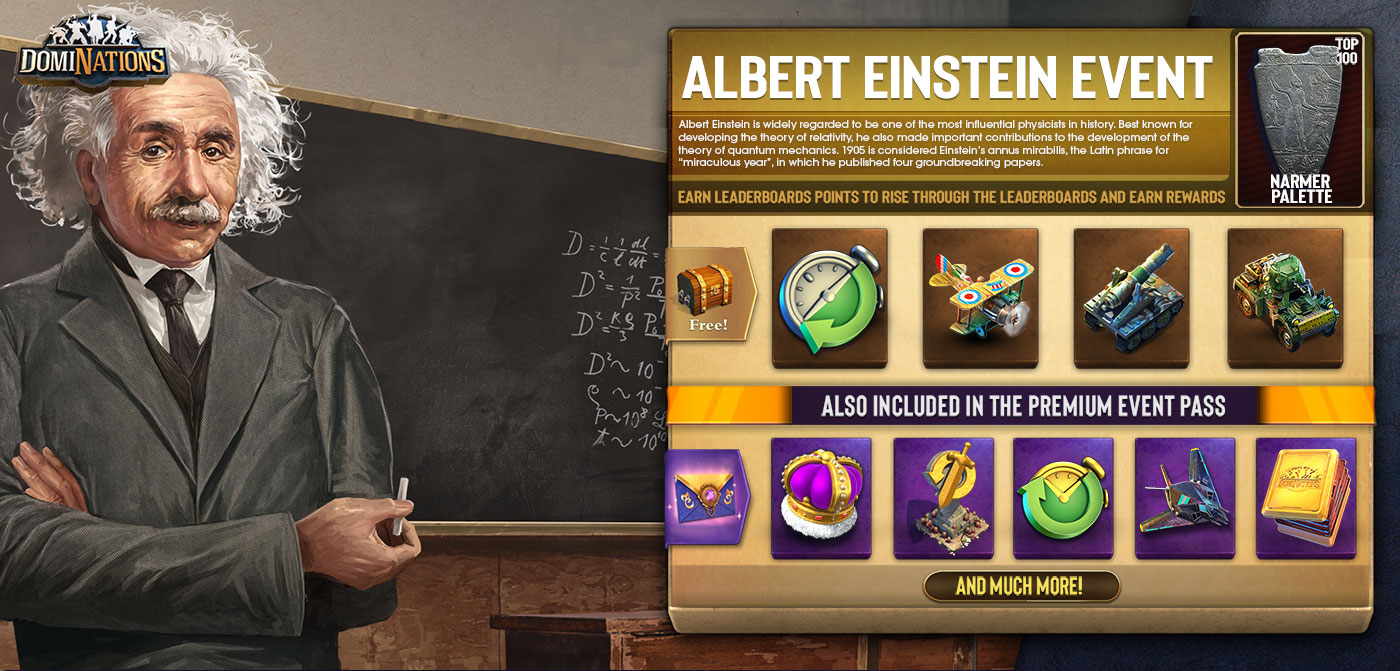 Albert Einstein Event 3/9-3/16
Our 5-Day Albert Einstein Event pass will have you saying EUREKA on 3/9! You'll be able to obtain Armored Car Mk3, Heavy Artillery, Rickenbacker Plane Troop Tactics and much more on the Free Track! For Premium Event Pass Holders you're looking at up to 19000 Crowns, 11x Legendary Recruitments, and 7 5-Day Speed Ups! Ranking within the top 100 gets you a chance at the Narmer Palette Legendary Artifact!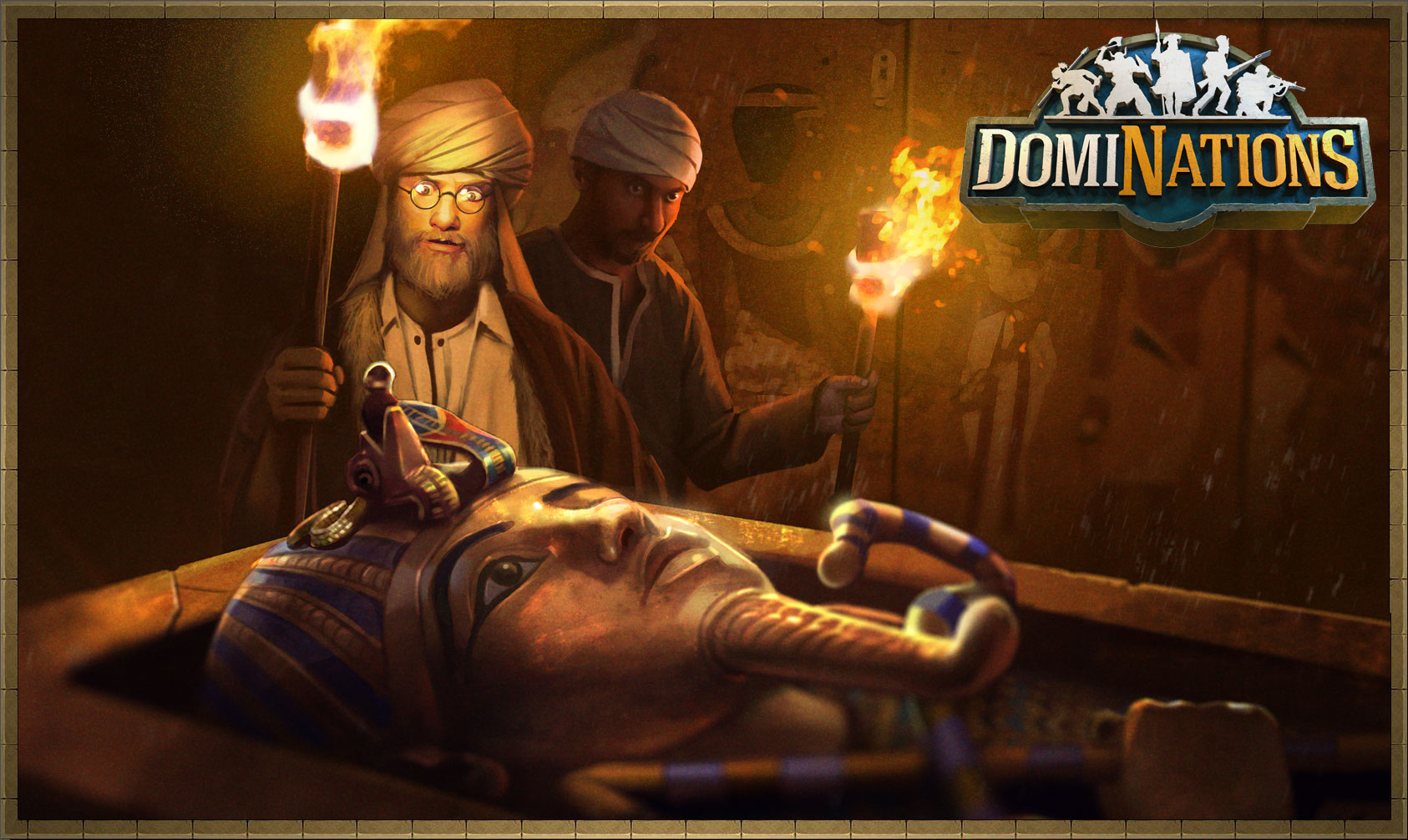 King Tut's Tomb Event
The King Tut's Tomb Event returns 3/7 and ends 3/14. You'll be able to level up your Museum Artifacts for 20% less Blueprints and Resources during this period!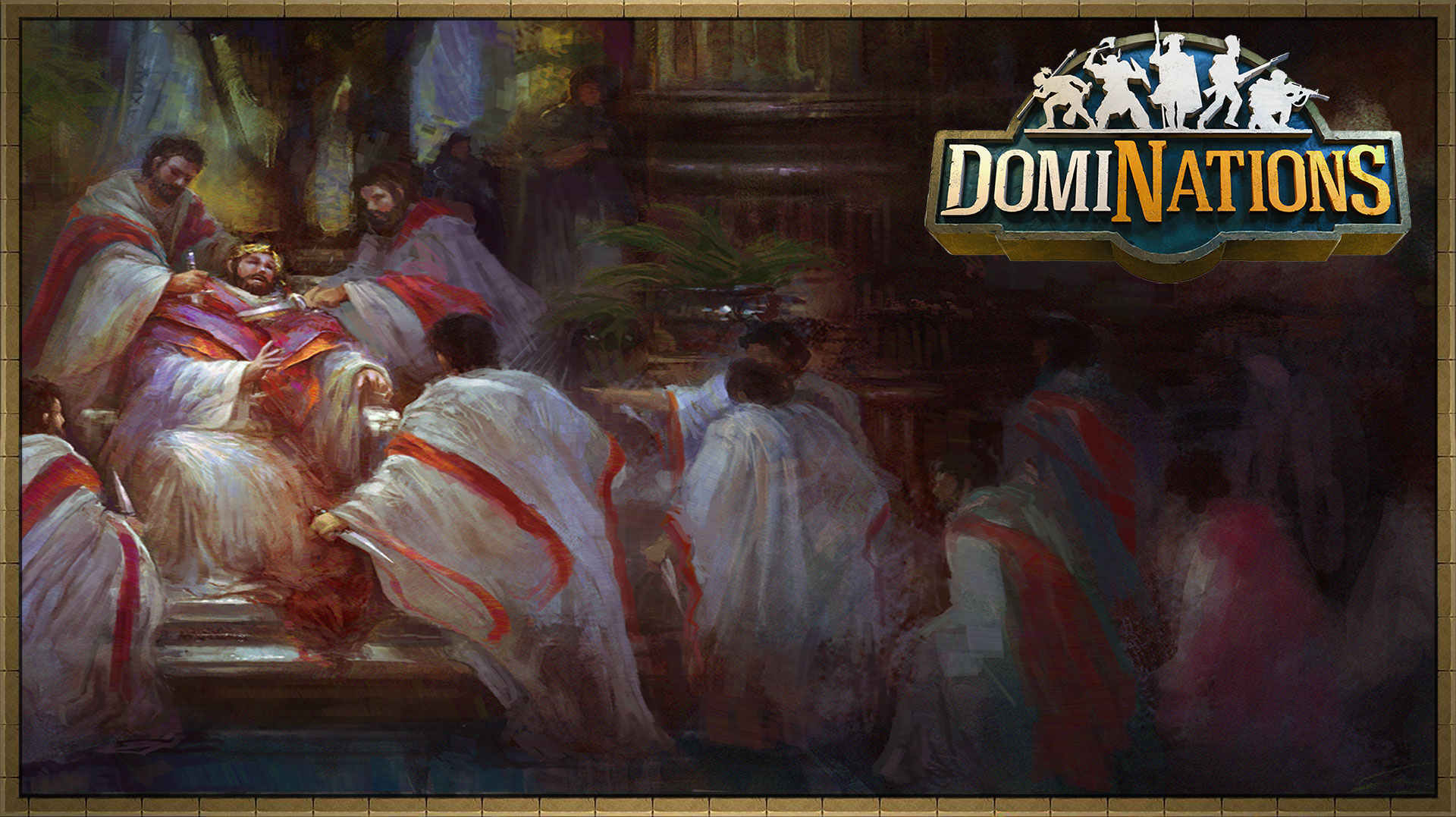 Ides of March Event 3/9-3/16
This week is our Ides of March Event!
Beware the Ides of March!' says the Soothsayer in William Shakespeare's play about Julius Caesar. That day, the 15th of March in 44 BCE, is when the Roman Dictator was assassinated by a cabal of his political rivals. Before his death Caesar rose to prominence via his success in the Gallic Wars, which greatly expanded Rome's borders. In 49 BCE he crossed the Rubicon river into Italy and assumed control of the Roman government, enacting a number of social and governmental reforms. After his death, his nephew Octavius would go on to become the first emperor of Rome, taking the name Caesar Augustus.
Enjoy these discounts for a limited time!
25% off the following building upgrades:
• Caltrops
• Redoubt
• Blacksmith
• Temple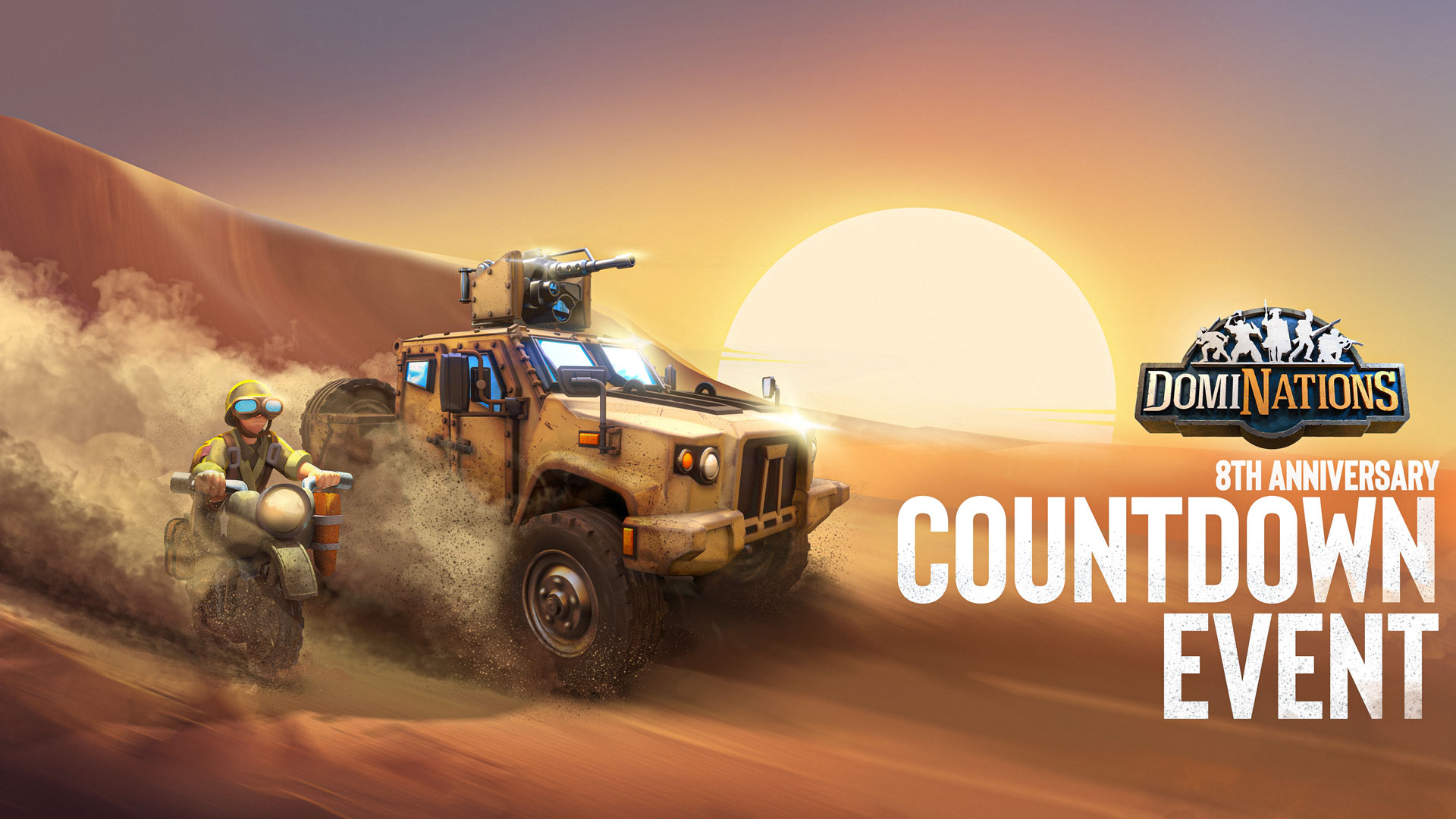 8th Anniversary Countdown Event 3/9-3/30
This week will begin our 8th Anniversary Countdown Event! You'll have plenty of Boosted Units and Boosted Resources to support them. Catch the full details from last week's post
here
!
Sales
Leading into our Countdown to 8th Anniversary Event, we'll have a couple of chests to kick start the event festivities!
First is our Anniversary Countdown Chest Sale, this chest is filled with plenty of Countdown Event buffed Troop Tactics and even a shot at the Legendary Aztec Calendar Artifact!
With the Countdown Event Special Sale, you can also grab another quick boost to your Event Boosted arsenal. This will give you some quick Troop Tactics including General Omar Bradley, Veteran Motorcycle Raider, and more!
Both of these Countdown to 8th Anniversary Sales will run from 3/9 to 3/16!
You didn't hear it from me, BUT we'll be offering a Power Plant sale that has a bit of a visual bug. The Power Plant will actually give you a 50% reduction in Airstrip Troop Training Time and Tactics Training Time! Usually, this would only be a 25% reduction and will show that in the info window. A bit of warning though, once the Power Plant expires any outstanding Training will revert back to what it would have been without the 50% reduction.
Museum Sales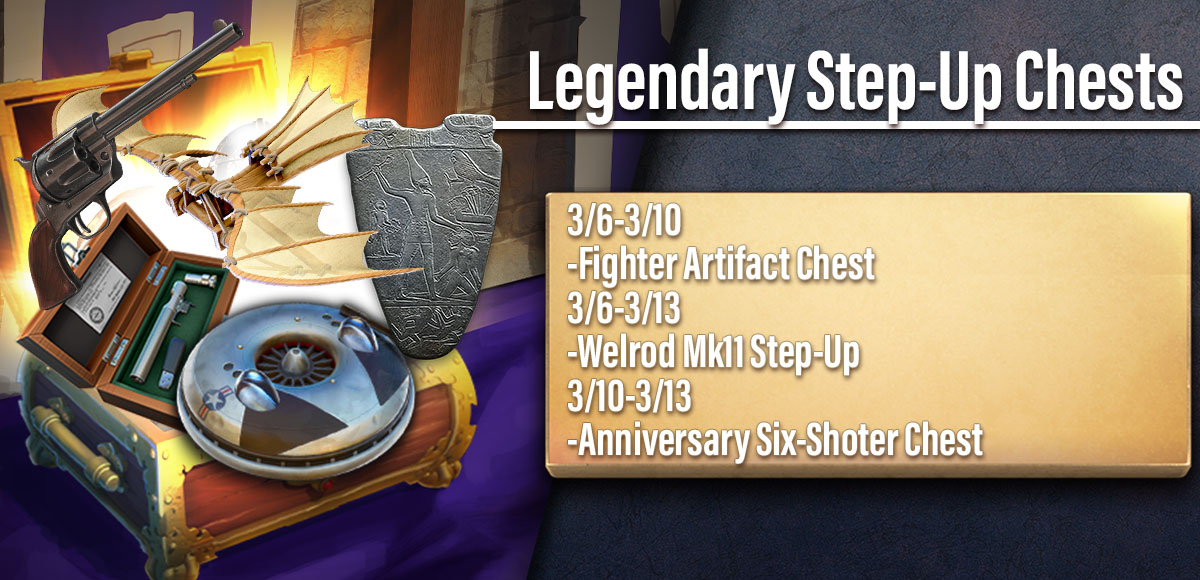 Fighter Artifact Chest 3/6-3/10
The Fighter Artifact Chest features many Legendary Artifacts including Vz-9 Avrocar, Da Vinci's Flying Machine, Narmer Palette, and more!
Welrod Mk11 Step-Up 3/6-3/13
This step-up sale features the Welrod Mk11 Chest getting you multiple chances at the Welrod Mk11 Legendary Artifact. Completing the Step-up will guarantee you the Legendary Artifact!
Anniversary Six-Shooter Chest 3/10-3/13
The Anniversary Six-Shooter Chest will give you multiple chances at the Legendary Six-Shooter Artifact.
Treasure Passes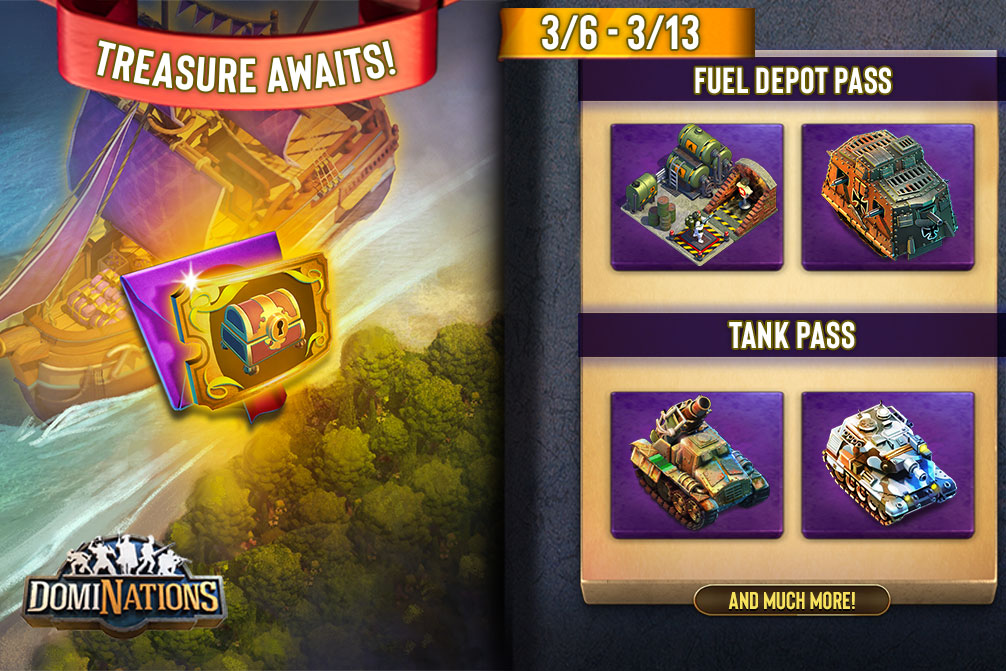 This week we're featuring the Fuel Depot Pass getting you a Fuel Depot Building, A7V Tank, and Flamethrower Troop Tactics. You'll then continue to get daily A7V Tanks and M67 Zippo Troop Tactics.
We have a couple of Tank Passes on the way, one featuring the Heavy Tank Mk6 and getting you daily Heavy Tank-themed Troop Tactics. We also have the Ha-To and Leopard Tank Troop Tactics Pass that will give you daily Ha-To Troop Tactics as well!
Additional Passes Include:
War Hall Artifacts

Daily chances at War Hall Museum Artifacts

Main Hall Artifacts

Daily chances at Main Hall Museum Artifacts