BHG Community Manager
Staff member
Joined

May 6, 2022
Messages

609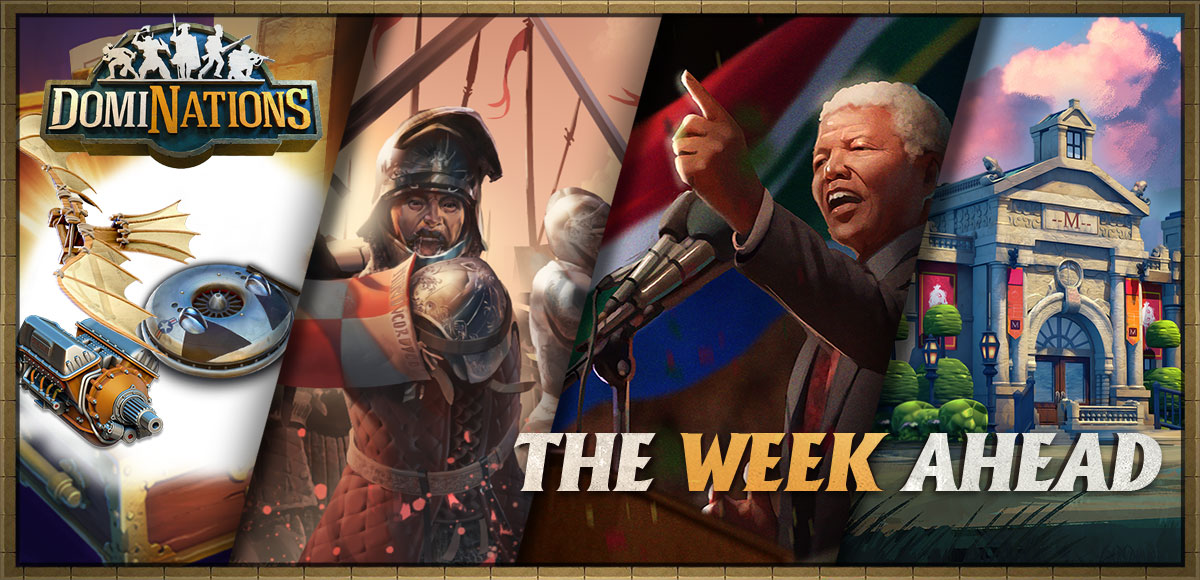 Greetings Leaders,
This week Information Age and Drone Age discounts are live in Summer for the Ages! You'll also find the Gemini 8 Glove in our Guaranteed Step-up, alongside explosive opportunities in the Gunpowder Episode! Check out our week ahead in DomiNations.
Summer for the Ages 2023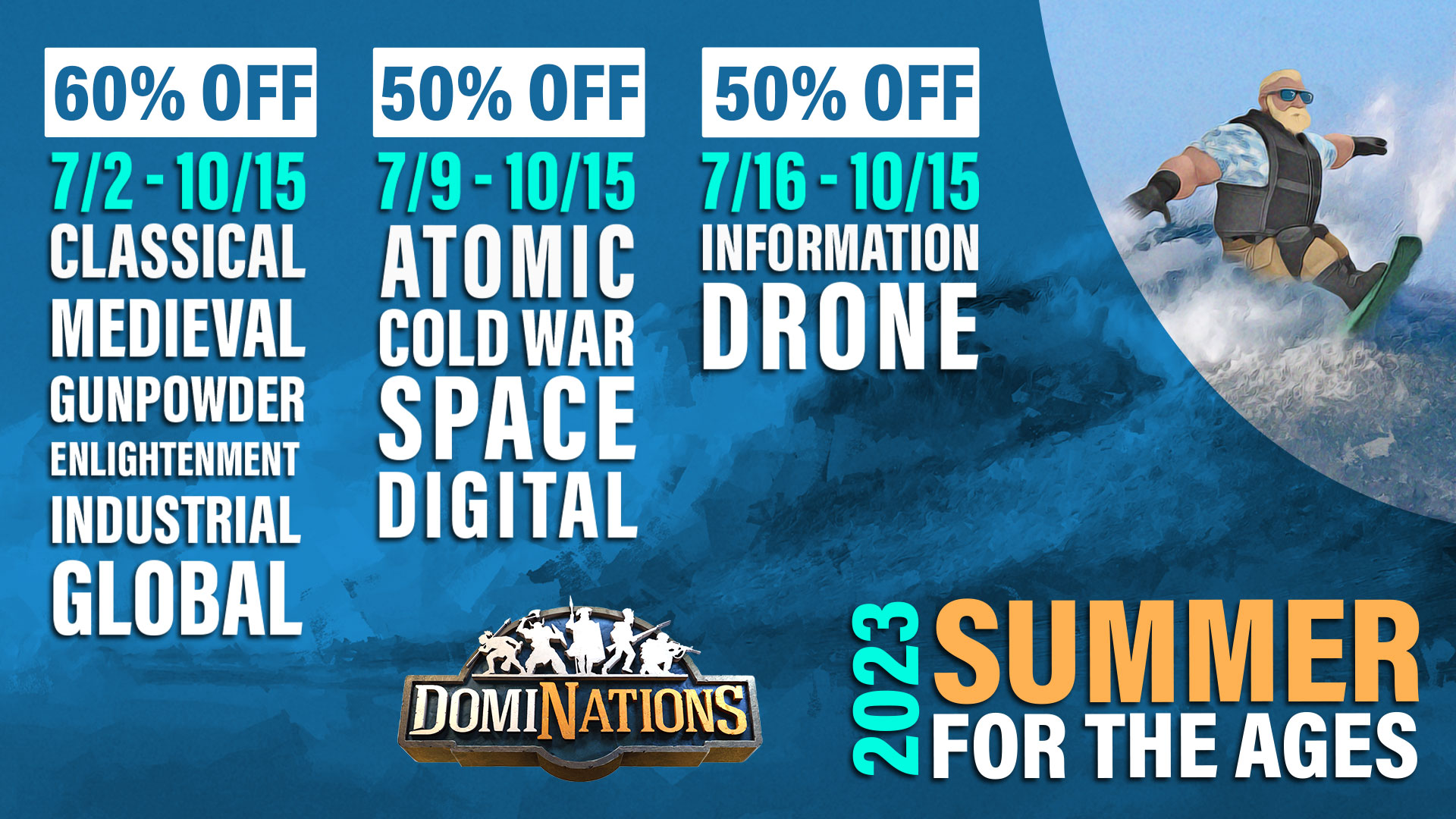 The final two Ages, Information and for the first time Drone Age, are now joining the 50% Resource Discount wave when Aging up! Make a Splash this summer with instant Age Ups! You'll have until 8/6 for this Discount wave before they're reduced.
Episodes 7/21 - 7/26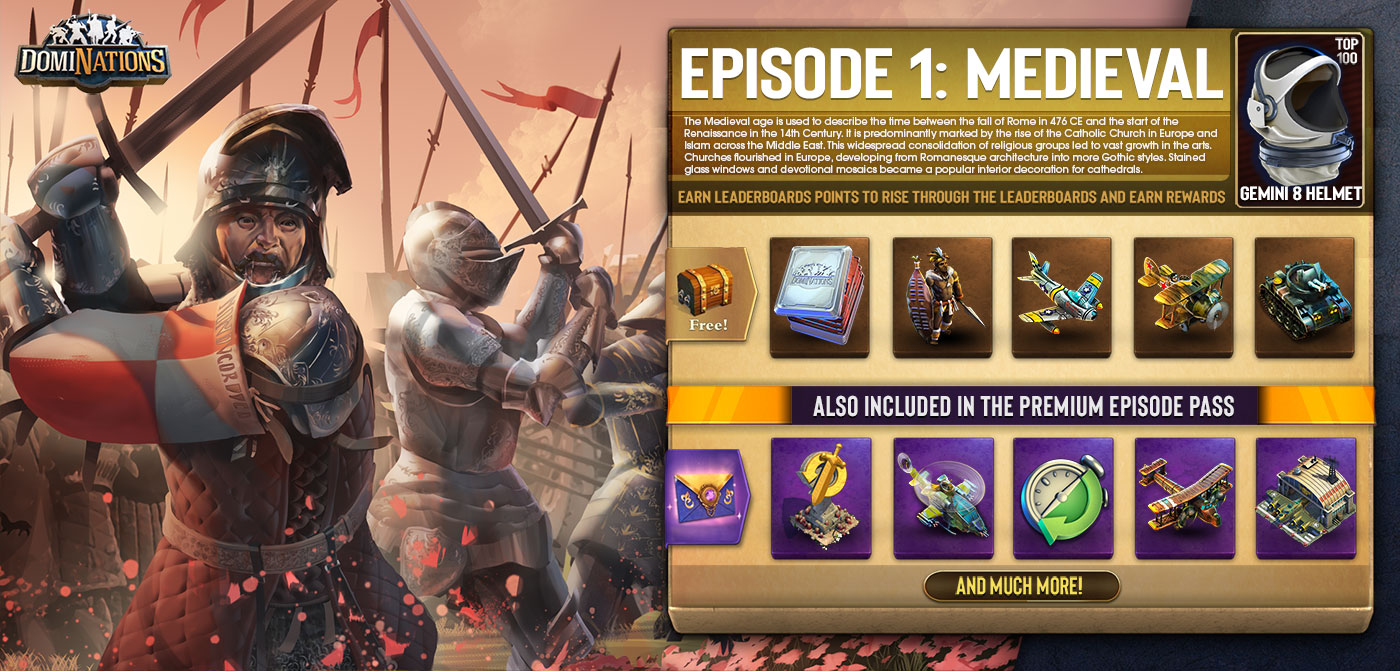 Medieval Episode
The Medieval Episode is on the way featuring a Premium Recruitment, Captain McConnell and Night Witch Troop Tactics, and more.
Premium Pass holders can acquire explosive opportunities with Veteran Combat Engineer and Vickers Virginia Troop Tactics. You'll also be able to obtain the B-17 Hangar!
If you're one of the Leaders capable of ranking within the Top 100 on the Global Leaderboard you can earn yourself the Gemini 8 Helmet Legendary Artifact.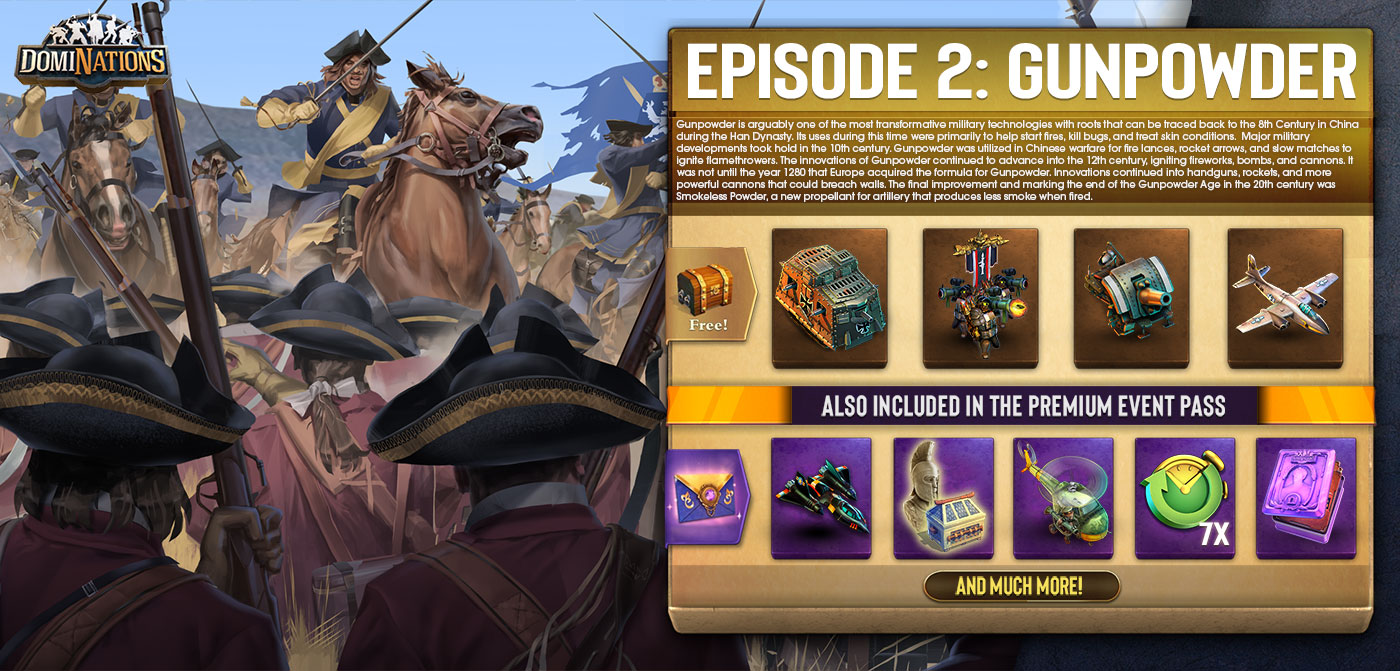 Gunpowder Episode
The Gunpowder Episode features Big Bertha and B-45 Tornado Troop Tactics on the free tier.
Premium Pass holders can get multiple chances at the Leonidas Bust with the Leonidas Bust Chest. You can also acquire Recon Planes, Eisenhowers, and Legendary Plus Recruitment!
Events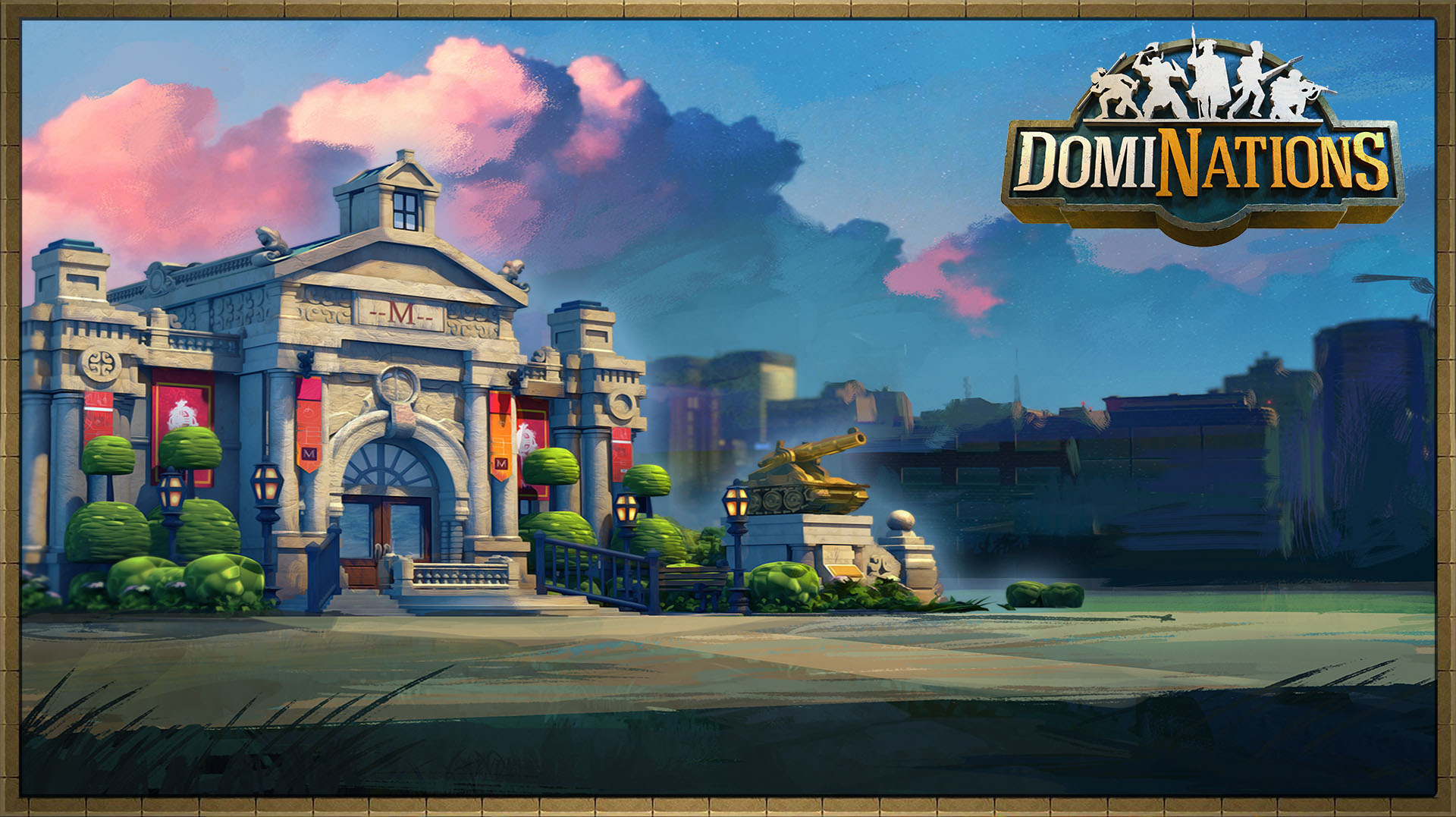 Lucky Peace Museum Event 7/18 - 7/25
For the duration of the Lucky Museum Crafting Event, all Main Hall Artifacts crafted have a 5x chance to have benefits starting at 11%! Fully upgrade these benefits to get an incredible 20% bonus to a particular attribute in your empire!
Note: During this event, only Main Hall Artifacts will be crafted. No War Hall Artifacts will result from crafting during the Lucky Museum Crafting Event.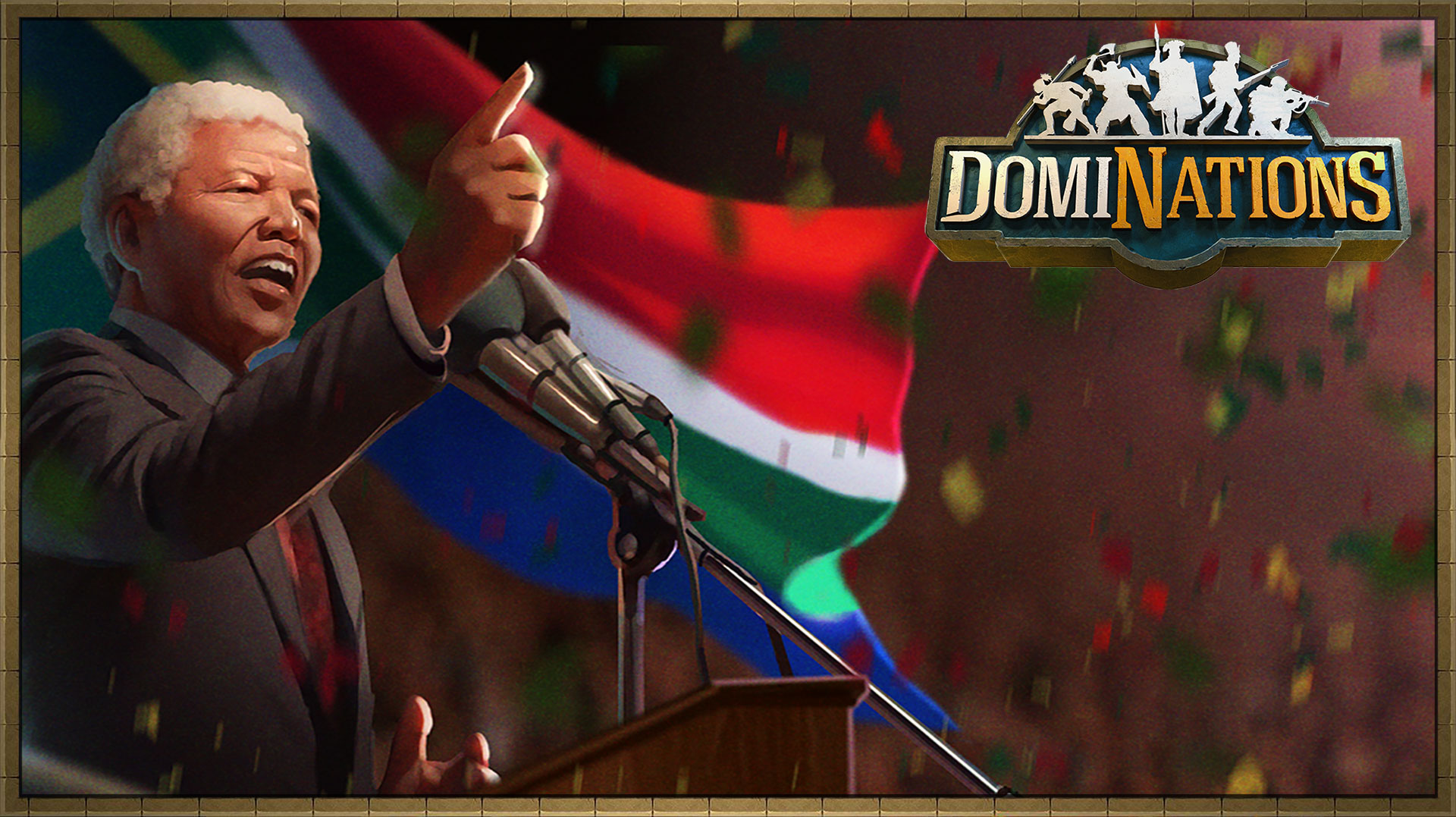 Nelson Mandela Event 7/16 - 7/23
This weekend is our Nelson Mandela Event!
Born in South Africa in 1918, Nelson Mandela was the first person in his family to receive a formal education, though even as a young man he got in trouble for protesting university policies. While studying law in Johannesburg, Mandela joined the African National Congress, a political group dedicated to ending South Africa's oppressive Apartheid system. For his role in fighting Apartheid, Mandela was arrested and jailed for 27 years, 18 of them in the brutal Robben Island Prison. Four years after his release from prison Mandela was elected President of South Africa and Apartheid had been abolished. Nelson Mandela died in 2013 a global icon of tolerance and democracy.
Enjoy these discounts for a limited time!
33% off the following Coalition upgrades:
• Maori
• Indians
• Russians
• Filipinos
Legendary Artifacts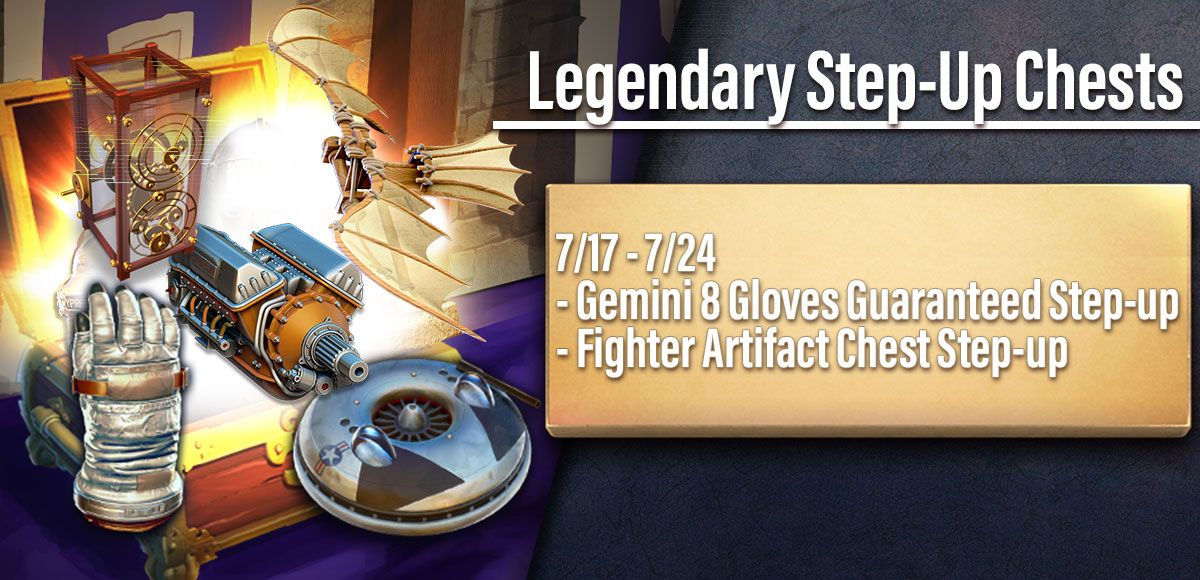 Gemini 8 Gloves Guaranteed Step-up
Multiple chances in the Gemini 8 Gloves Chest to acquire this Legendary Artifact. Complete all steps to Guarantee The Gemini 8 Gloves Legendary Artifact!
Fighter Artifact Chest Step-up
This Step-up Sale features the Fighter Artifact Chest. You'll find multiple Legendary Artifacts in this chest including Antikythera Mechanism, Vz-9 Avrocar, Da Vinci's Flying Machine, Spitfire Engine, and more!