Joined

Mar 31, 2015
Messages

293
Ben je op zoek naar een actieve nederland/vlaams-stalige alliantie ?
Wil je je aansluiten bij een leuke gezellige grote groep nederlandstalige World War Winnaars ?
Sluit je dan nu bij ons aan, en wordt lid van de grootste NL-BE-talige alliantie in dominations !!!
Wij zoeken actieve leden die regelmatig spelen, dus die zowel spel en sociaal actief zijn Voor de koploper alliantie minimaal 1800 medailles en level 100.
Is je level lager ,maar zijn je medailles heel hoog ? Mag je je natuurlijk ook aanmelden, is er plek kun je er bij.
Heb je niet deze aantallen ? Dan hebben we 4 groei allianties,
Dutch Warlords (lvl 100 en 1800 medals)
Dutch Warlords2 (lvl 80 en 1200 medals)
Dutch Warlords3 (lvl 45 en minimum 800 medals)
Dutch Warlords4 (lvl 35 en minimum 500 medals)
Dutch Warlords5 (geen eisen voor aanmelding)
Hier kun je je ook aanmelden. In de groei allianties kun je tips en sterke troepen krijgen zodat je zo snel en veel mogelijk over het spel te weten krijgt, en eventueel door kan stromen naar de hoofd groep om de ranking in de top 100 te laten stijgen !
Heb je zin in om dit spel in een gezellige sfeer voort te zetten ?
Zoek ons dan op via je Alliance Gate met "Dutch Warlords", let op het vaantje, die zijn van de 5 groepen hetzelfde, de hoogst genoteerde is onze hoofd alliantie.
Veel plezier met spelen en graag tot ziens in 1 van onze groepen !
The Dutch Warlords Crew.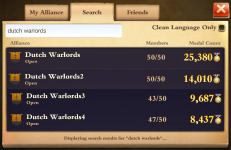 Dutch warlords 1 staat standvast in de top 10 allianties wereldwijd
Dutch warlords 2 staat inmiddels dik in de top 50 ranking
Dus ben je nog medieval/gunpowder and wil je in een sterke alliantie met potentie ? Meld je aan !
Ben je nog iron/classical, meld je aan bij Dutch warlords 3, 4 of 5 en ga met ons de gevechten met andere allianties aan !

De eerste World Wars zijn gevoerd en met succes !! Kom erbij en ga samen met ons de het slachtveld op !
█████████
███
███
███
█████████
███
███
███
█████████
███
███
███
Last edited: