BHG Community Manager
Staff member
Joined

May 6, 2022
Messages

619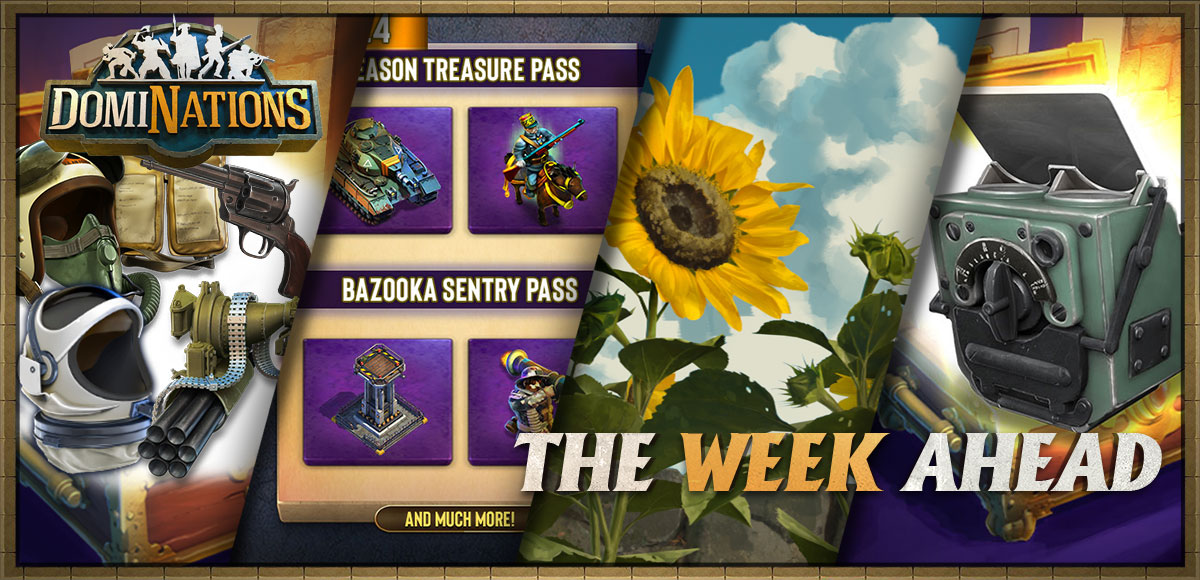 Greetings Leaders,
This week we're celebrating Earth Day! We're also introducing another brand new Legendary Artifact, and the New Horizon Season flash sale closes out the week!
Events
Earth Day 4/21-4/26
This week's episode celebrates Earth Day! On the free track, you can obtain Red Baron, Motor Machine Gun Service, and Heavy Tank Mk4 Troop Tactics. Premium Episode Pass offers even more with 12h Speed Ups, Kamov Ka-50 Army, and multiple Nighthawk Troop Tactics! Those placing within the top 100 on the Global Leaderboard can get the T-34 Tank Engine Legendary Artifact.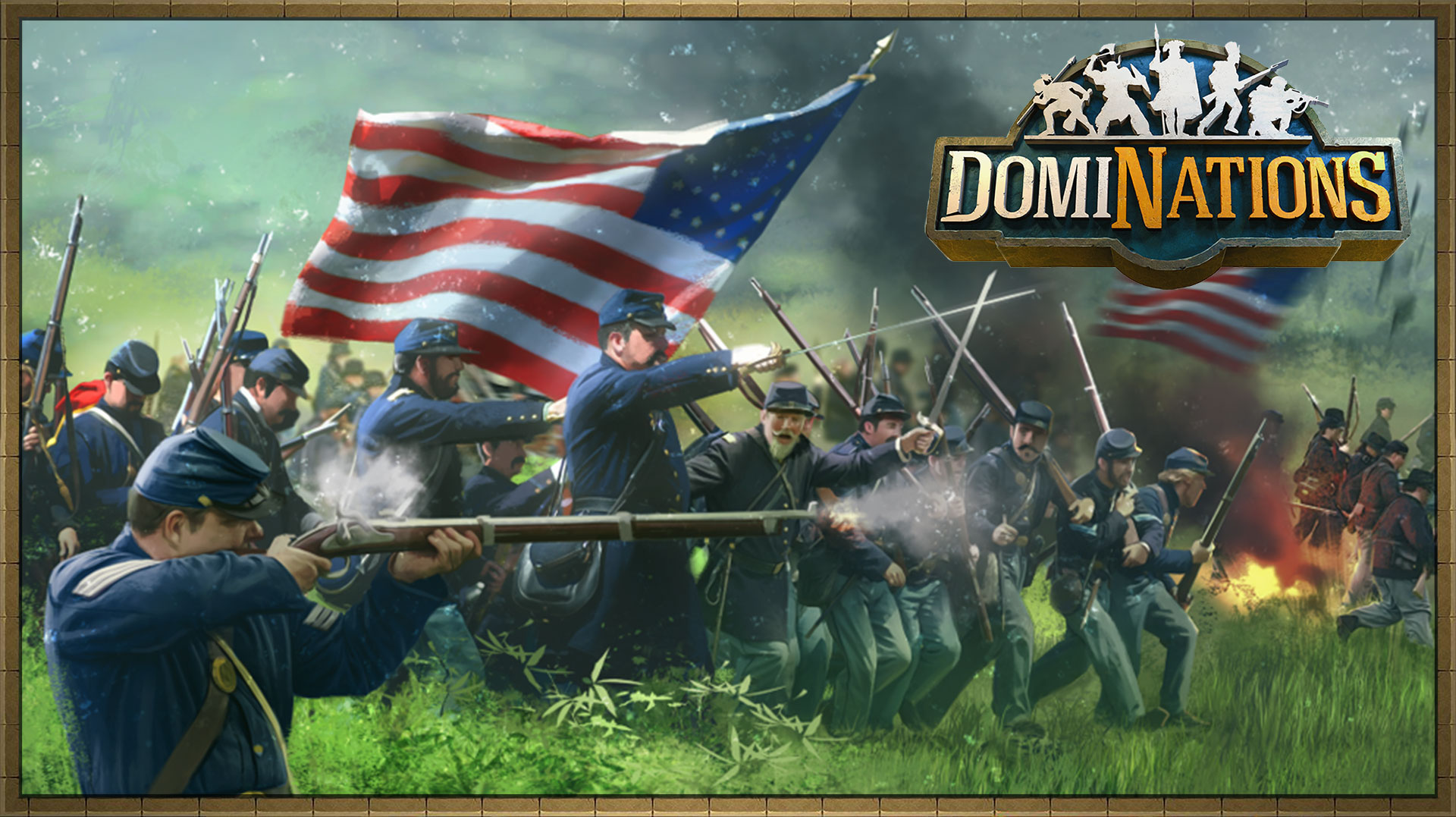 Civil War Event 4/16-4/23
This week is our Civil War Event!
The American Civil War began after decades of tension over whether the U.S. federal government had the power to prohibit slavery in territories that had not yet become states. Those tensions reached a boiling point with the election of Abraham Lincoln in 1860. He was the first Republican presidential candidate to run on a platform pledging to keep slavery out of the territories. Lincoln's victory in the 1860 election caused seven southern states to secede from the Union and form the Confederate States of America. Four more states would join the Confederacy after the Confederate army took Fort Sumter in Charleston, South Carolina in April 1861. Over the course of the next four years, there would be thousands of military engagements, and fifty major battles to determine the outcome of the war. The result of the conflict was the deadliest war ever fought on American soil, with 620,000 soldiers killed and millions more injured, and an end to slavery in the United States.
Enjoy these discounts for a limited time!
25% off the following building upgrades:
• Oil Refinery
• Museum
• Factory
• War Academy
33% off the following troop upgrades:
• Supply Vehicle
• Heavy Tank
33% off the following War Tactic upgrades:
• Sabotage
• Demolition
Season Sales
Season Chest Sale and Season Special Sale 4/16-4/23
The New Horizons Season Chest will still be available this week. You'll get 10 chances at various season boosted Troop Tactics including the Zulu Kraal and Samurai Stable, and even the Stopler Revolver Legendary Artifact.
Also, the Season Special Sale's availability continues into this week. A Step-Up sale that gets you some additional Season Boosted Troop Tactics featuring the Heavy Tank Mk6.
Season 48hr Flash Sale 4/22-4/23
Starting at 12am EST on 4/22 we'll be offering five rotating sales each lasting 3 hours until 4/24 12am EST! You can expect to stock up on Tanks, Helicopters, Planes, and SpeedUps. Each sale offers three steps for you to pick up!
Sales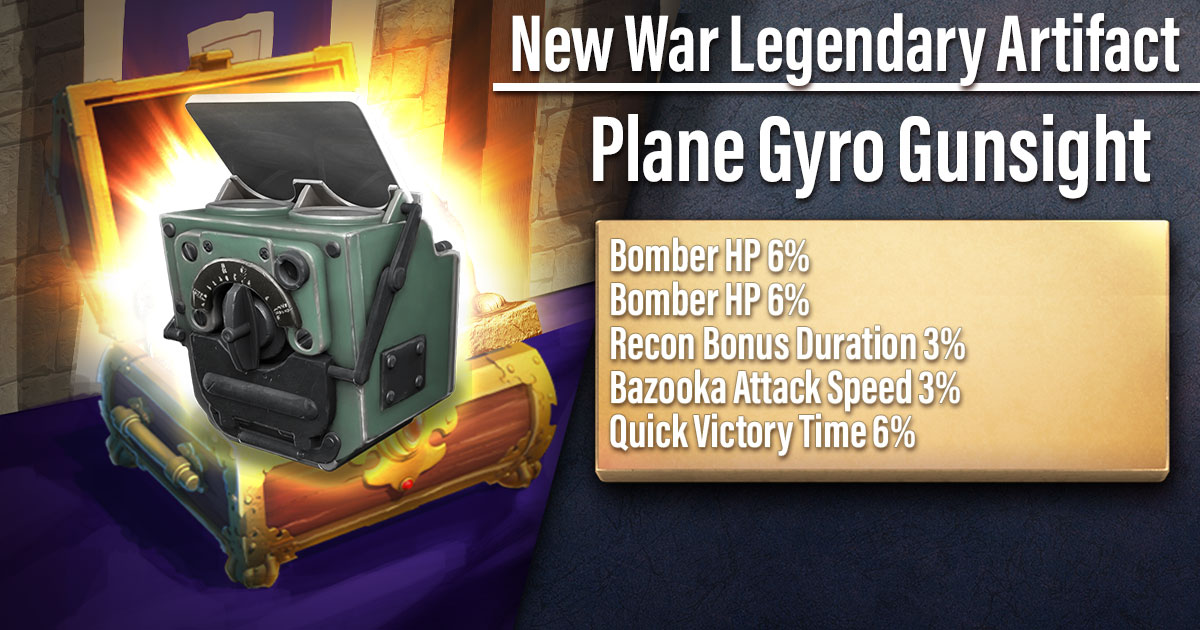 Plane Gyro Gunsight Chest 4/21-4/24
One more New Legendary Artifact for the month of April! The War Legendary Artifact Plane Gyro Gunsight will be available exclusively in the Plane Gyro Gunsight Chest Step-Up starting 4/21. Each step will give you a chance to obtain the latest War Artifact!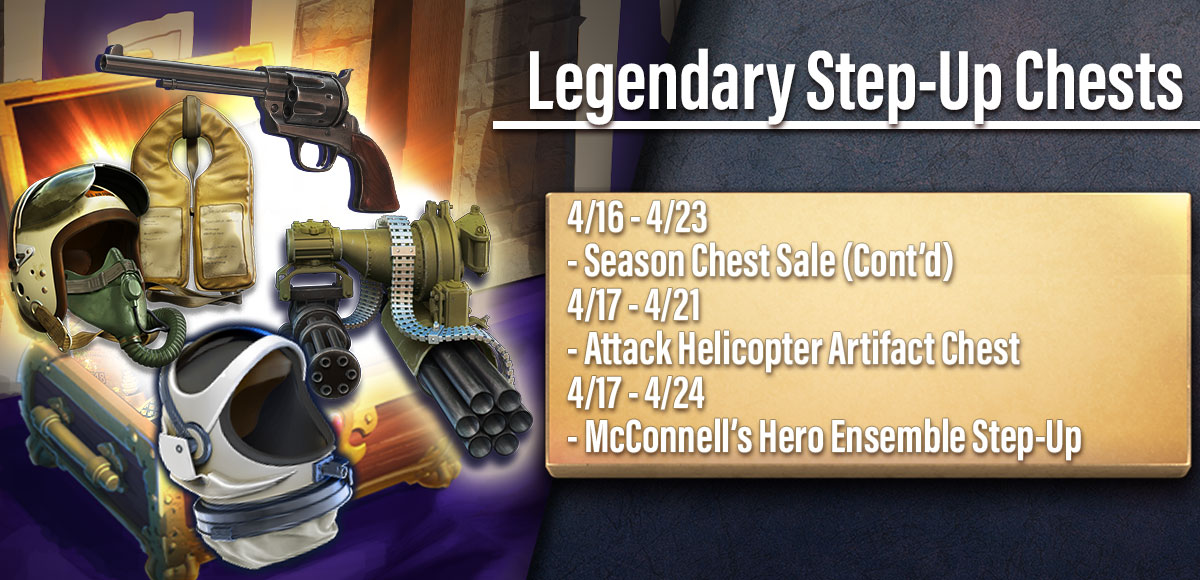 Attack Helicopter Artifact Chest Step-Up 4/17-4/21
A step-up sale featuring the Attack Helicopter Artifact Chest that gives chances at Six Shooter, Huey Armament System, and Gemini 8 Helmet Legendary Artifacts!
McConnell's Hero Ensemble Guaranteed Step-Up 4/17-4/24
A step-up sale featuring the Legendary Artifact McConnell's Hero Ensemble. This step-up sale gives you multiple chances at the Legendary Artifact through the McConnell Ensemble Chest. Complete the steps for a guaranteed McConnell's Hero Ensemble!
Bazooka Tower Sale 4/16-4/23
Take advantage of the increased Bazooka Tower Damage for this season! You'll gain AT-4 Bazooka and Veteran Bazooka Army Troop Tactics, alongside the Bazooka Tower Building.
Museum Supplies Step-Up 4/21-4/28
A step-up sale to give you plenty of Museum Supplies to improve your Artifacts!
Treasure Passes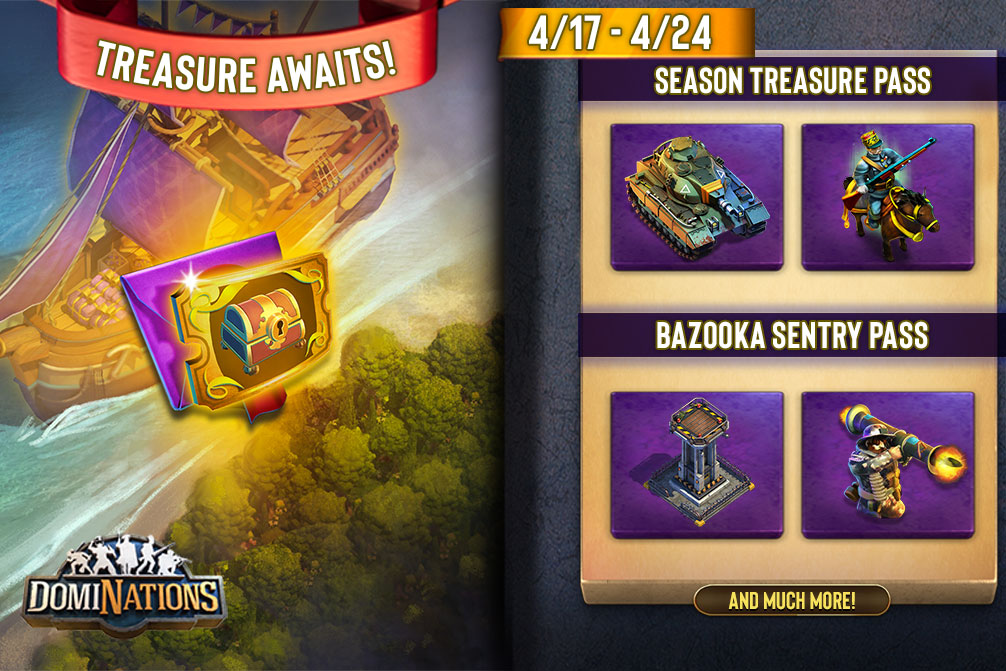 Don't forget the New Horizons Season Treasure Pass is still available. The Season Treasure Pas will give you the Heavy Tank Mk6, Veteran Combat Engineer, and General Ferdinand Foch Troop Tactics. This pass will also give you daily drops of General Ferdinand Foch, Veteran Combat Engineer, and Impi Army Troop Tactics!
This week will be a blast with the Bazooka Sentry Pass! This gets you the Bazooka Sentry Building, Marine Bazooka, and AT-4 Bazooka Troop Tactics. This will be followed up with Daily Tower Blessings, Kagnew Infantry, and Veteran Bazooka Troop Tactics.
Additional Passes
War Hall Artifacts

Daily supply of War Hall Artifact Chests

Main Hall Artifacts

Daily supply of Main Hall Artifact Chests

Plane Pass

Opens with Tupolev Tu-160 and F-15 STOL. Followed by daily C-130 Transport and F-15 STOL Troop Tactics.

Mercenary Pass

Daily supply of assorted Mercenaries