Joined

May 6, 2022
Messages

325
Awards

1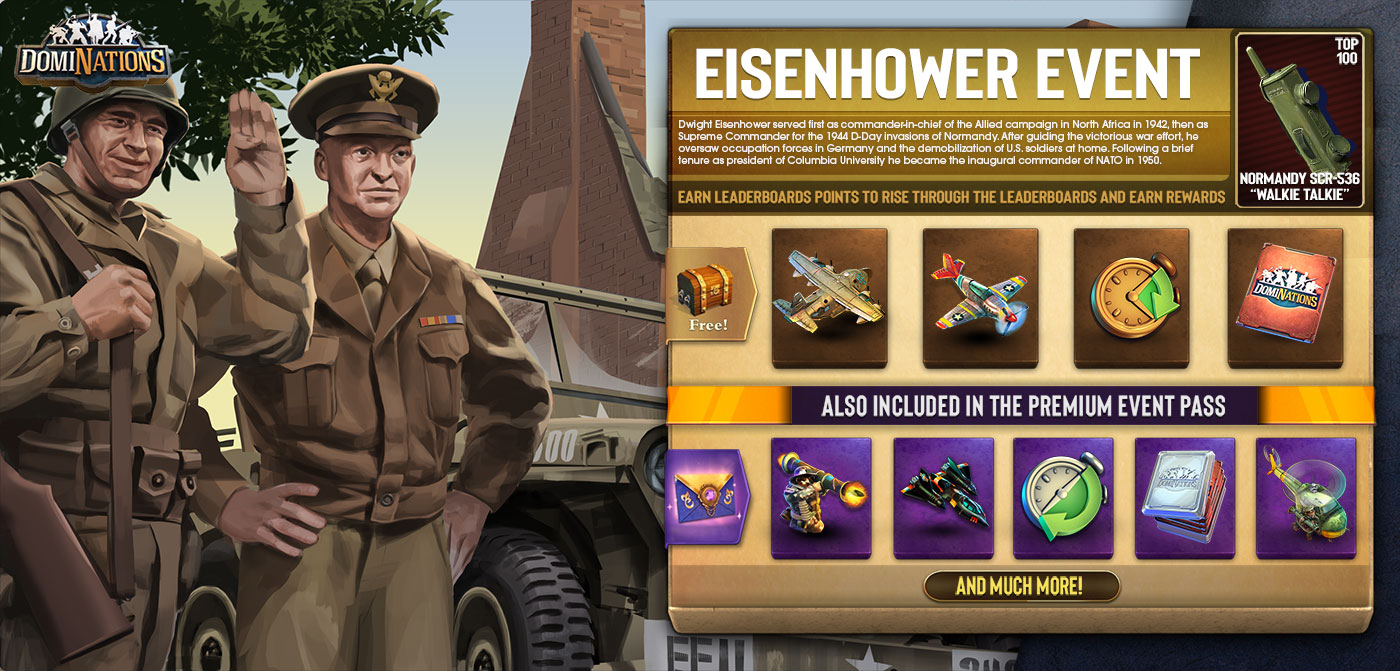 Our 5-Day Eisenhower Event Pass goes live today!
---
The future 34th President of the United States was born in Texas in 1890 and grew up in Abilene, Kansas. Dwight Eisenhower's stint at West Point and first few military assignments were unexceptional. However, he applied to the army's graduate school under the patronage of Fox Conner and went on to finish first in his class. He then served as an aide to the foremost generals of his day, John J. Pershing and Douglas MacArthur. As a commander in his own right he revealed a great talent for strategic coordination during war games in Louisiana in 1941.
Eisenhower was soon promoted to the highest military echelons. He served first as commander-in-chief of the Allied campaign in North Africa in 1942, then as Supreme Commander for the 1944 D-Day invasions of Normandy. After guiding the victorious war effort, he oversaw occupation forces in Germany and the demobilization of U.S. soldiers at home. Following a brief tenure as president of Columbia University he became the inaugural commander of NATO in 1950.
Though initially reluctant, he sought the 1952 Republican presidential nomination and coasted to an easy victory in the primary and general elections. He brought an end to the Korean War in 1953 and attempted to warm relations with the Soviet Union, though the capture of an American spy plane in 1960 derailed that effort. His 'atoms for peace' initiative focused on harnessing nuclear energy for good rather than for destruction throughout the world.
At home, Eisenhower oversaw the desegregation of schools as well as the armed forces, reluctantly sending federal troops into Little Rock to enforce the former. His administration left an eternal footprint on the American landscape in the form of the Interstate Highway System. In his farewell address, he coined the term 'military-industrial complex,' warning Americans of the defense industry's pernicious effects on society. All in all, his two terms in office were marked by stability, prosperity, and international prestige.
The Free Tier features a Special Chest that gives you a chance at three different Legendary Artifacts including the Mask of Tutankhamun, Aztec Calendar, and Personal Computer among various Troop Tactics and Event Buildings. However, the Premium Tier Guarantees the Admiral Yi Helmet Legendary Artifact alongside 5-Day Speed Ups and up to 27 Legendary Recruitment Packs!
---
The free tier features the C-130 Transport and P-51 Redtail Troop Tactics with a Free Council Recruitment. The Premium Tier has of course Eisenhower v2 Troop Tactic, but also 12h Speed Ups and a Premium Recruitment Pack! Those that place Top 100 on the Global Leaderboard have a chance to acquire the Normandy SCR-536 "Walkie Talkie" Legendary Artifact!