BHG Community Manager
Staff member
Joined

May 6, 2022
Messages

608
Greetings Leaders,
We're celebrating Valentine's Day starting this week and going well into the official Day to be your reminder for whoever may be your lucky Valentine!
ValenTANKs Event Pass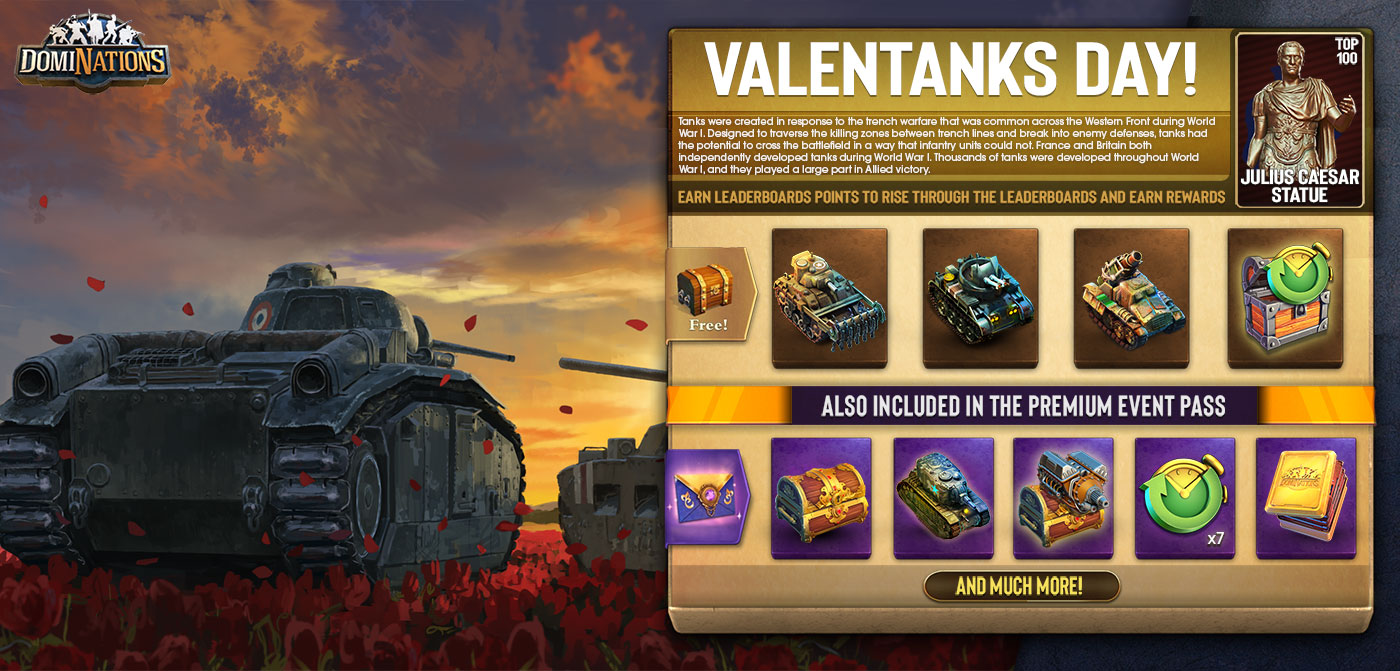 The ValenTANKS Event Pass goes live 2/9 and the free tier is filled with Tank related Troop Tactics and a Speed Up Jackpot Chest with a chance at a 5-Day Speed Up! Premium tier with Spitfire Engine Chest, 7x 5-Day Speed Ups, and 11x Legendary Recruitment Packs! Top 100 on the Global Leaderboard has a chance at the Julius Caesar Statue Legendary Artifact.
Special Valentine's Day Deals
Valentine's Day Special Sale opens up (2/8)

Step up 1 Tupolev Tu-160 and Super Stallion Troop Tactics $7.99
Step up 2 Super Tank Workshop, Tupolev Tu-160, and Super Stallion Troop Tactics $14.99

Valentine's Day Crown Step-up sale (2/10)

Crowns and Troop Tactics including Tupolev Tu-160, M67 Zippo, Vickers Virginia

ValenTANKS Day Treasure Pass (2/10-2/13)

Immediate Char 2C Tank, KV-2 Dreadnought Tank, CV 33 Flamethrower Tank. Daily Heavy Tank Mk4, CV 33 Flamethrower, and M67 Zippo.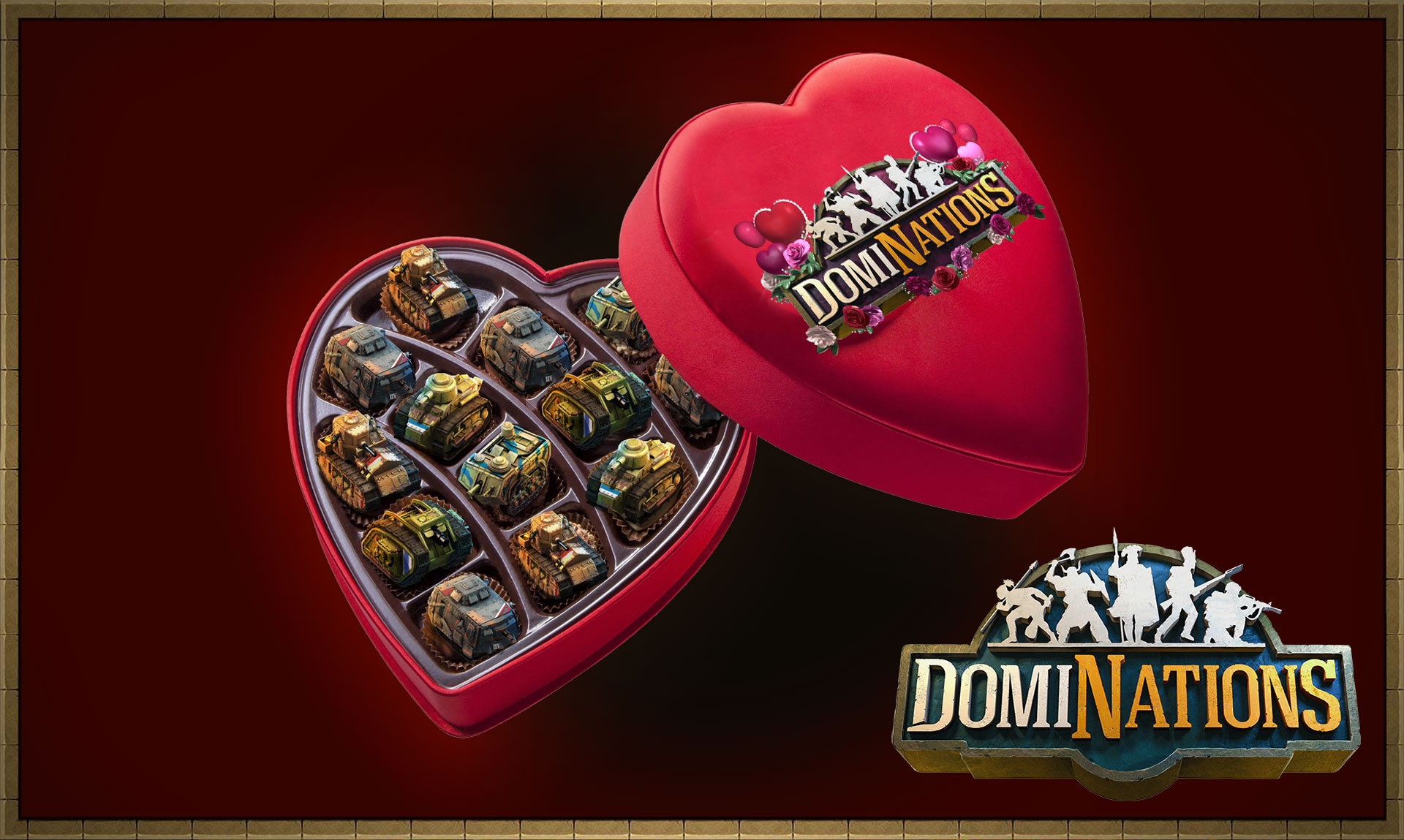 Valentine's Flash Sale
Something else to look forward to is our Valentine's Flash Sale (Running from 2/11 12am EST to 2/13 12am EST) - Much like the Lunar New Year flash sale, we'll feature a rotating set of sales. Each sale lasts for 4 hours before the next one takes over!
Wall and Ironside Manuals Sale
Tank Stock Up Sale
Speed Up Sales
Treasure Passes Week of 2/6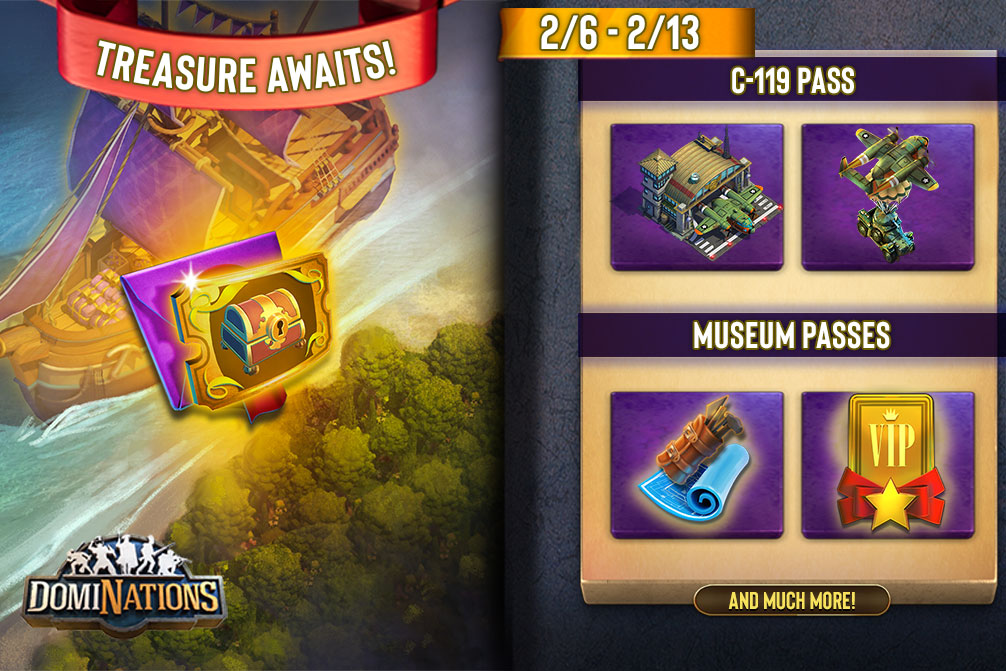 This week's Treasure Passes feature the C-119 Pass with the C-119 Hangar and C-119 Flying Boxcar Troop Tactic. You'll then receive daily B-17 Bomber and P-51 Redtail Troop Tactics, and Air Superiority Blessings.
You can also check out the two Museum related passes getting you either Blueprints or Museum Supplies!
Additional Passes include:
War Pass

Immediately gives you Nighthawk Troop Tactic and daily supply of Coalitions and Armored Car Mk3 Troop Tactic.

Mercenary Pass

Assortment of Mercenaries to fill your Camp.
Events Week of 2/6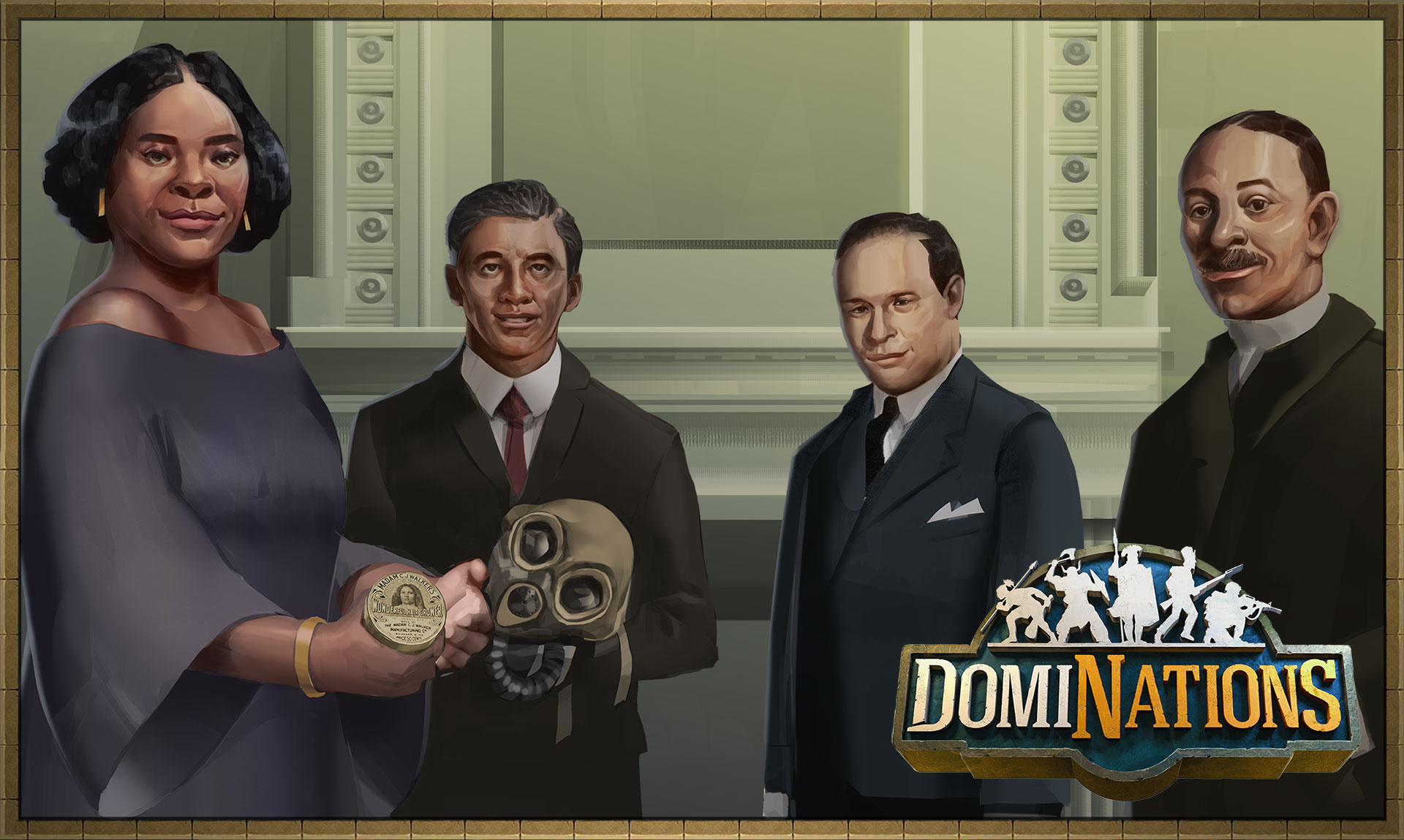 African Americans In History Event 2/10-2/13
This weekend is our African Americans in History Event!
Throughout history African Americans have made an impact as inventors, doctors, researchers, and businesspeople. This event highlights lesser known accomplishments by successful African Americans throughout history. Dr. Daniel Hale Williams and Dr. Charles R. Drew both made significant strides in the medical field. Dr. Williams performed the first successful open heart surgery in the United States after completing pericardium surgery to repair a wound. Dr. Drew developed new techniques for storing blood while creating comprehensive blood banks during World War II. In business, Madam C.J. Walker was the wealthiest self-made woman of her time. Her company, Madam C.J. Walker Manufacturing Company, specialized in cosmetics and hair products for African American women. Garrett Morgan patented many inventions during the same era, but is most well-known for inventing the three-position traffic signal and the smoke hood. The smoke hood was awarded a gold medal by the International Association of Fire Chiefs. His invention would later be used to form gas masks during World War I. There are many other great African Americans who should be more widely recognized; however, we start on that path by celebrating these four and their contributions to the world.
Enjoy these discounts for a limited time!
33% off the following Coalition upgrades:
• Mongols
• Cherokee
• Americans
• Ethiopians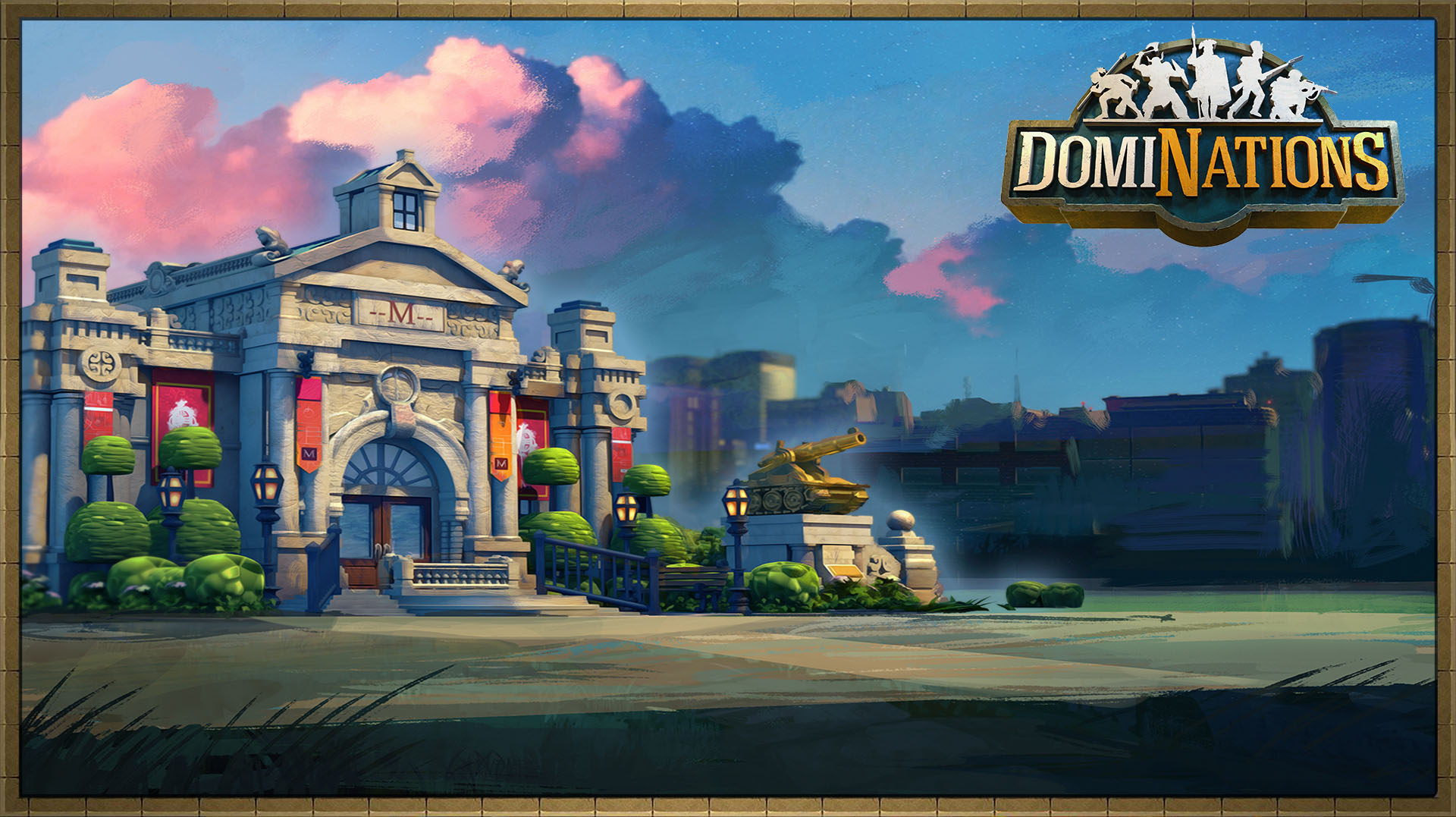 Artifact Quality Event 2/7-2/14
The Artifact Unlock Event has begun! This is a perfect time to increase the Star Level of your Artifacts. For the duration of this event:
• All Supplies, Researchers, and Benefactors costs to Unlock are reduced by 20%.
• Artifacts unlock INSTANTLY!
Take advantage of your new benefits right away during the Artifact Unlock Event!
Upcoming Sales


Villa Sale 2/6

Villa and Heavy Tank Mk6 50% off! This sale will continue each week for the entire month of February!!

Omar Bradley Step up Sale 2/6

General Omar Bradley and General Pershing Troop Tactics and Speed Ups

Eisenhower step up 2/10

Eisenhower v2 Troop Tactic and Speed Ups
Legendary Step-Up Sales
ASDIC Legendary Chest Step-up Sale 2/6

Obtain chances at the ASDIC Type 113X Legendary Artifact via Legendary Chest. Final step guarantees the ASDIC Legendary Artifact!

Heavy Tank Step-up 2/6

Multiple chances at many different Legendary Artifacts including Da Vinci's Flying Machine, Arm Reliquary of Charlemagne, Art of War and more inside the Heavy Tank Artifact Chest!

RQ-2 Legendary Chest Sale 2/10

Obtain chances at the RQ2 Pioneer Legendary Artifact via the RQ2 Legendary Chest.
Last edited: