BHG Community Manager
Staff member
Joined

May 6, 2022
Messages

610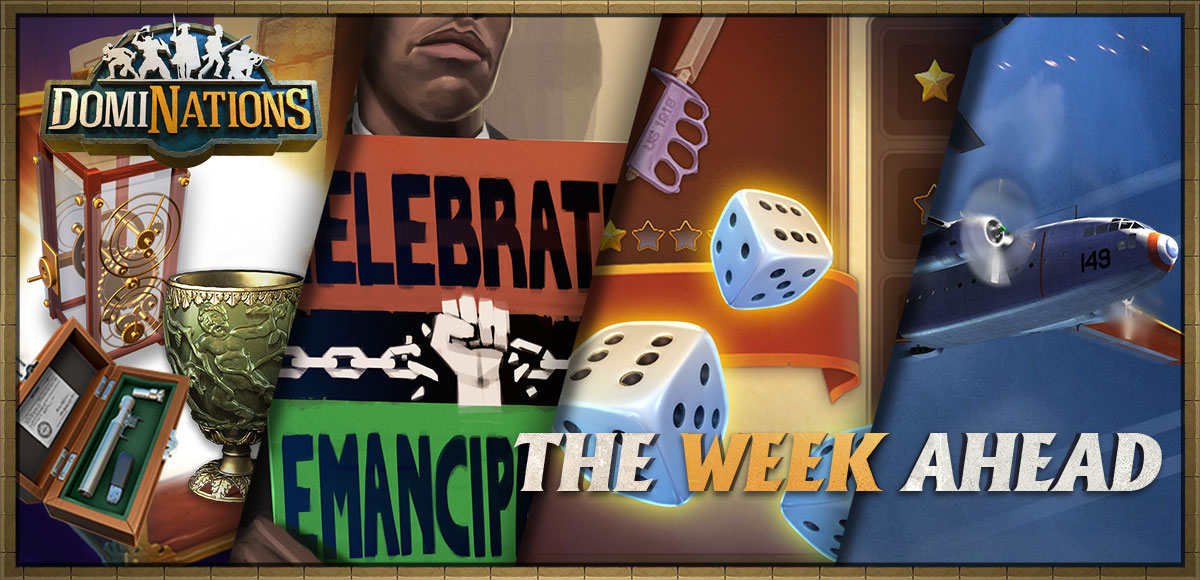 Greetings Leaders,
This week in DomiNations we celebrate Juneteenth! You'll also have an eye in the sky with the Recon Plane Episode, then roll for that perfect Artifact in the Lucky Re-Roll event and more!
Episodes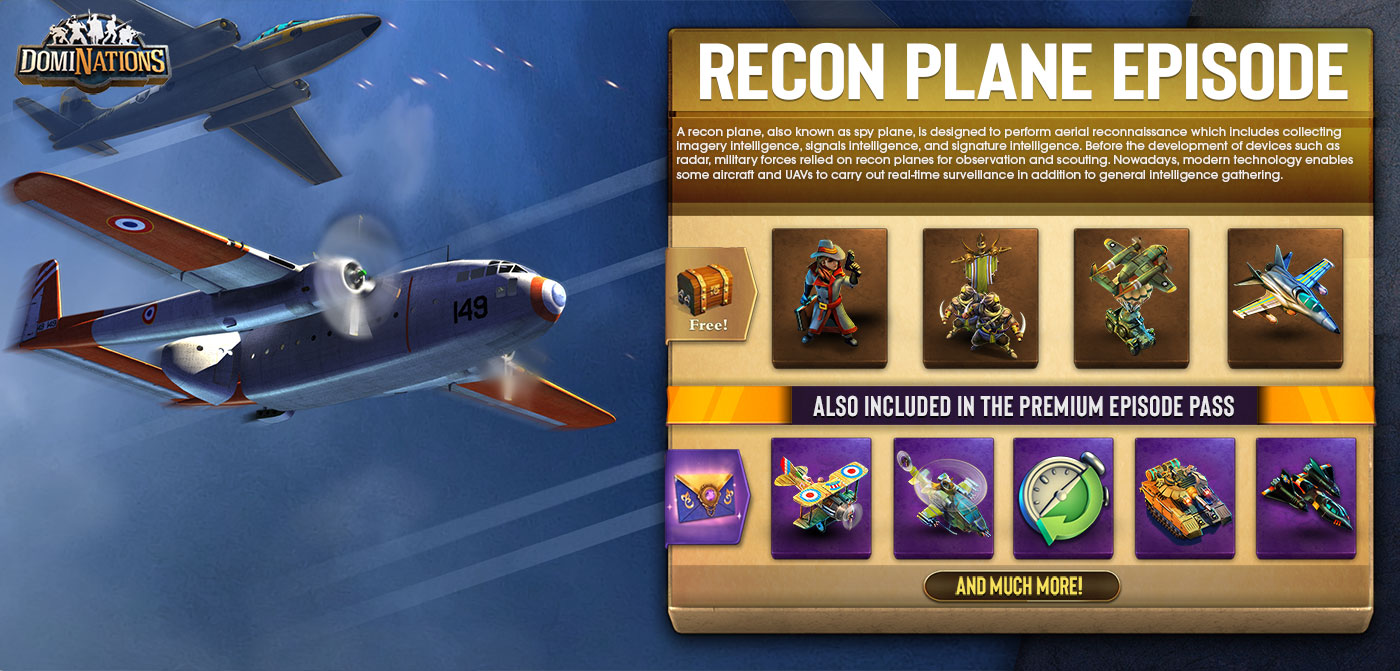 Recon Plane Episode 6/23 - 6/28
Take to the skies and gain a tactical advantage with the Recon Plane Episode. The Free Tier offers Spy, Assassin Army, and FA-18 Hornet Troop.
Picking up the Premium Pass will let you acquire the Captain Rickenbacker, T-90 Heavy Tank, and of course the Recon Plane Troop Tactics. Both Tiers have plenty more for you to pick up and enjoy!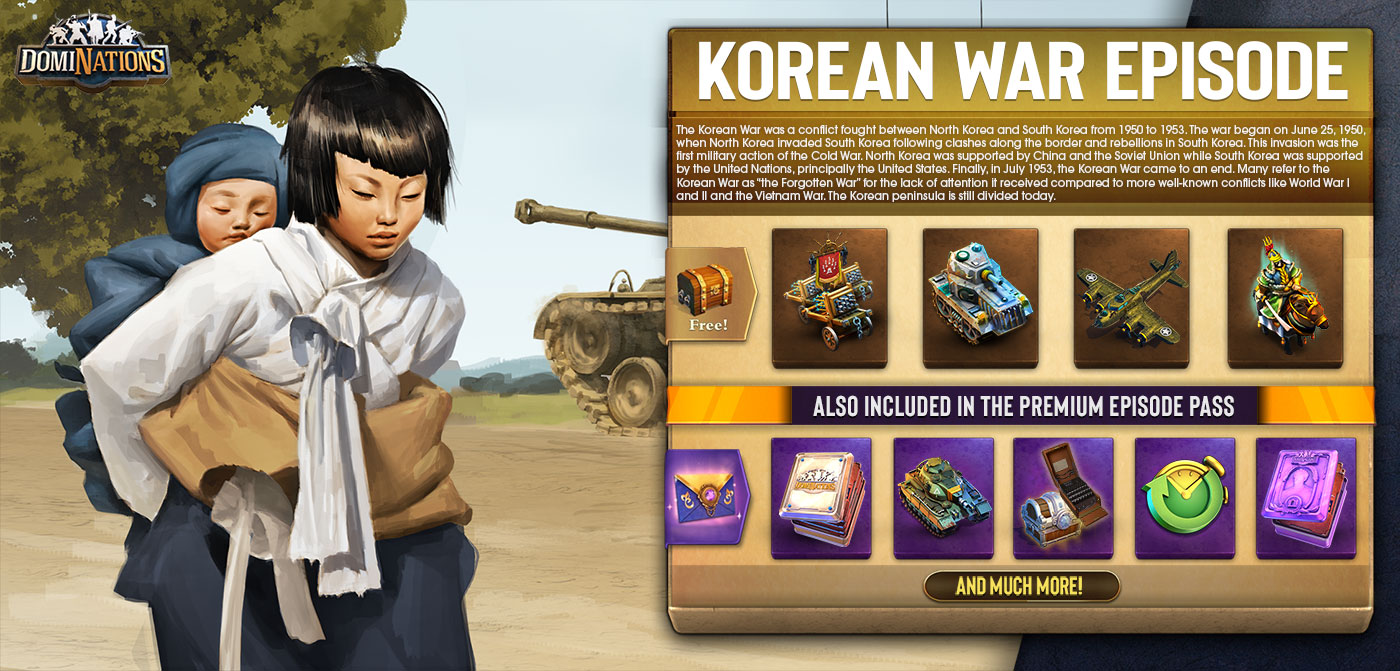 Korean War Episode 6/23 - 6/28
The Korean War Episode can get you Odessa Tank, B-17 Bomber, Admiral Yi Troop Tactics and more on the Free tier.
Premium Pass Holders can expect both New Legendary Recruitments and Legendary Plus Recruitments. You'll also get multiple Enigma Machine Chests to try and obtain the Legendary Artifact, and even Season 3 Chests are included!
Events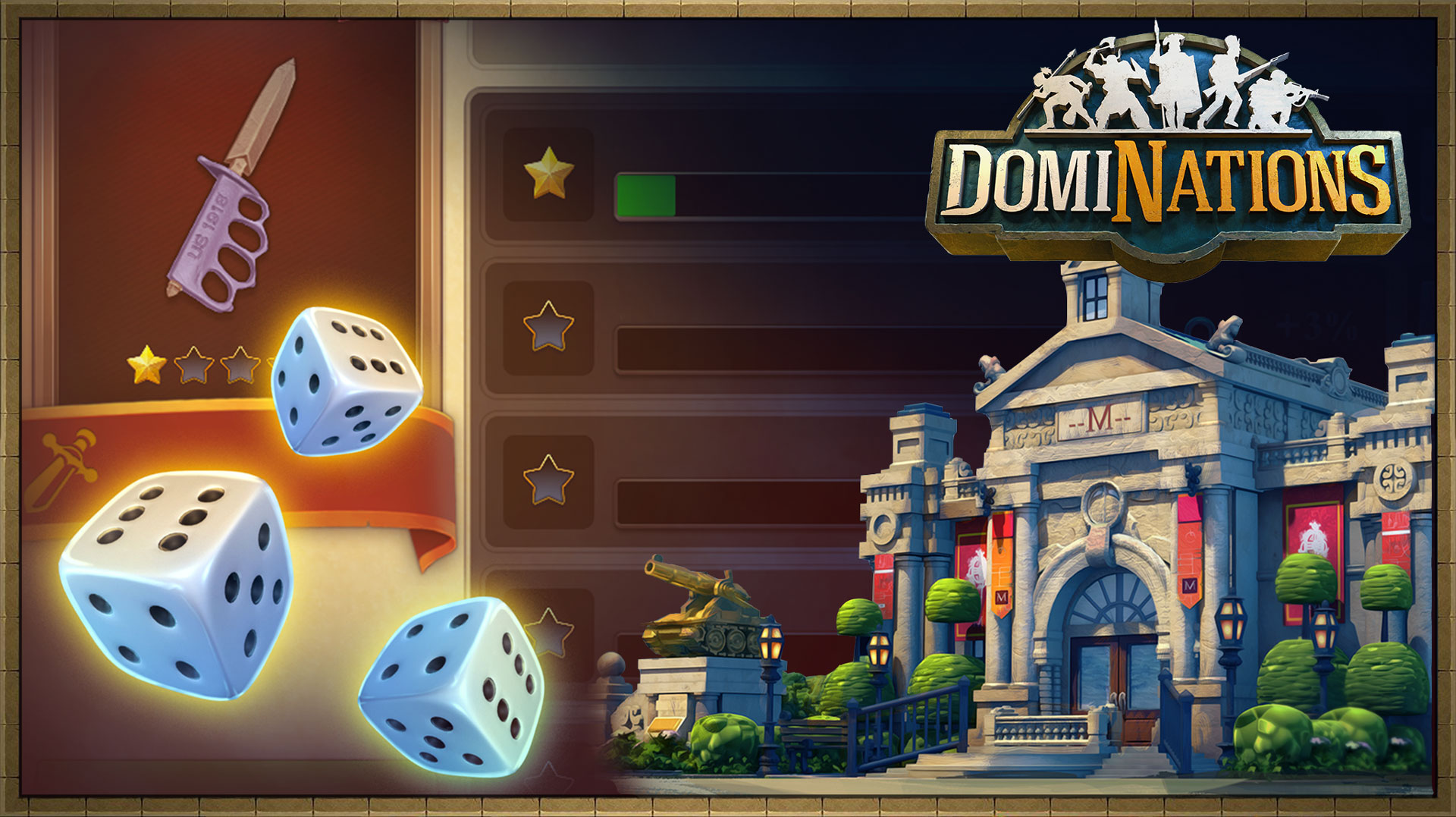 Lucky Reroll Event 6/20 - 6/27
The Lucky Museum Reroll event begins on 6/20! For a limited time, Main Hall Artifacts have a 2x chance to reroll benefits starting at 11%! War Hall Artifacts also have a 2x chance to reroll benefits starting at 6%! Fully upgrade these benefits to get an incredible 15% bonus from your War Artifacts or a 20% bonus from your Main Hall Artifacts! Go and start rerolling your Museum Artifact benefits!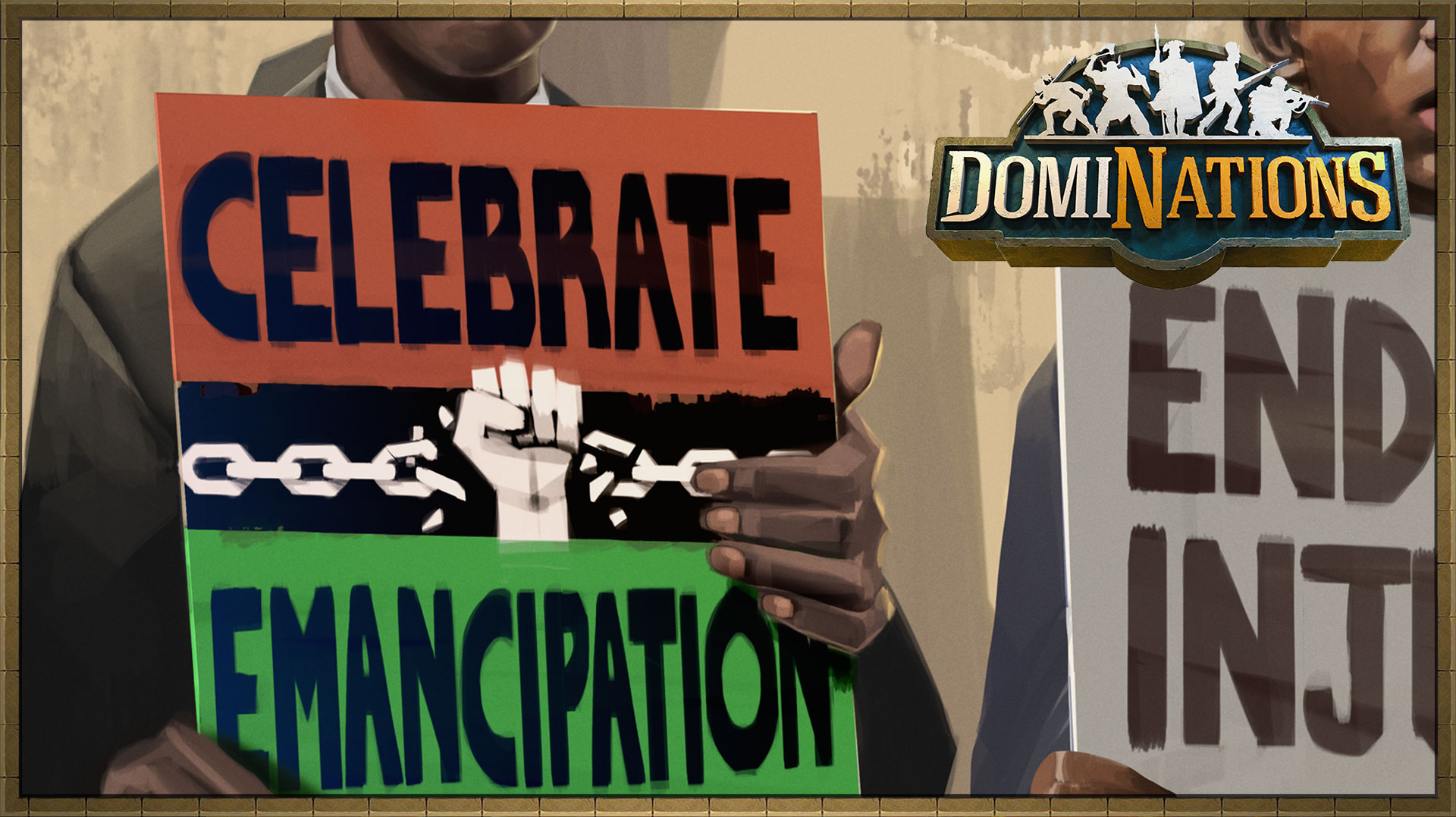 Juneteenth Event 6/18 - 6/25
This week is our Juneteenth Event!
The Emancipation Proclamation was issued on January 1st, 1863, in the middle of the American Civil War, freeing millions of enslaved people across the country. Nearly two and a half years passed before the Proclamation was announced to Texas. On June 19th, 1865, several months after the end of the Civil War, Union soldiers led by Major General Gordon Granger landed at Galveston, Texas to announce that the war had ended and the enslaved were now free. June 19th, later coined Juneteenth, marked the end of slavery in the United States. Early Juneteenth celebrations drew little interest outside of the African American community, and in some cases, there was outward resistance against commemorating the holiday. The rise of classroom textbook instruction in lieu of family historical teachings led to a decline in Juneteenth participation during the early 20th century. However, participation in Juneteenth would later see a resurgence during the Civil Rights movement of the 1950s and 60s. On January 1st, 1980, Texas became the first state to declare Juneteenth an official state holiday. Today, Juneteenth celebrates African American freedom and achievement while encouraging continuous self-development and a respect for all cultures.
Enjoy these discounts for a limited time! (Newly released levels will not be discounted.)
25% off the following building upgrades:
• S.A.M. Battery
• Stronghold
• Archive
• Command Post
33% off the following troop upgrades:
• Supply Vehicle
• Bomber
33% off the following War Tactic upgrades:
• First Aid
• Protect
Committee Recruitments 6/23 - 6/26
This weekend's Committee Packs focuses on Robert the Bruce and Boudica.
The Bruce's Guardians Recruitment includes only Primary Chamber versions of Robert the Bruce and Councilors with Leader Duties of the same Chamber.
Boudica's Uprising Recruitment includes only War Chamber versions of Boudica and Councilors with Revolutionary and Scholar Duties of the same Chamber.
Legendary Artifacts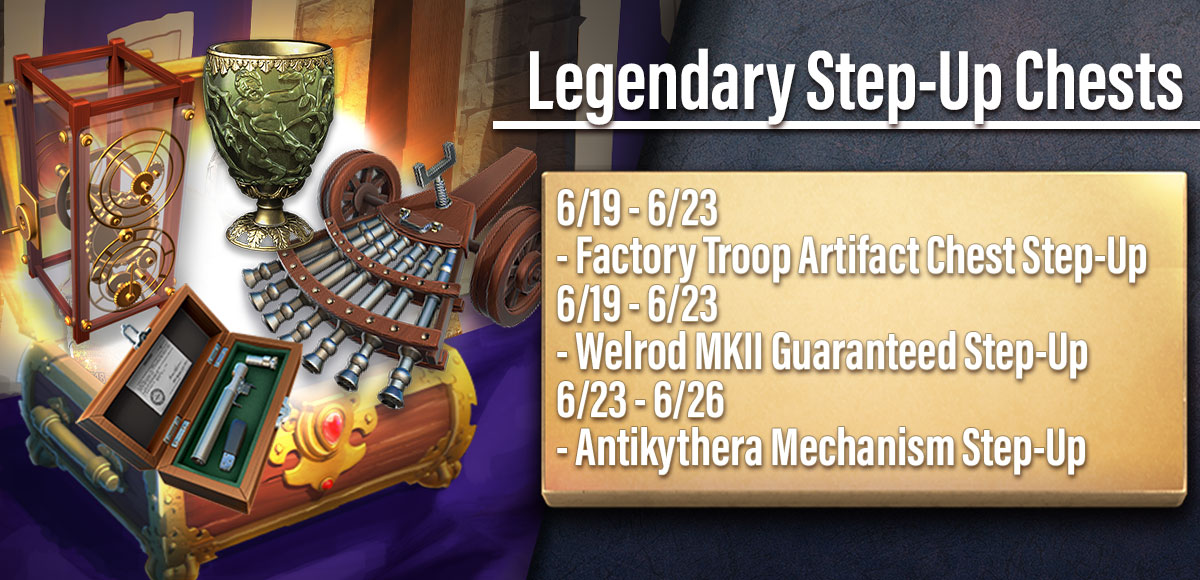 Factory Troop Chest Step-Up 6/19 - 6/23
This Step-Up sale will give you multiple Factory Troop Legendary Chests! These Chests give you chances at Lycurgus Cup, Da Vinci's Machine Gun, Crocodile Mask, and more!
Welrod MKII Guaranteed Step-Up 6/19 - 6/23
Multiple chances to obtain this Legendary Artifact through the Welrod MKII Chest. Complete all steps to obtain a Guaranteed Welrod MKII!
Antikythera Mechanism Step-Up 6/23 - 6/26
Multiple chances to obtain the Antikythera Mechanism Legendary Artifact with this chest!