BHG Community Manager
Staff member
Joined

May 6, 2022
Messages

609
This week in DomiNations we kick off the New Horizons Season! The week includes plenty of opportunities to stock up on Season boosted Troop Tactics and even a brand-new Legendary Artifact becomes available!
Events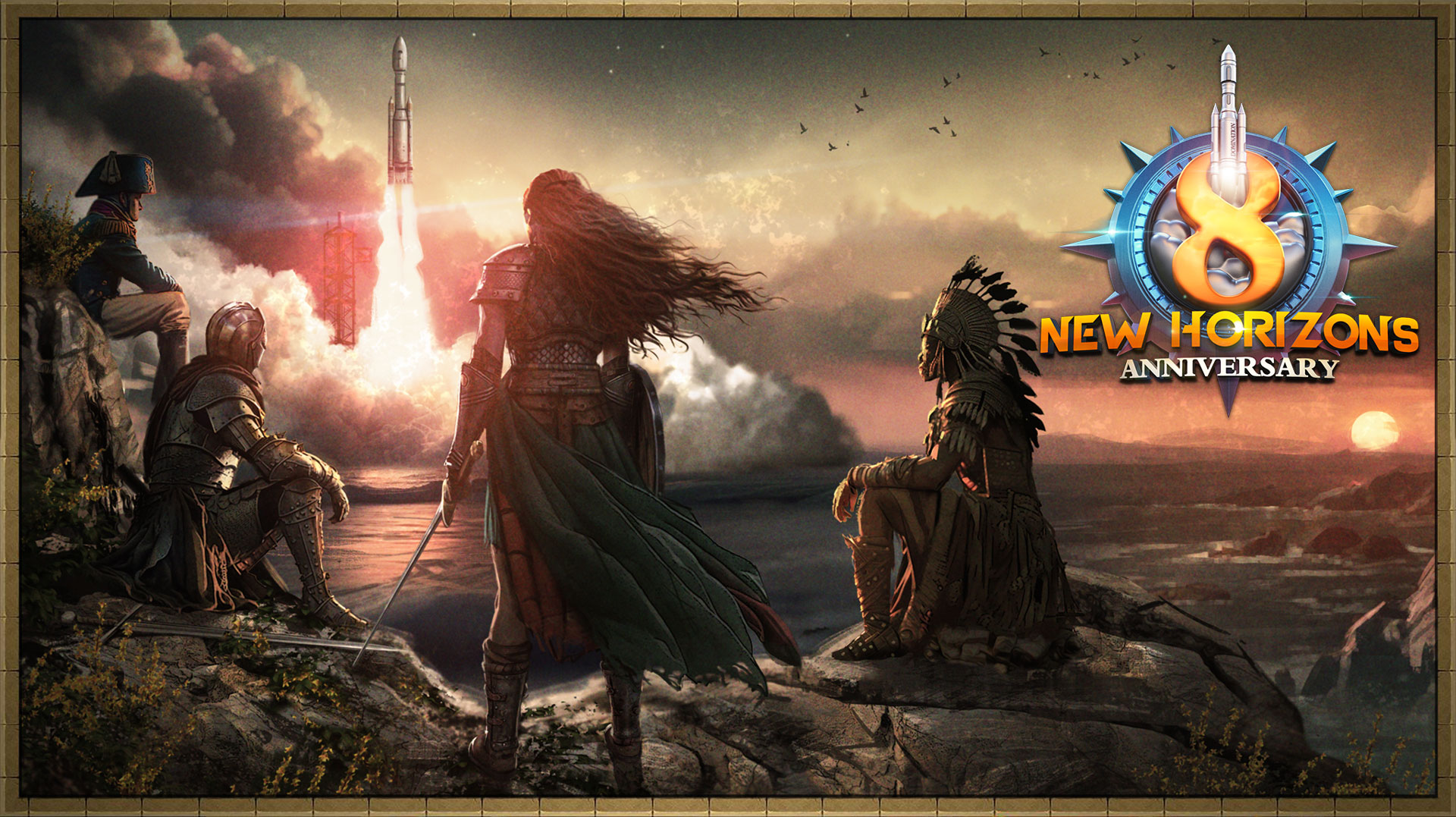 Happy 8th Anniversary! 4/1 - 5/1
DomiNations is celebrating its 8th Anniversary in April! As a part of the celebration keep an eye out for special events going on throughout the month! Here are just a few things to look forward to in April:
• 8th Anniversary Season: Experience a New Horizon of DomiNations events, with seasonal bonuses to Offense, Defense, and Progression!
• New Season Pass: Check out our new month-long event and enjoy rewards along with Season 1 buffs!
• Participate in WAR to receive exclusive 8th Anniversary Conqueror's Chests for the chance to receive a Legendary Artifact!
• Free Premium Councilor Pack: Log in any time during April to claim a Free Premium Recruitment (x11) from the sales window!
• 8th Anniversary Supply Drops: Supply drops will land on your base in April to celebrate DomiNations' 8th Anniversary! Check back often to claim your rewards from these special Anniversary Shipments.
• Marco Polo Video Reward Upgrade: Log in and watch videos in Marco Polo to claim a Premium Recruitment everyday!
• CRAZY Council Recruitment Sale: Log in every day to check out 75% off discounts for Premium Recruitment and Superior Recruitment in Marco Polo!
• NEW Legendary Artifacts: Check out new War and Main Hall Legendaries with special benefits to release this month!
Season 1: New Horizons
Experience a New Horizon of DomiNations events, with seasonal bonuses to Offense, Defense, and Progression! This Season, expect Heavy Tanks to deal more damage, but have less hitpoints! (Event lasts from 15:00 UTC 04/09 until 15:00 UTC 04/30.)
New Strategies:
• Heavy Tank Damage +35%
• Heavy Tank Hitpoints -30%
• Battle Duration +15s
• Quick Victory Time -15s
Offensive Bonuses:
• Cleopatra Damage +50%
• Hannibal Damage +50%
• Wall Miner Hitpoints +60%
• Wall Miner Movement Speed +25%
• Assault Vehicle Damage +60%
• Assault Vehicle Hitpoints +40%
• Protect Power +5%
• Demolition Damage +33%
• Zulu Kraal Army Train Time -50%
Defensive Bonuses:
• Bunker Defender Damage +50%
• Bunker Deploy Time -15%
• Anti Tank Tower Damage +40%
• Bastion Hitpoints +40%
• Armored Ambush Defender Damage +50%
• Spike Trap Damage +50%
• Defender Blessing Defenders +4
• Fortification Blessing Power +25%
• Bazooka Tower Damage +15%
Special Troop Bonuses:
• Ferdinand Foch Damage +50%
• Heavy Tank Mk6 Damage +35%
• Heavy Tank Mk6 Hitpoints -30%
• Heavy Tank Mk4 Damage +35%
• Heavy Tank Mk4 Hitpoints -30%
• Veteran Combat Engineer Hitpoints +60%
• Assault Vehicle Damage +60%
• Assault Vehicle Hitpoints +40%
• Impi Damage +100%
• Impi Hitpoints +60%
• Impi Movement Speed +100%
Additional Bonuses:
• Daily Video Retrain +1
• War Artifact Crafting Odds +50%
• Alliance Speedup Base Increase +5 Minutes
• Alliance XP per War Battle Victory +3
• Daily Free Councilor Packs +1
Season Pass 1: New Horizons 4/9-5/1
Our first Season Pass will run for three weeks with 50 levels of rewards to claim. The Season will add new objectives to complete each week to add to the rewards you're getting from this Season Pass and Weekly Episodes.
The New Horizons Pass will feature plenty of Troop Tactics on the free track, including some that will gain bonuses from the Seasonal Boosts. You'll obtain Troop Tactics like the Heavy Tank Mk4 and Impi Army Troop Tactics, you'll even gain Heavy Tank Recruitments to save on some resources when rebuilding your army.
The Premium Tier holds even greater rewards! You can obtain a Bazooka Tower to have some fun with this Season Boosted building. The Premium Track also includes the special Season 1 Chest for chances at various Season Boosted Troop Tactics, the Samurai Stable, and even the Stopler Revolver Legendary Artifact! This tier will also have Recon Plane, Tupolev Tu-160, Heavy Tank Mk6 Troop Tactics, and more. Having the Premium Season Pass gets you up to 100 total rewards across three weeks.
Finally, if you place within the top 100 on the Global Leaderboard you'll be able to obtain the Lewis Chessmen Legendary Artifact!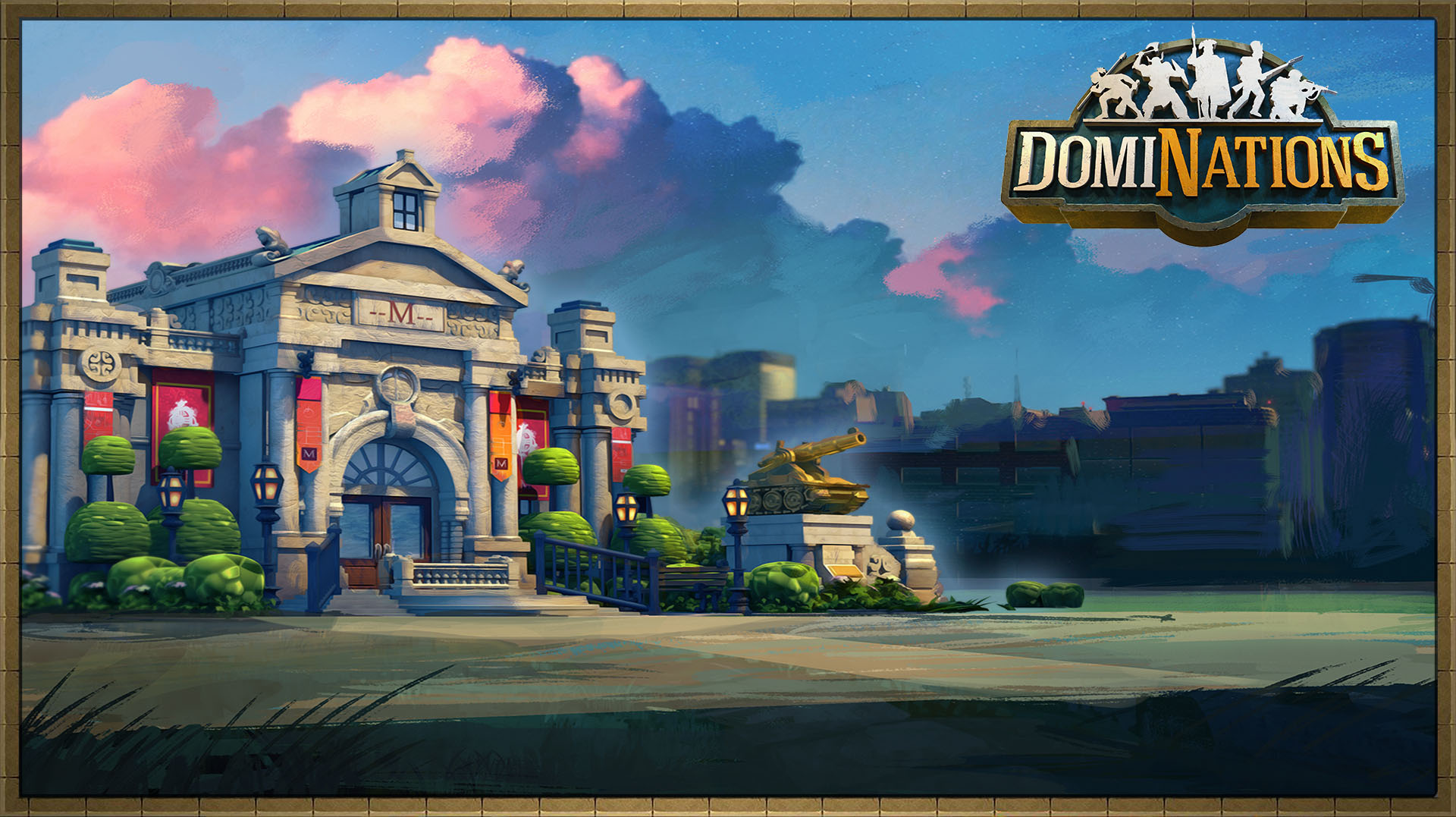 Artifact Quality Event! 4/4-4/11
The Artifact Unlock Event starts on 4/4! This is a perfect time to increase the Star Level of your Artifacts. For the duration of this event:
• All Supplies, Researchers, and Benefactors costs to Unlock are reduced by 20%.
• Artifacts unlock INSTANTLY!
Take advantage of your new benefits right away during the Artifact Unlock Event!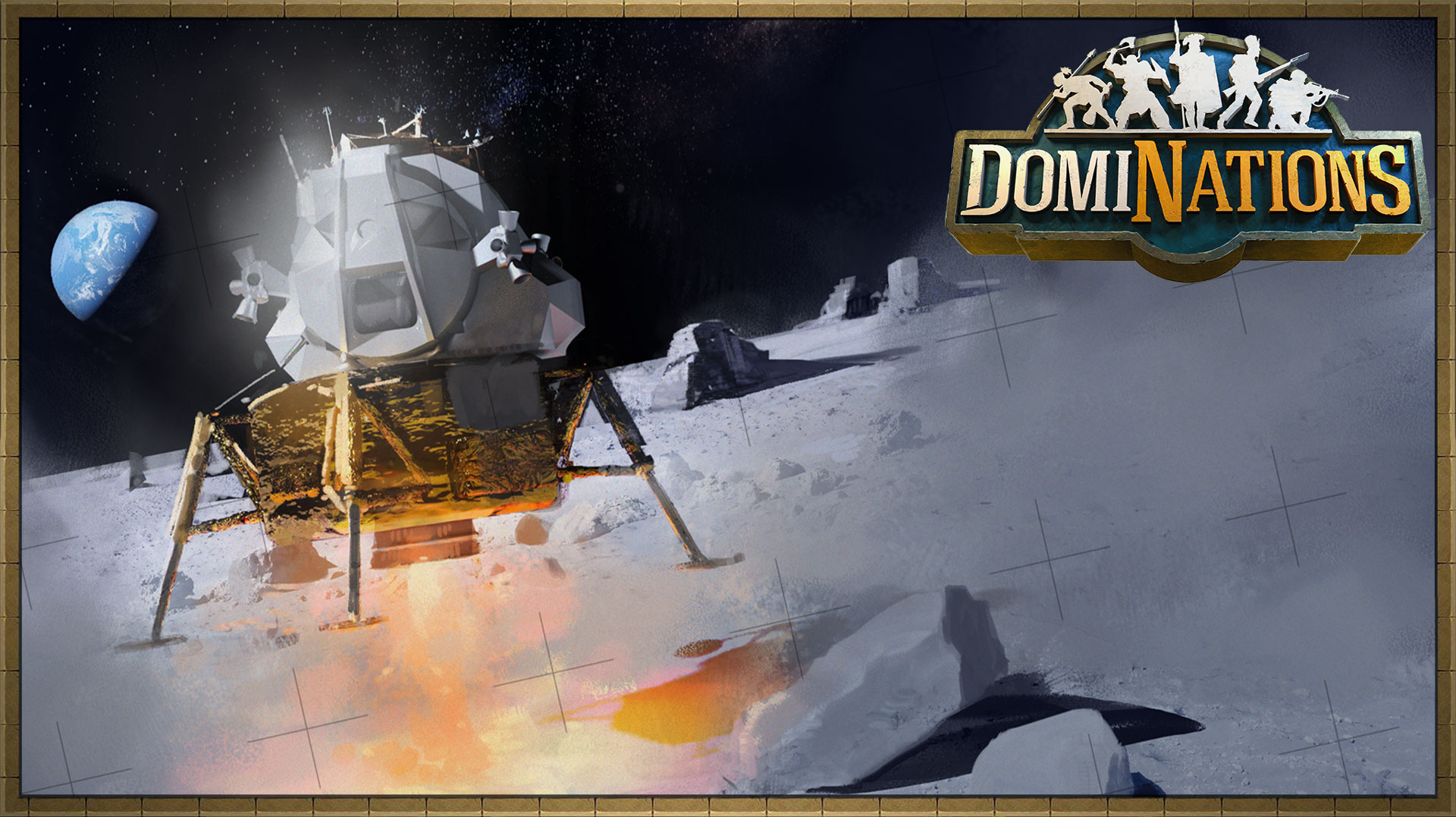 Moon Landing Event 4/9-4/16
This week is our Moon Landing Event!
The landing module Eagle touched down on the lunar surface on July 20, 1969. A live TV broadcast showed the Apollo 11 mission commander becoming the first person to walk on the moon, followed shortly by the lunar module pilot. They gathered samples, took photographs, and set up an American flag and commemorative plaque. After five more lunar landings, the cost became too hard to justify, and this marvelous feat has yet to be repeated since 1972.
Enjoy these discounts for a limited time!
25% off the following building upgrades:
• Alliance Gate
• Library
• Missile Silo
• Anti-Tank Tower
33% off the following troop upgrades:
• Ranged Infantry
• Fighter
33% off the following War Tactic upgrades:
• Barrage
• Protect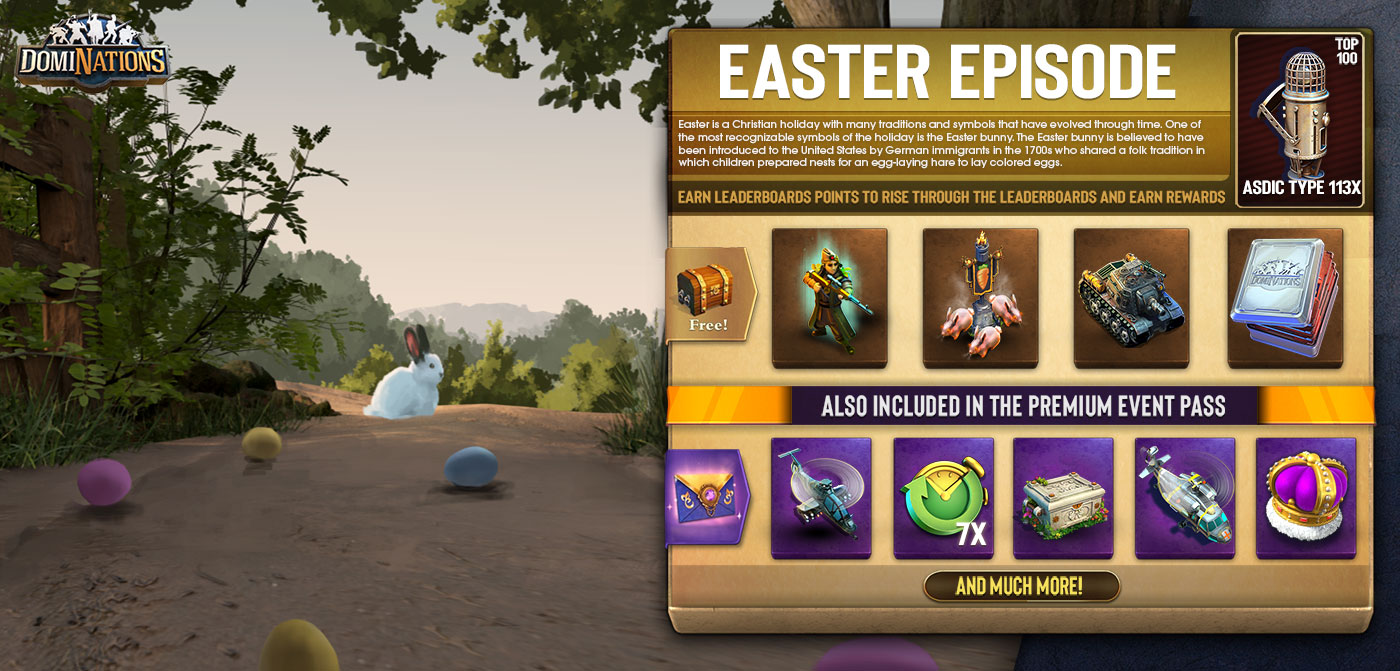 Easter Episode 4/6-4/13
The first Episode of New Horizons begins with Easter! The free track will feature more Fire Breathing Bunnies to add to last week's rewards and more. The Premium track has 5-Day Generic, Research, and Building Speed Ups each in a stack of 7! You can also gain multiple Season 1 Chests with chances at the Stopler Revolver Legendary Artifact! Top 100 Leaderboard can get you the ASDIC Type 113x Legendary Artifact.
Sales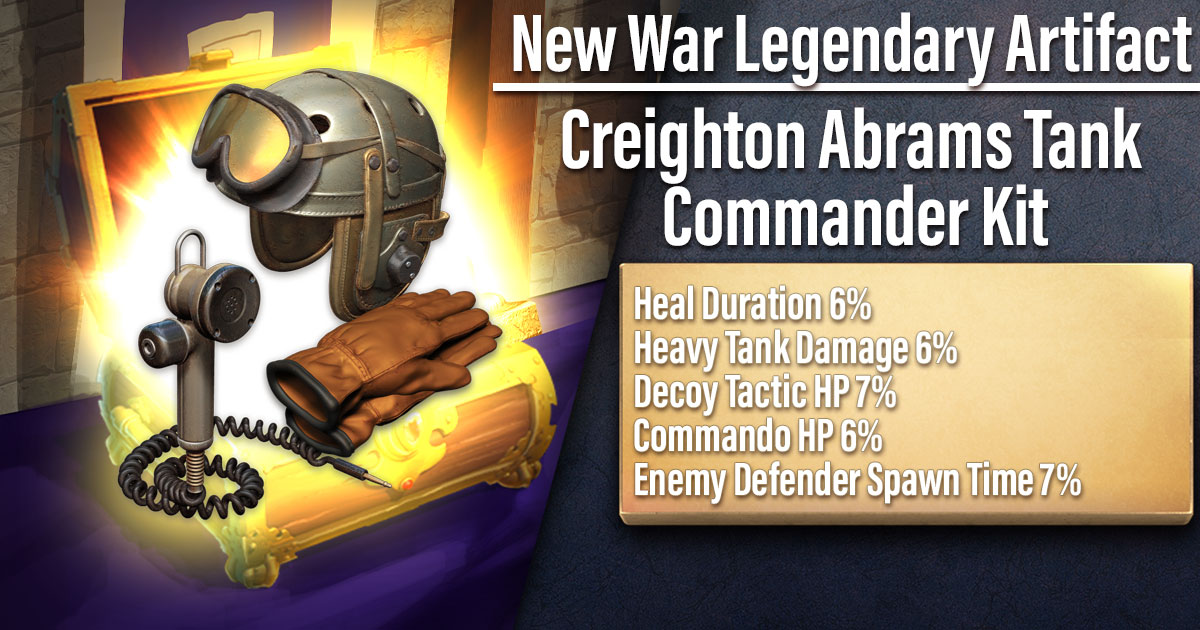 New Legendary Artifact - Creighton Abrams Tank
A new Legendary Artifact for your War Museum Hall has arrived! The Creighton Abrams Tank Commander kit will be available for the first time in the Abrams Commander Kit Chest starting 4/7. This Step-Up Sale will give you multiple chances to pick up the latest Legendary Artifact!
Gemini 8 Gloves Guaranteed Step-Up 4/3 - 4/10
Gain Multiple Chances at the Gemini 8 Gloves Legendary Artifact in this Step-Up. If you complete the entirety of the Step-Up you are guaranteed this Legendary Artifact!
Treasure Passes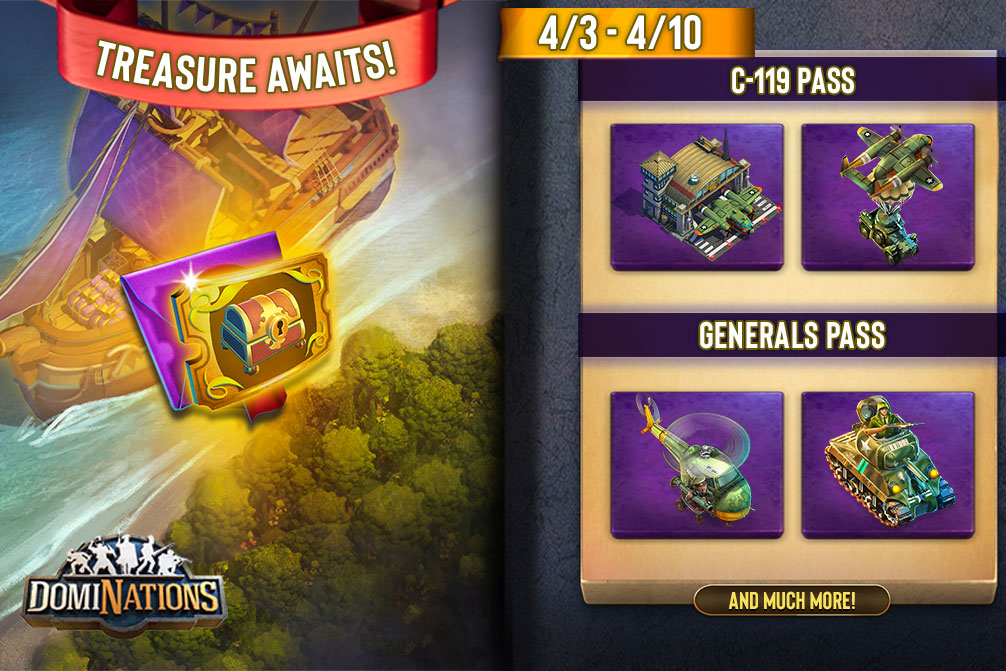 ​
This week's Treasure Passes feature the C-119 Pass which includes the C-119 Hangar and C-119 Flying Boxcar Troop Tactic. You'll then get daily B-17 Bomber and P-51 Redtail Troop Tactics.
Also check out the Generals Pass that opens with Eisenhower v2 and General Omar Bradley Troop Tactics! This one gives you daily General Foch Troop Tactics to prepare for the upcoming New Horizons Season.
Additional Passes include:
Legendary Pass

Gives you daily chances at the Napoleon Hat Legendary Artifact with daily Napoleon Hat Chests

Tank Pass

Opens with Heavy Tank Mk6 Troop Tactic and then follows with daily Heavy Tank Troop Tactics.