Joined

May 6, 2022
Messages

532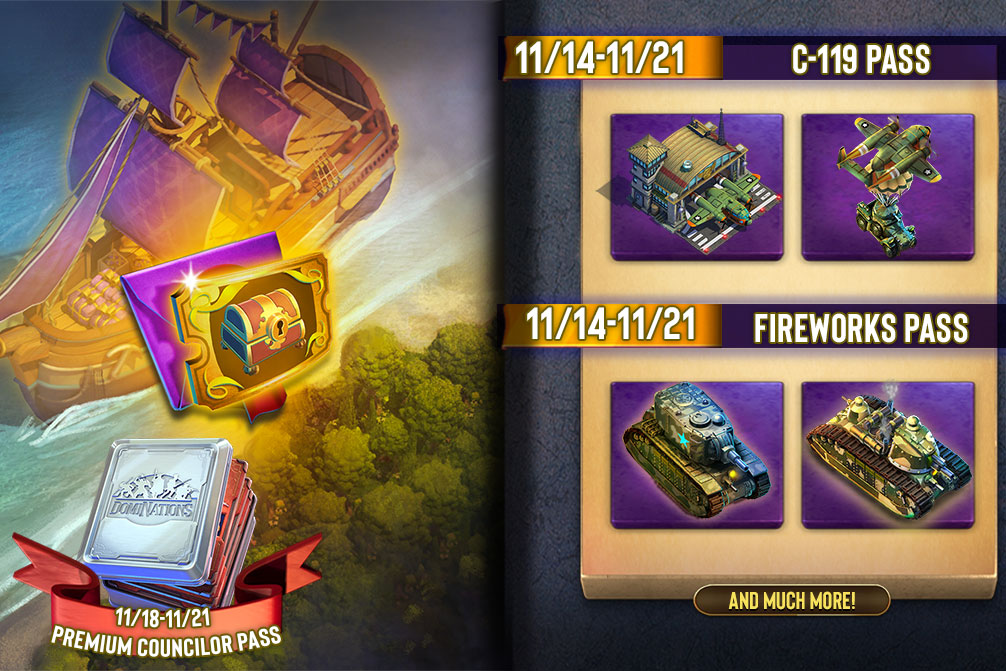 Here are your Treasure Passes for the week of 11/14!
The final week in the Season of Allegiance is upon us! Get that last push on the leaderboard with the C-119 pass with an immediate drop of C-119 Hangar and C-119 Flying Boxcar Troop Tactic. This pass will get you Daily Drops of B-17 Bombers, P-51 Redtails, and Air Superiority Blessings.
The Fireworks Pass will immediately get you KV-2 Dreadnought Tank and Char 2C Tank Troop Tactics. Followed then by Daily Char 2C Tanks and more!
More passes are available at the Treasure Dock!
Additional Passes include:
11/14-11/21
Museum Pass

Includes Daily Museum Blueprints

Museum Supplies

Includes Daily Museum Supplies

Mercenary Pass

Daily drops of an assortment of Mercenaries
11/18-11/21
Speed Ups Pass

Daily drops of various Speed Ups

Premium Councilor Pass

Daily supply of Premium Councilor Recruitment
11/18-11/24