Joined

Dec 31, 2018
Messages

78
Vale of Shadow, alliance rank 15, 10/5/5 parliament alliance speed ups, now recruiting.
We're adding to parliament alliance speed ups daily!
We're an active alliance, 7 days inactive and you're gone!
Inactive players are welcome to rejoin when they become active again.
Generous troop donations!
We run back to back wars.
War searches begin 5-10 mins after previous war ends.
If you opt in for war, you're expected to attack!
We need both high age and low age players.
Alts are welcome but they must remain active.
We have active chat, and also use discord for planning and general chit chat.
Joining discord is optional.
We have players in many time zones, USA, England, Europe, Asia, etc. so there's almost always someone logged in.
Primary language, English.
Come grow with us!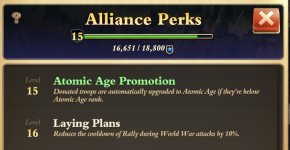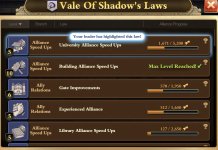 Last edited: