BHG Community Manager
Staff member
Joined

May 6, 2022
Messages

610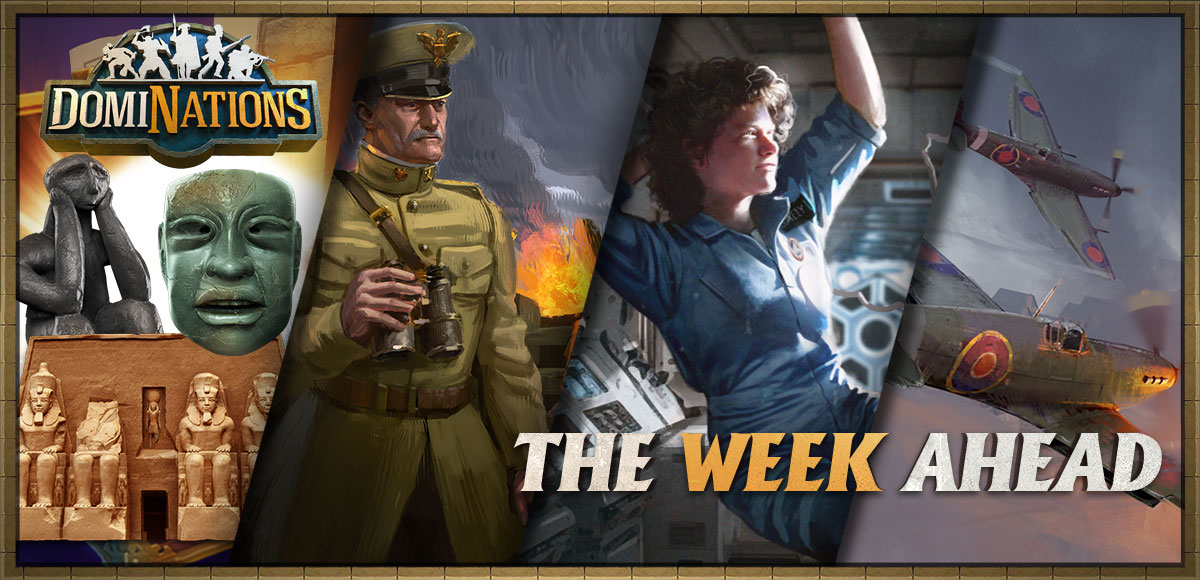 Greetings Leaders,
This week you'll want to take advantage of the discounted improvements from the Battle of Britain Event. You'll also want to check out the WWI Episode with a guaranteed Legendary Artifact for Premium Pass holders!
Episodes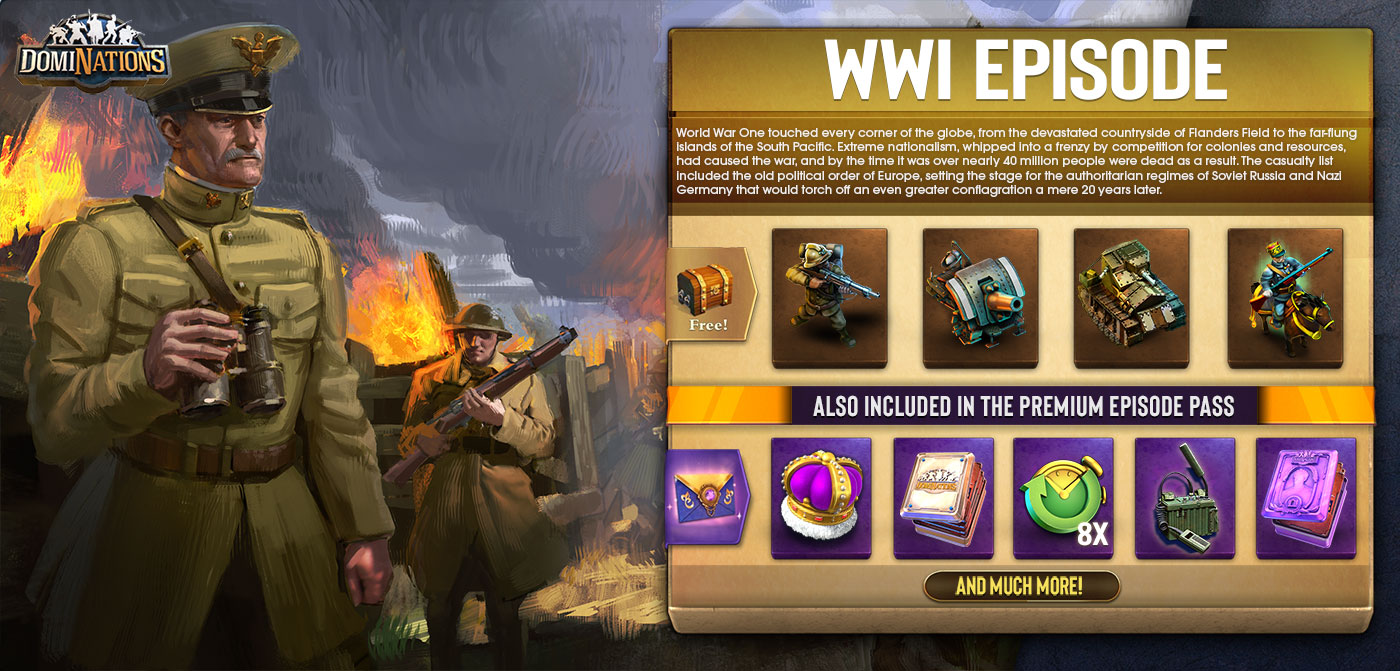 WWI Episode 6/16 - 6/21
The WWI Episode Pass will give you plenty of WWI Related Troop Tactics including Harlem Hellfighters, Big Bertha, and General Ferdinand Foch for Free!
Premium Pass holders can obtain up to 33x New Legendary Recruitments, 20500 Crowns, 11x Legendary Plus Recruitments. This pass has plenty of Legendary Artifact opportunities too with the Season 3 Chests and multiple Heavy Tank Legendary Chests! The Premium includes a
Desert Storm PSN-8 Manpack
, no chest, you can obtain this Legendary Artifact for just progressing through the Premium Tier! This pass has so much to look forward to!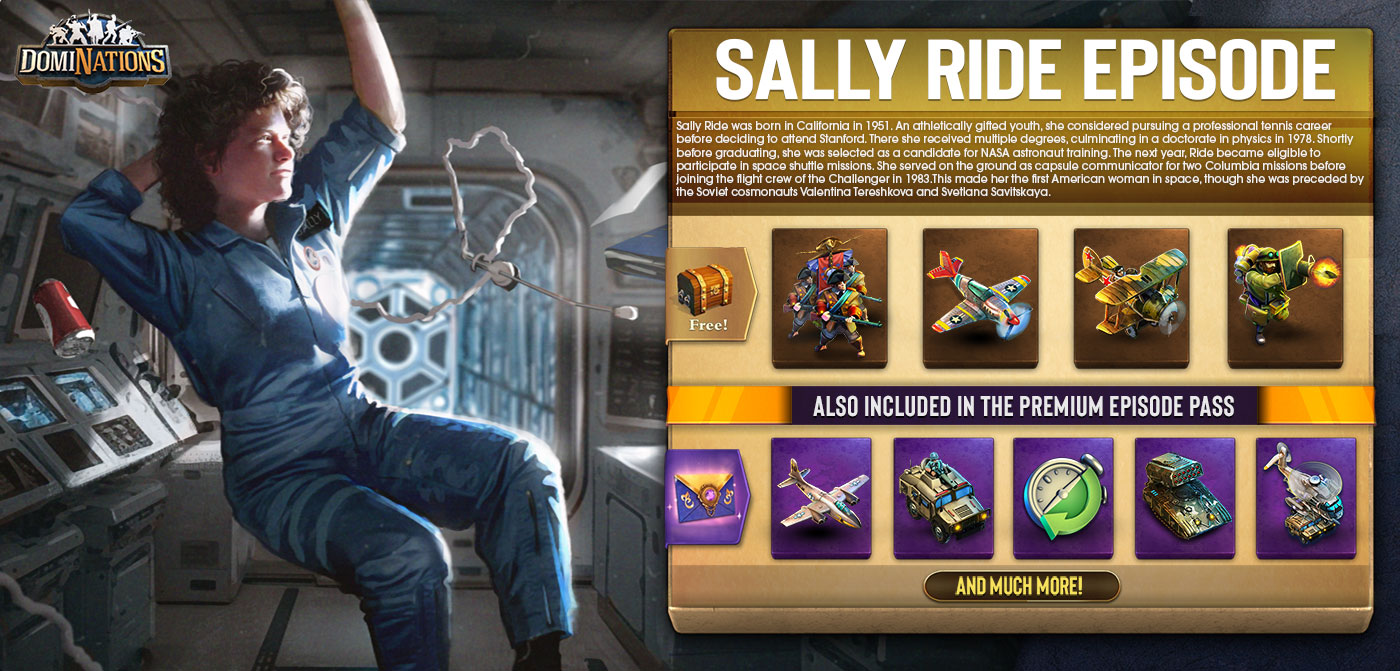 Sally Ride Episode 6/16 - 6/21
The Sally Ride Episode will give you a large stock of Troop Tactics on both Free and Premium Tiers. You'll be able to obtain P-51 Redtail, Nightwitch, Veteran Bazooka Troop Tactics and more for Free.
Premium Pass holders can expect B-45 Tornado, Ka-25 Helicopter, and Super Stallion Troop Tactics alongside even more!
Events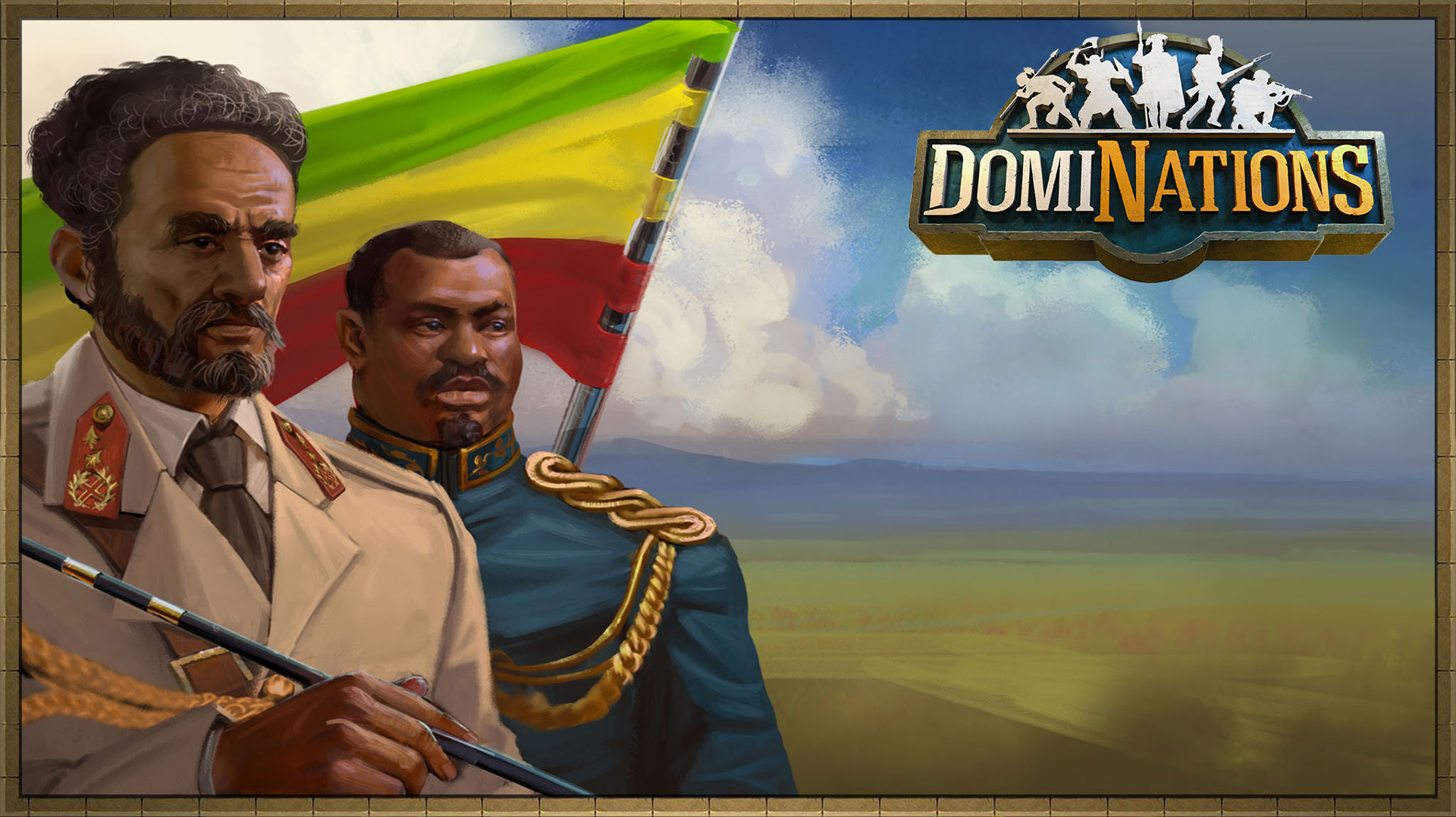 Lion of Judah 6/13 - 6/20
As Ethiopia's 225th and final emperor, Ras Tafari Makonnen took the name Haile Selassie to signify the Power of the Trinity. Marcus Garvey, a leader of the black nationalist movement, spoke of a prophecy that was said to have been fulfilled upon Selassie's coronation - 'Look to Africa where a black king shall be crowned, he shall be the Redeemer'.
Haile Selassie left behind an immense legacy with his image as a dignified African ruler who was seen as an equal with other world leaders and the builder of modern Ethiopia. Selassie was dubbed the 'Lion of Judah'. Selassie is at the center of the Rastafari religion, whose members believe in his divine nature. Selassie brought Ethiopia into the League of Nations and promoted modernization by advocating for education, tourism, and theater. Selassie believed in Pan-Africanism and he persuaded fellow leaders to join the Organization of African Unity, the predecessor to the African Union, which is now Africa's main political forum. In 1974, after growing increasingly authoritarian, he was overthrown and would die imprisoned in his palace the following year."
Go to your University and enjoy 50% off on all of Haile Selassie's University skills for a limited time!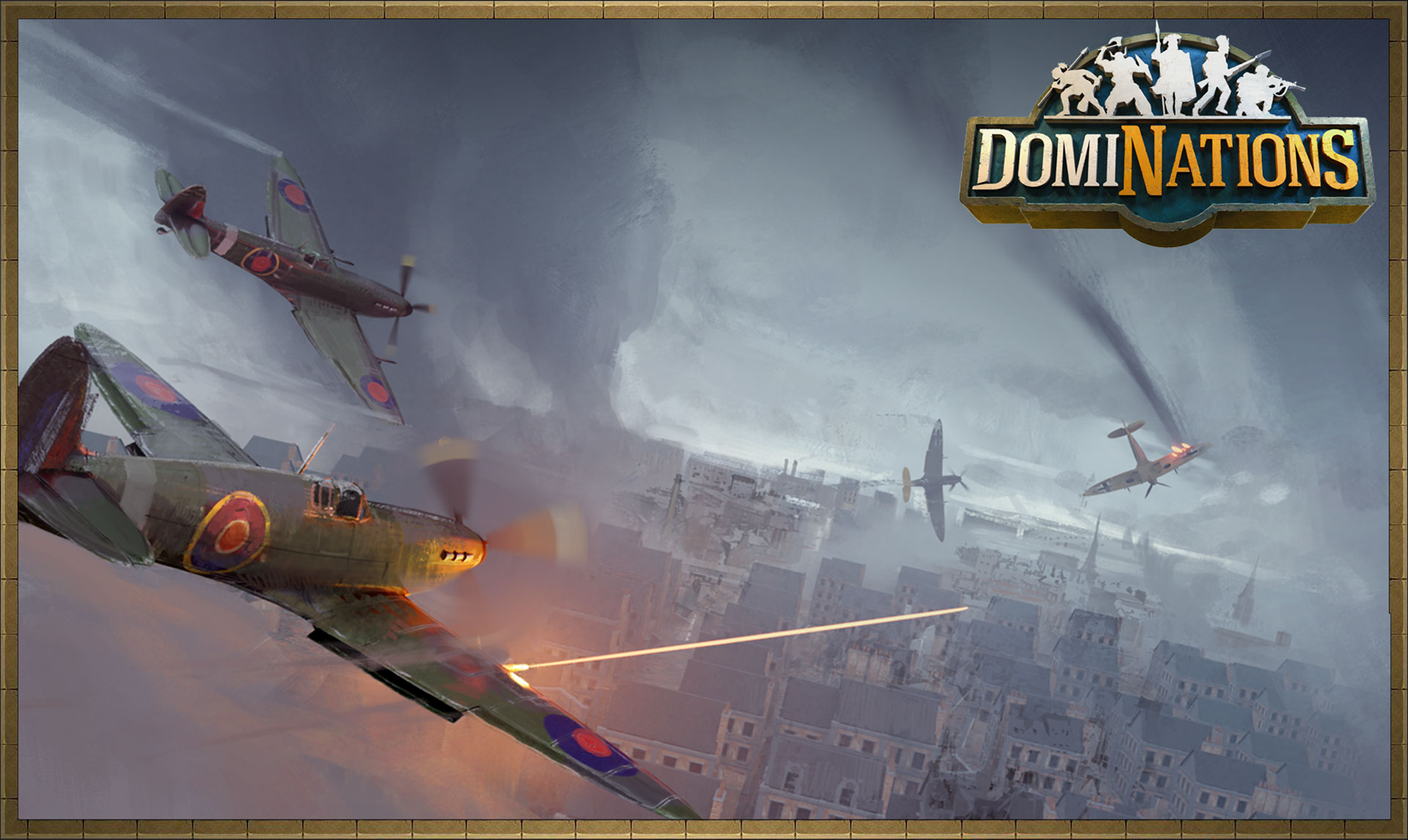 Battle of Britain 6/11 - 6/18
This week is our Battle of Britain Event!
On June 17th, 1940, the defeated French signed an armistice and exited World War II. Britain stood alone in opposition to Germany's military forces that had claimed victory over most of Western Europe in less than two months. However, Germany didn't have the resources necessary to battle Britain on the ground or at sea unless they were able to take control of the air above Britain. So, The Battle of Britain would become the first battle in history fought entirely in the air. Britain's success relied on the Royal Air Force Fighter Command's ability to nullify the efforts of the German Luftwaffe. In September 1940, the Luftwaffe began massive aerial attacks on London. The German attacks were successful at first, but on September 15th, the German offensive failed and sustained heavy losses when their bomber crews were met with large numbers of British fighters. Germany sustained such heavy losses that they indefinitely postponed landing on the British Isles. The Battle of Britain was one of Great Britain's most significant accomplishments during World War II.
Enjoy these discounts for a limited time!
25% off the following building upgrades:
• Air Defense
• Catapult
• Mill
• Market
33% off the following troop upgrades:
• MRL
• Machine Gun
• Ranged Infantry
33% off the following War Tactic upgrades:
• Sabotage
Legendary Artifacts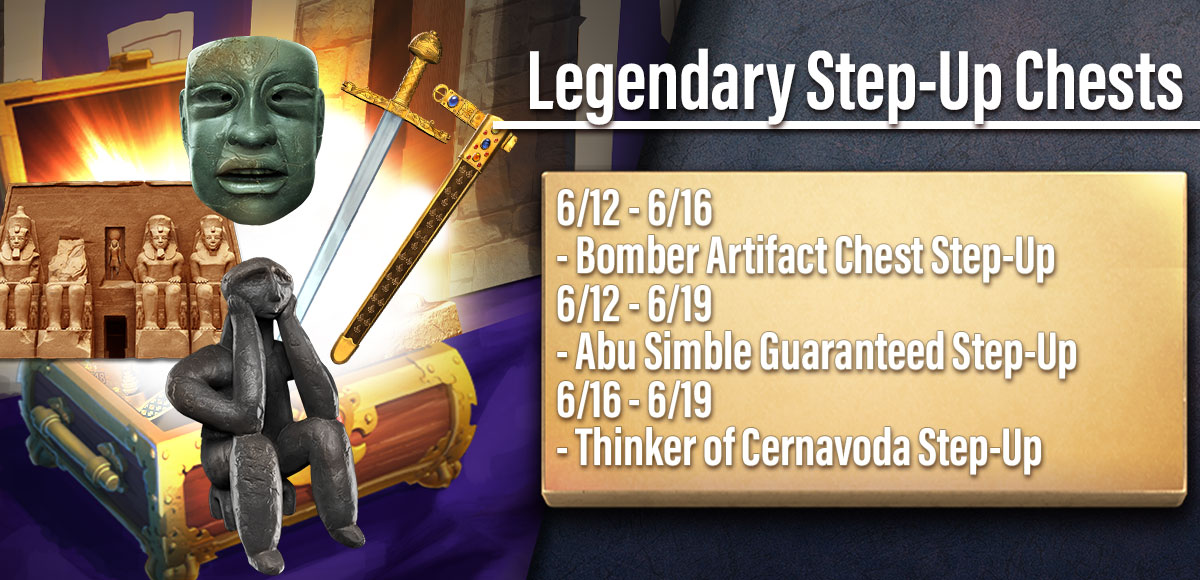 Bomber Legendary Artifact Chest Step-Up 6/12 - 6/16
This Step-Up sale features the Bomber Artifact Legendary Chest. Giving you multiple chances at Legendary Artifacts like the Jade Olmec Mask, Six Shooter, Joyeuse Sword and more!
Abu Simbel Guaranteed Step-Up 6/12 - 6/19
The Guaranteed Step-Up this week gives you multiple chances at the Legendary Artifact through the Abu Simbel Chest. Complete all steps in this sale to acquire the Abu Simbel Guaranteed!
Thinker of Cernavoda Step-Up 6/16 - 6/19
This Step-Up sale features multiple chances at the Legendary Artifact Thinker of Cernavoda through the Thinker Chest!
Council Committee Recruitments 6/16 - 6/19
This week's Committee Recruitments focus on Leonidas and Alfred Nobel!
The Nobel's Academy Recruitment includes only Primary Chamber versions of Alfred Nobel and Councilors with Royalty, Admiral, and Scholar Duties of the same Chamber.
Leonidas' Last Stand Recruitment includes only War Chamber versions of Leonidas and Councilors with Revolutionary and Admiral Duties of the same Chamber.