Joined

Jul 13, 2015
Messages

447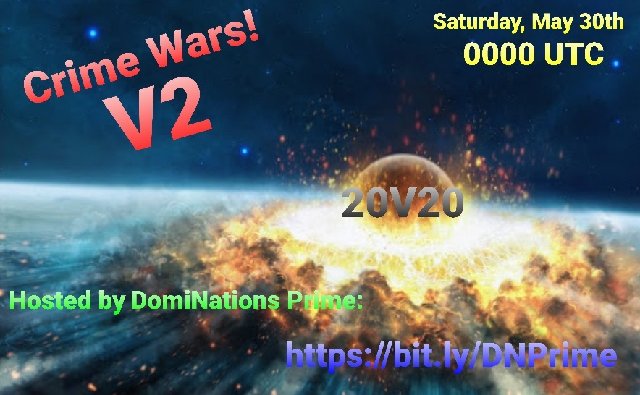 Crime Wars!
Our first installation of Crime Wars was a hit, with 32 of 42 alliances matching in the event, succeeded by several follow-up matches!

It is time for our next installment!
A Mass 20v20 H2H War Search!
​
Why are we doing this?
• For fun (duh).
Who's invited?
• Everyone who can spin a 20v war search!
When do we need to be prepared to search?
• Saturday, May 30th at 0000 UTC.
• Friday, May 29th 8:00 PM US-Eastern.
• Saturday, May 30th 10:00 AM Sydney, Australia.

Tentative tiered war search schedule based off grouping, which Crime himself will decide prior to search (stay tuned!)!
Criteria info needed for optimal grouping:
• Approximate quantity of level 300+ bases.*
• Approximate quantity of level 250+ bases.*
• Alliance Glory (this info will be gathered by Optimus Crime).
Other stipulations?
• None, really... although...
• * DO notify Optimus Crime ASAP if number of 250/300+ level bases change.
• ESH preferred and encouraged, although we will not enforce this.
• Do NOT stop and restart the spin or you will risk NOT matching participating alliances. This was the fate of ~4 alliances in the first event installment.
You'll get your own fancy 20v20 tag and access to a super special room to discuss with other alliances leading up to the 20v20 mass search. This will allow you to get acquainted and build relations.

So join the server, tag @Mod and let them know you're on DNP for the fun.
Last edited: