Big Huge Moderator
Staff member
Joined

Apr 21, 2015
Messages

315
Awards

2
Greetings Leaders,
Last week on our Livestream we showed off the first look at a new feature heading to DomiNations later this month, our seasonal Leaderboard system! We're going to dive into what you can expect when this feature rolls out with our next release 9.8. The first season of seasonal leaderboards will live alongside the existing Leaderboard and provide new rewards for players who aim to push through the ranks each new leaderboard season.
Let the Battles begin.
The seasonal Leaderboard becomes available once you reach the Classical Age. Competing in battles will earn you Triumph, a points system based on your offensive and defensive performances. You're going to be competing against hundreds of other players in your group, and the victories you achieve will earn you Triumph, which can increase your standing on the Leaderboard unlocking Active Buffs and improving your end-of-season reward. Keep in mind that all Triumph accumulated will reset once the season comes to an end.
Player grouping is based on the current Age you are in:
Classical-Gunpowder
Enlightenment-Global
Atomic-Space
Digital-Information
Triumph
Progressing through the Leaderboard is done by accumulating Triumph, which is earned by participating in multiplayer battles and War.
In multiplayer battles, you earn Triumph both while attacking and defending your base from other Leaders. Your performance in both of these settings will earn or cost you Triumph. A couple of factors determine how much Triumph you gain: the number of Victory stars earned, whether you win or lose the encounter, and the Age of the opponent you face.
We want to encourage players to push the limits of their armies, so claiming a victory over a higher Age Base will earn you more Triumph. Protecting your base from 5-Star victories will be vital as you can lose Triumph from successful attacks.
Multiplayer battles are not the only place you can earn Triumph, your offensive attacks in War will also net you points towards your total Triumph. In War, however, the multiplier will only trigger on Offense and not on Defensive matchups.
Let's take a look at the chart below: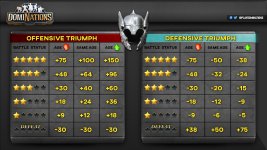 Active Buffs
Active Buffs are powerful new buffs that you can earn as you rise through the Leaderboard ranks. Each new season brings new bonuses unlocked as you advance through the ranks; these range from benefits such as a Farm Harvest Rate increase or buffs that increase oil granted after a victory. Achieving a new Rank will reward you with the buff for that tier and all active buffs for previous rank buffs. Buffs in the same tier do not stack; however, they only increase bonuses once you reach the new tier. Keep in mind if you drop tiers, you do lose the Active Buff bonuses for that tier. Once the season ends, the Active Buffs unlocked will be removed as we reset and prepare for the next season.
Rewards
We want to make the climb through higher ranks feel rewarding. In addition to the Active Buffs that you unlock throughout the season, there will also be end-of-season rewards that change based on your current ranking. Once the season concludes, there will be a grace period at the end of a leaderboard season where you will no longer accumulate Triumph giving you time to claim your prizes before the next season begins.
Livestream
If you missed it, make sure to check out our live stream with DomiNations Lead Designer, where we discuss Leaderboards and what you can expect when this feature launches with the release of 9.8!
https://www.twitch.tv/videos/1173970805
Keep an eye out for additional leaderboards updates on our forums as the season rolls along. We look forward to reading your impressions and feedback once you get your hands on the update. You can experience the climb yourself once the new Leaderboard arrives in 9.8!
Last edited: