Joined

Jul 13, 2015
Messages

447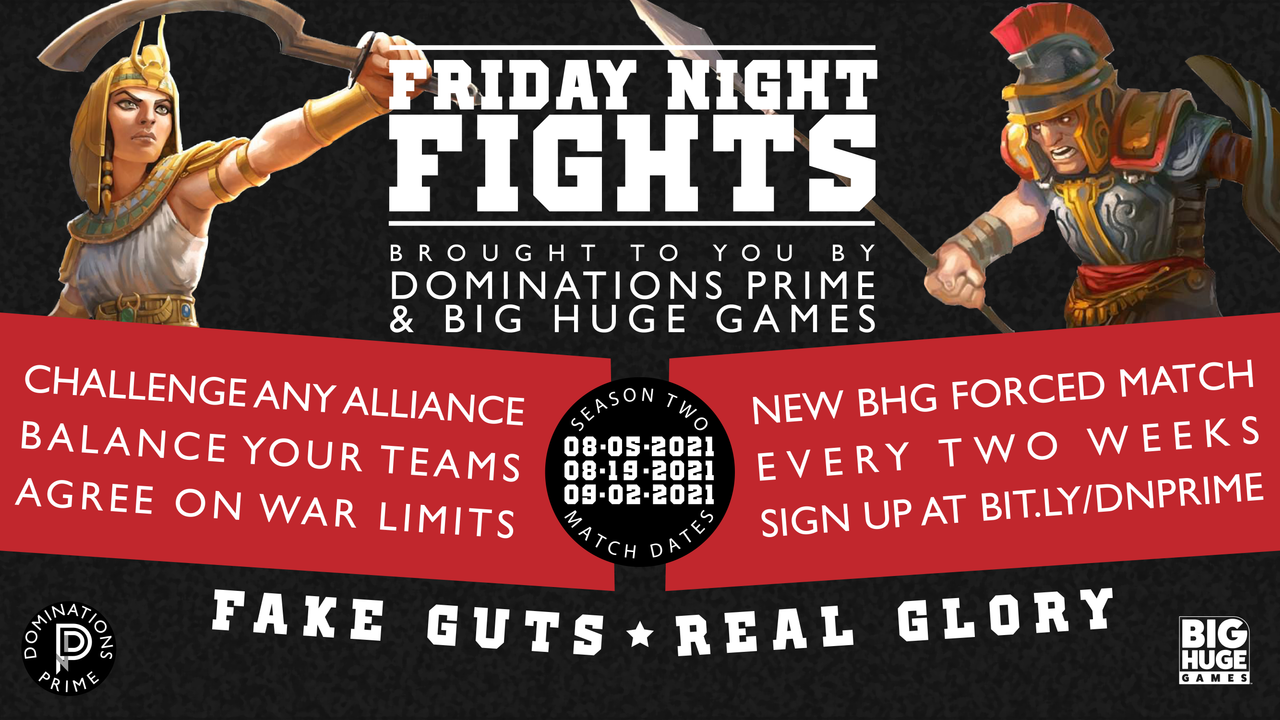 ★ 𝗗𝗢𝗠𝗜𝗡𝗔𝗧𝗜𝗢𝗡𝗦 𝗣𝗥𝗜𝗠𝗘 & 𝗕𝗜𝗚 𝗛𝗨𝗚𝗘 𝗚𝗔𝗠𝗘𝗦 𝗣𝗥𝗘𝗦𝗘𝗡𝗧𝗦 𝗙𝗥𝗜𝗗𝗔𝗬 𝗡𝗜𝗚𝗛𝗧 𝗙𝗜𝗚𝗛𝗧𝗦 ★

★ 𝗦𝗘𝗔𝗦𝗢𝗡 𝗧𝗪𝗢 ★
The guts may be fake, but the glory is real; declare WAR against any alliance you choose in a forced match!
You pick your opponent; you select your war size; you control any war limitations you want to use. Every two weeks BHG will match actual alliances for real wars during each Season of Friday Night Fights. Share the excitement of your battle in the DomiNations Prime #fight-night channel and earn some extra in game rewards! Want to take the coveted @Fight Night Champ role from our Season 1 winners? Check out the new #bounty-board channel to see who's up for the challenge!


HEAD TO DOMINATIONS PRIME (https://discord.st/DNPrime) FOR MORE DETAILS AND SIGN UPS ON THE #FRIDAY-NIGHT-FIGHTS-INFO CHANNEL.
​
Last edited: