Joined

Apr 8, 2015
Messages

105
How this happen when this player is as same age (classical) and level as me.. There's no any other upgrades of wonders in the library so why his colosseum's health points is larger than mine and yeah his defender type is also already at phalanx and mine is only at hoplite which is very unfair? My blacksmith's level and its upgradeable contents inside is already at max and it needs to be in medieval to go further soo it has no any concern about the problem.. Please fix this bug.. there's still a lot of problems inside this game. Clean this up please..
This is my colosseum's status: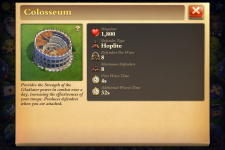 You can see in my colosseum that I have only 1800 hitpoints and only have a hoplite as defenders which is the lower form of the phalanx..
And this is the other player's colosseum's status: