BHG Community Manager
Staff member
Joined

May 6, 2022
Messages

609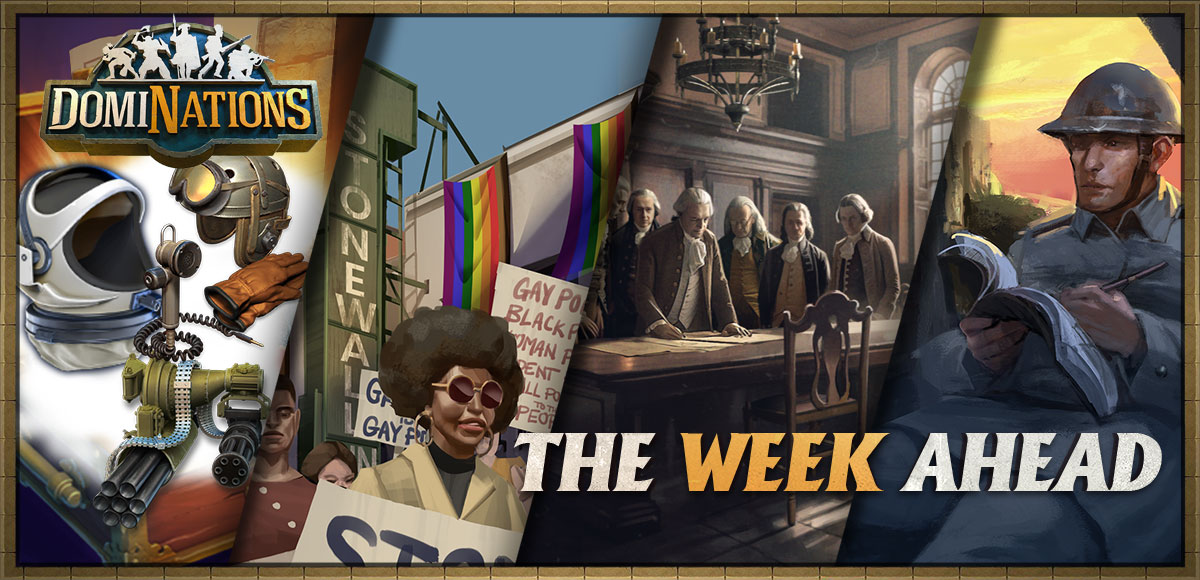 Greetings Leaders,
This week we're taking a first look at the upcoming Season Flourishing Frontlines. The US Independence Day Episode is one you'll want to make sure you keep up with too for a Legendary Artifact Opportunity! Take a look at what you can expect this upcoming week: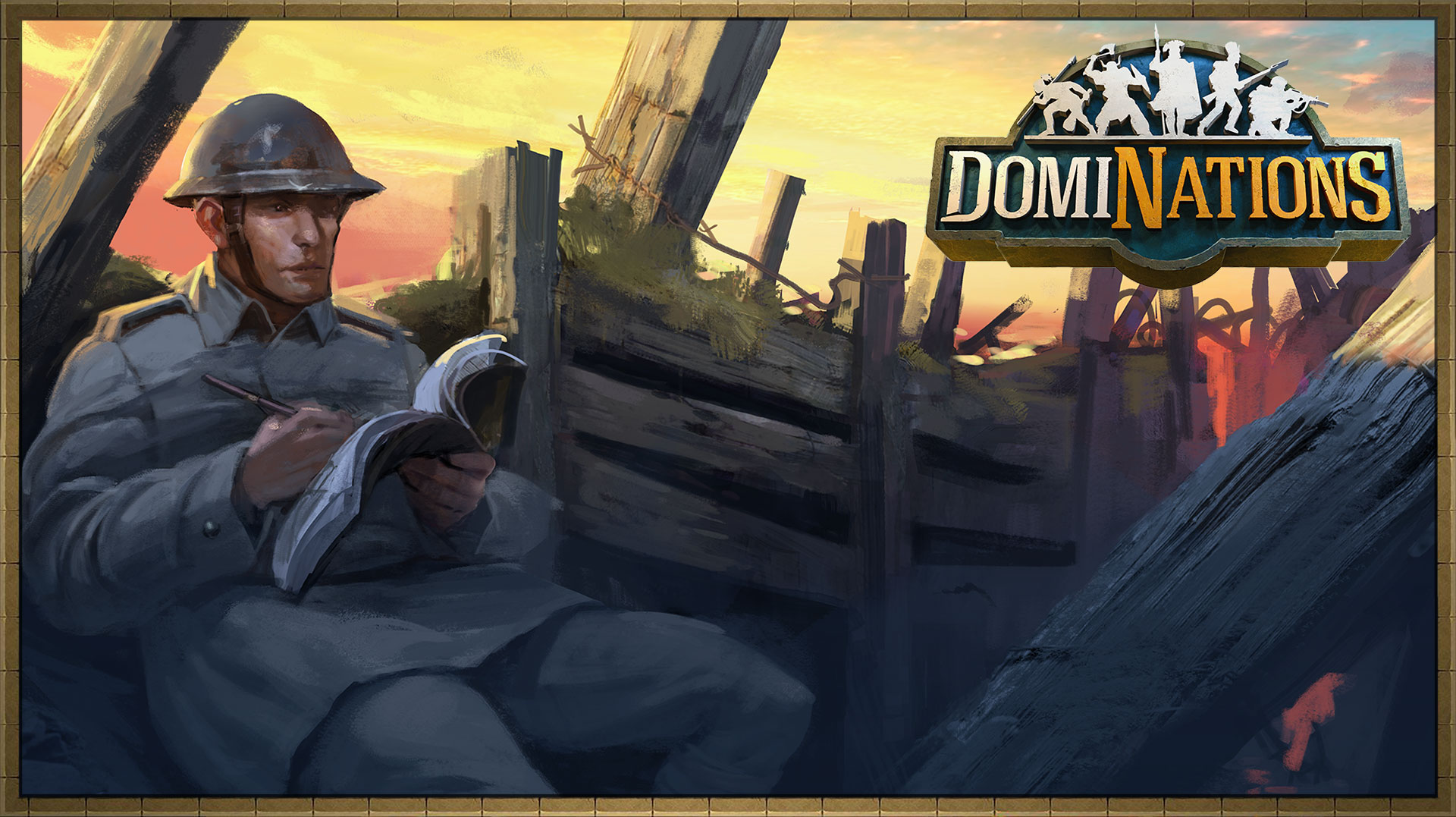 Season 4: Flourishing Frontlines
Season 4: Flourishing Frontlines is nearly upon us! Prepare for phenomenal progression in Summer of the Ages and immense buffs to the Sherman Crab Tank. This Season will also feature new strategies involving the Commando troop and Missile Silo building!
The Season will begin on 07/02 at 15:00 UTC and ends on 09/17 at 15:00 UTC.
Season 4: Flourishing Frontlines is nearly upon us! Prepare for phenomenal progression in Summer of the Ages and immense buffs to the Sherman Crab Tank. This Season will also feature new strategies for the Commando troop and Missile Silo building!
New Strategies!
Commando Movement Speed 40%
Commando Hitpoints -30%
Missile Silo Damage +25%
Missile Silo Attack Speed -20%
Offensive Bonuses:
Brandenburg Gate Factory Troop Damage Bonus +25%
Blitzkrieg Defender Delay Duration +25%
Mortar Infantry Damage +33%
Armored Car Hitpoints +40%
Fighter Damage REDACTED%
Fighter Hitpoints REDACTED%
Alexander Damage +50%
Churchill Damage +50%
Decoy Tactic Hitpoints +40%
Agility Directive Movement Speed Bonus REDACTED%
Cripple Directive Damage Reduction +100%
Tank Workshop Population Bonus +5
Defensive Bonuses:
Acropolis Defender Spawn Time Reduction +50%
Acropolis Defender Health Bonus +100%
Burj Al Arab Defenders +2
Spec Ops Defender Movement Speed REDACTED%
Redoubt Damage +33%
Sniper Tower Damage +30%
Armored Ambush Trap Defender Hitpoints REDACTED%
GCI Radar Activation Range +1
Storage Blessing Power +50%
Surveillance Directive Duration +33%
Mobilize Directive Power +50%
Helipad Defender Damage REDACTED%
Helipad Defenders per Wave +1
Helipad Max Defenders +2
Special Troop Bonuses:
General Pershing Damage +50%
Semtex Specialist Movement Speed +60%
Semtex Specialist Hitpoints -30%
Heavy Field Mortar Damage +45%
Armored Car Mk3 Hitpoints +60%
Sepecat Jaguar Damage REDACTED%
Sepecat Jaguar Hitpoints REDACTED%
Sherman Crab Tank Movement Speed +25%
Sherman Crab Tank Damage & Hitpoints REDACTED%
Additional Bonuses:
Alliance XP per War Battle Victory +3
Alliance Law Donation Oil Cost -50%
DomiNations Bonus Resources +100%
Wait, some of these stats are REDACTED!? Oh, my intel shows me that these will be revealed when the Flourishing Frontlines Season kicks off on 7/2. What do you think these changes are going to be?
Summer for the Ages 2023
Summer for the Ages will begin 7/2, check back on the forums 7/1 for full details on the discounts and events throughout the Summer!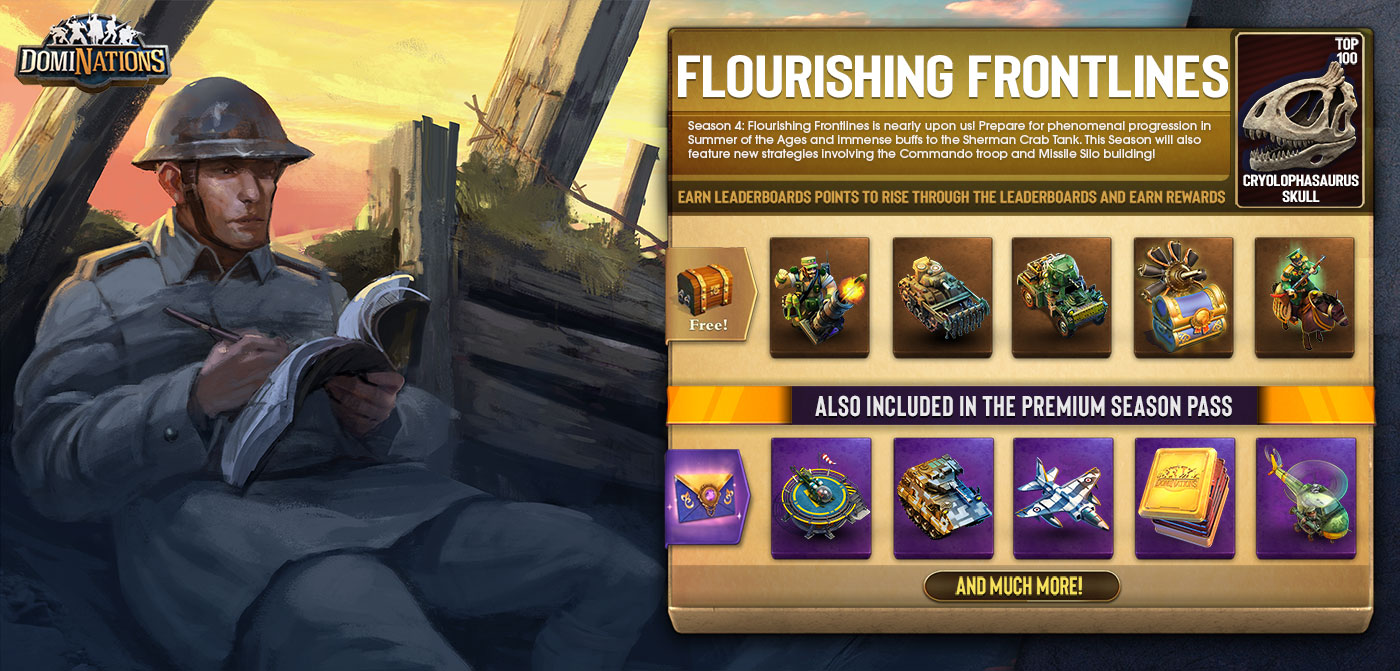 Season Pass
The Flourishing Frontlines Season Pass will run from 7/2 until 7/23.
You can obtain up to six Legendary Tokens and four Premium Recruitments for free. The Free Track includes Season Boosted Troop Tactics including Heavy Field Mortar, Sherman Crab Tank, General Pershing and more! You can also get a free Season 4 Chest with a chance to obtain the Red Baron's Engine Legendary Artifact!
Premium Pass holders can obtain the Season Boosted Helipad, Sepecat Jaguar and more Troop Tactics. You can also acquire an additional six Legendary Tokens and five Season 4 Chests. This track also has 13 Superior Recruitments to help fill out your council collection, and plenty more!
Hello July Sale 7/1 - 7/4
Jump into July with a quick batch of Crowns, and two Flourishing Frontlines boosted Troop Tactics the Sepecat Jaguar and Sherman Crab Tank!
Episode Passes 6/30 - 7/5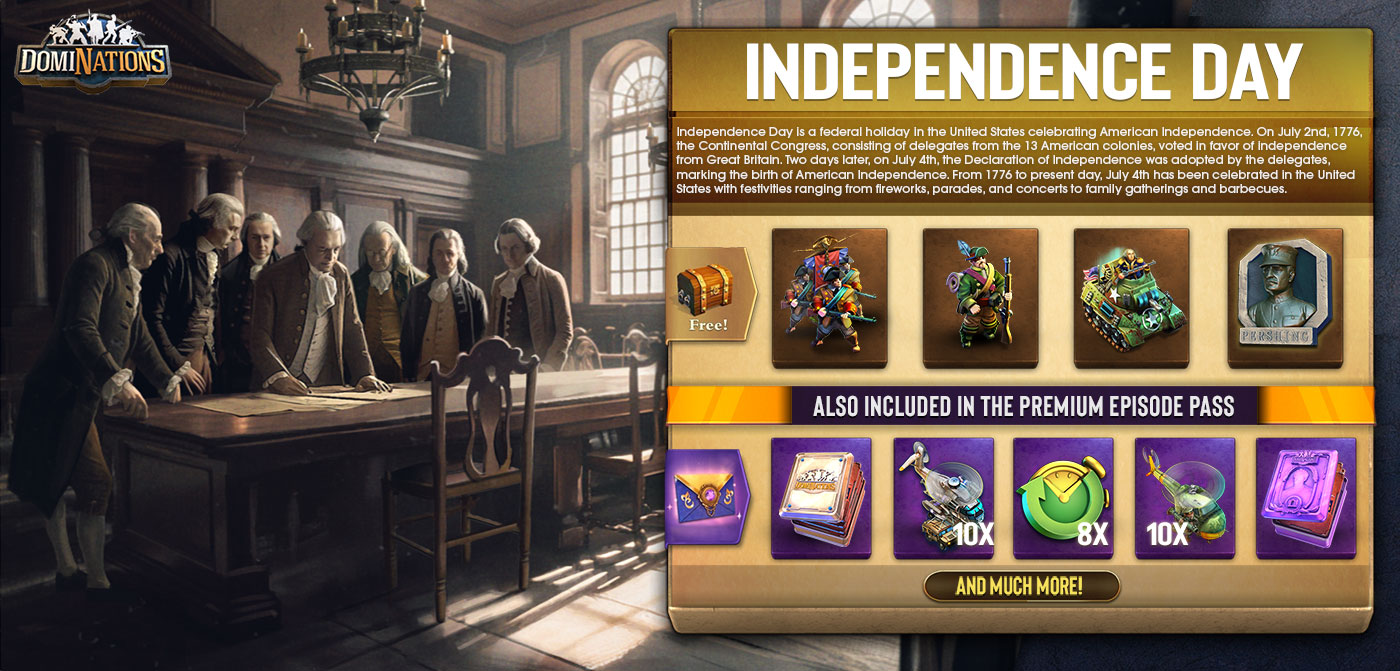 US Independence Day
This Independence Day Pass is one you're not going to want to miss!
Our Free Track will have plenty of US Independence Day Troop Tactics, but the highlight is by far the General Pershing Bas Relief Legendary Artifact!
Our Premium Track will give you up to 33 New Legendary Recruitments with PLENTY of Super Stallion and General Eisenhower Troop Tactics! You'll also find an abundance of Speed Ups, 7x 2d Research Speed Ups, 7x 2d Building Speed Ups, and 8x 2d Generic Speed Ups.
As apart of the US Independence Day weekend be sure to check out Marco's Wares from 6/30 - 7/4 to receive 4 Legendary Tokens each day!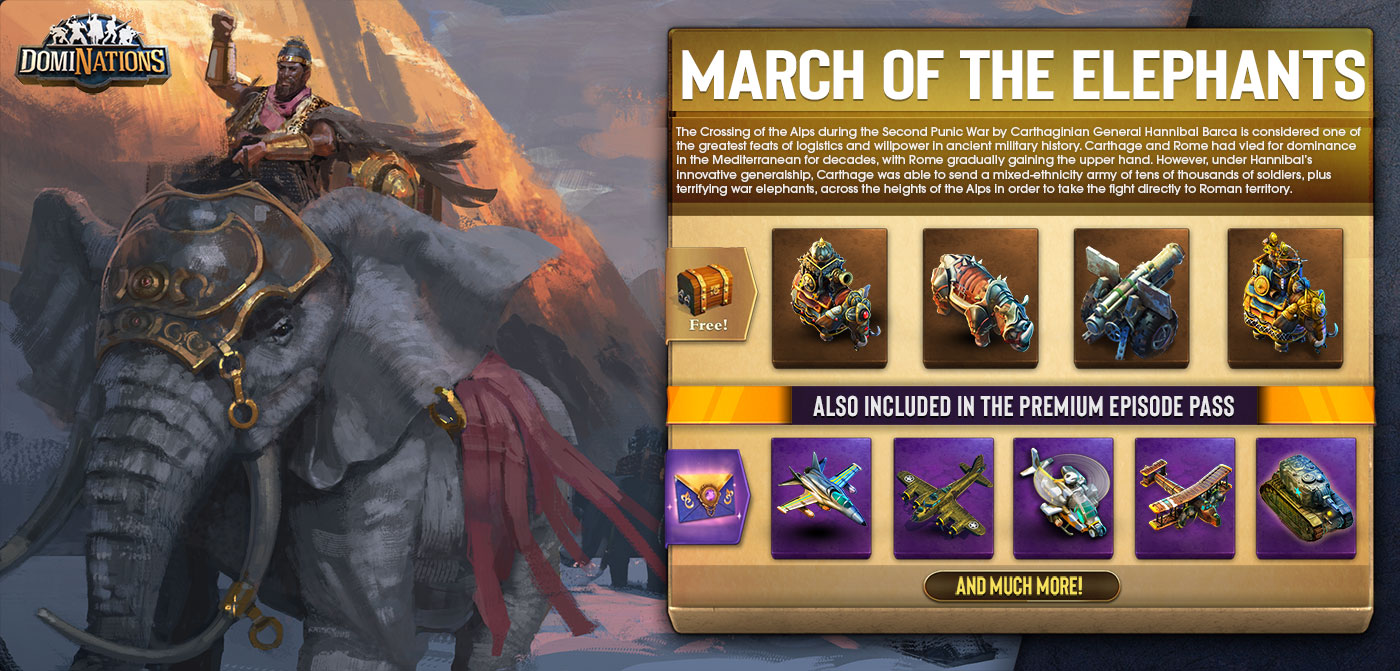 March of the Elephants
The March of the Elephants Episode will load up your Troop Tactics with Siege and Archer Elephants on the Free Track.
Premium Pass holders can acquire B-17 Bombers, Vickers Virginia, and KV-2 Dreadnought Tank Troop Tactics!
Events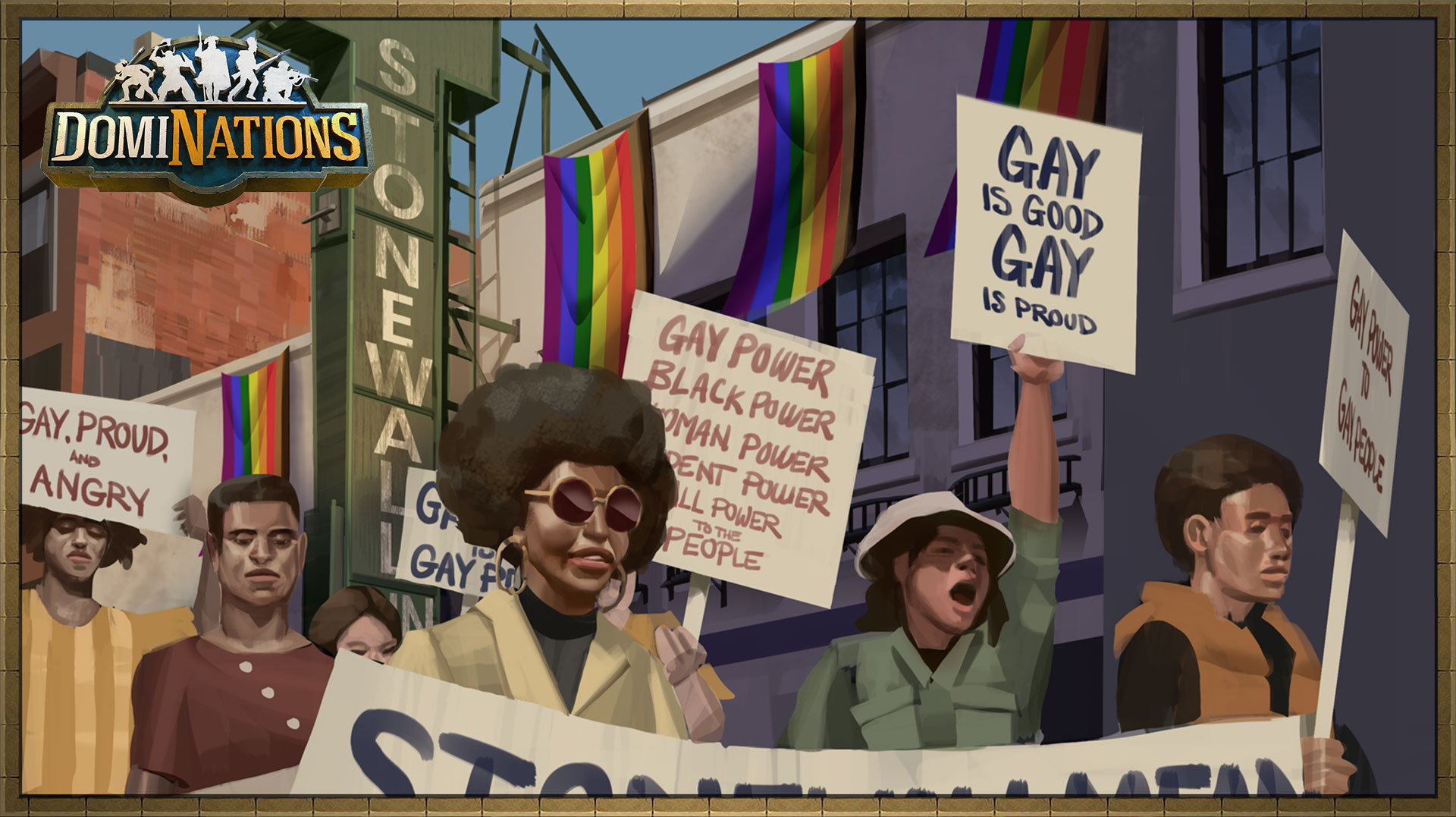 Stonewall Riots Episode 6/26 - 6/30
This week is our Stonewall Event!
Half a century ago the Stonewall Riots sparked the beginning of the LGBTQ equal rights movement in the United States. Persecution and criminalization of the LGBT community was routine, including prohibition of same-sex dancing and cross-dressing. The Stonewall Inn was a known gay bar in Greenwich Village and was raided by police in the early hours of June 28, 1969. Marginalized Americans, tired of unjust persecution, fought back. The next evening protests grew and continued for another 5 days. After contributing at Stonewall, Marsha P. Johnson led the way for activists by organizing the LGBT community. She co-founded STAR, one of the first organizations to help transgender and homeless youth, and was a founding member of the Gay Liberation Front. On the 1 year anniversary of the Stonewall riots the first Pride marches were held. In 2016 the Stonewall National Park was established. A rainbow LGBT flag flies over the park making it the first officially maintained LGBT flag at a federal monument.
Enjoy these discounts for a limited time! (Levels released in 11.10 and onward will not be discounted during this event.)
25% off the following building upgrades:
• Redoubt
• Sniper Tower
• Missile Silo
• Armored Ambush Trap
33% off the following troop upgrades:
• Commando
• Armored Car
33% off the following General upgrades:
• Alexander
33% off the following War Tactic upgrades:
• Decoy
Committee Recruitments 6/30 - 7/3
This weekend's Committee Packs focuses on George Washington and Itzcoatl.
The Washington's Revolution Recruitment includes only Primary Chamber versions of George Washington and Councilors with Diplomat and Revolutionary Duties of the same Chamber.
Itzcoatl's Triple Alliance Recruitment includes only War Chamber versions of Itzcoatl and Councilors with the Leader Duty of the same Chamber.
Legendary Artifacts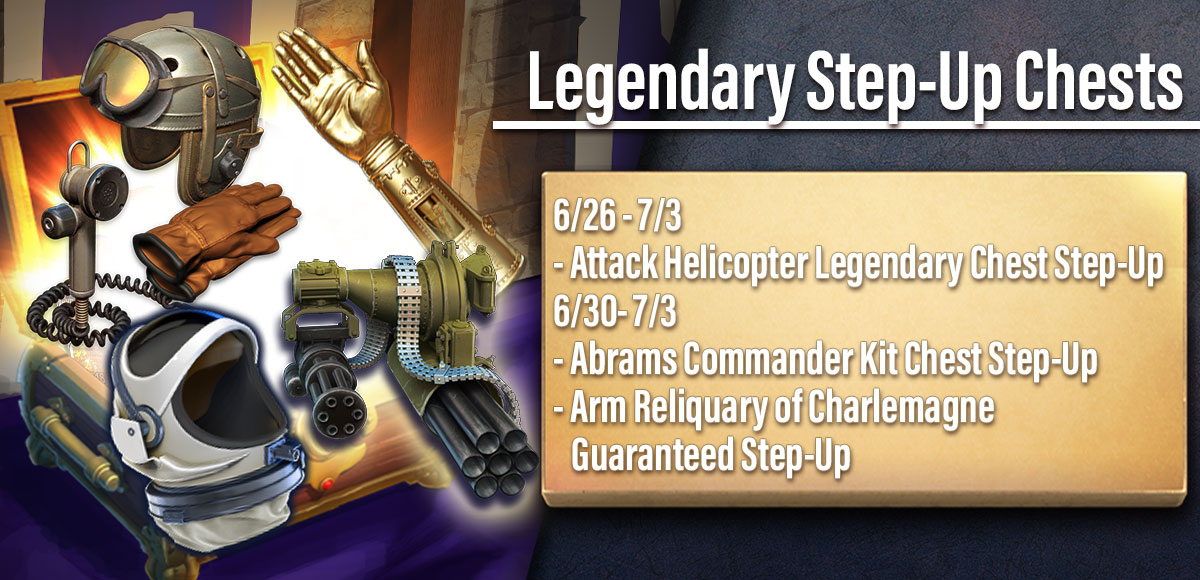 Abrams Commander Kit Chest Step-Up 6/30 - 7/3
This step-up sale gets you multiple chances at the Creighton Abrams Tank Commander Kit Legendary Artifact!
Attack Helicopter Legendary Chest Step-Up 6/26 - 7/3
This Step-Up gives you chances at multiple Legendary Artifacts including the Gemini 8 Helmet, Huey Armament System, and Six Shooter!
Arm Reliquary of Charlemagne Guaranteed Step-Up 6/30 - 7/3
Multiple chances for the Arm Reliquary of Charlemagne Legendary Artifact via Chests. If you complete all steps you get the Legendary Artifact Guaranteed!