Joined

May 6, 2022
Messages

418
Awards

1
Greetings Leaders,
This week's events will have you seeking that perfect roll for your Museum Artifacts. You'll also have plenty of opportunities to pull that Council Committee you've been eyeing!
Glory Decay
We will be running Glory Decay this week! We'll continue to run Glory Decay Bi-weekly as a temporary solution leading up to a new Glory Decay format later this year. We will give more details on the updated format as we get closer to finalizing what the future of this and other content looks like in the coming months.
Events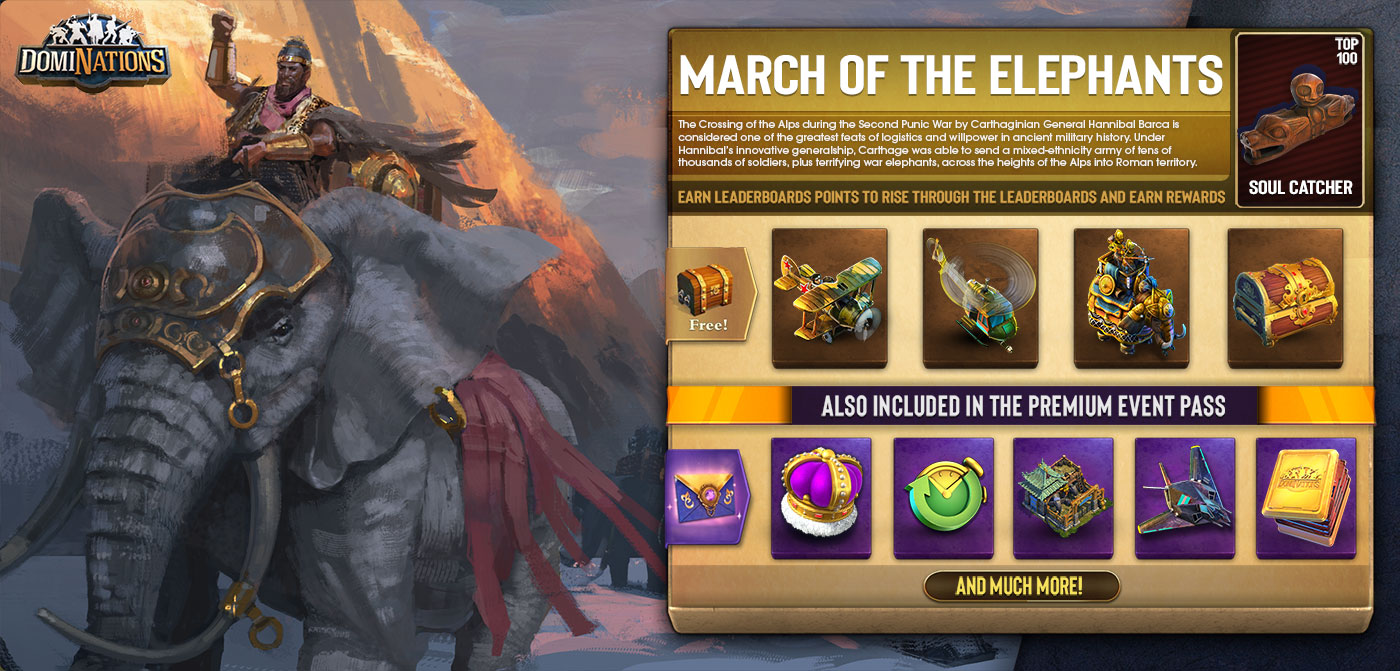 March of the Elephants Event Pass 2/23-3/2
The March of the Elephants Event Pass will be available 2/23. The end of the free track features a special Chest that gives you a chance at the Personal Computer, Aztec Calendar, and Mask of Tutankhamun Legendary Artifacts! Premium Pass holders can fill out those Committees with up to 33 Legendary Recruitments for your Council Chamber and more! Those that can rank within the top 100 on the leaderboard can get themselves the Soul Catcher Legendary Artifact.
Lucky Re-Roll Event 2/21-2/28
The Lucky Museum Reroll event will begin rolling 2/21! For a limited time, Main Hall Artifacts have a 2x chance to reroll benefits starting at 11%! War Hall Artifacts also have a 2x chanceto reroll benefits starting at 6%! Fully upgrade these benefits to get an incredible 15% bonus from your War Artifacts or a 20% bonus from your Main Hall Artifacts!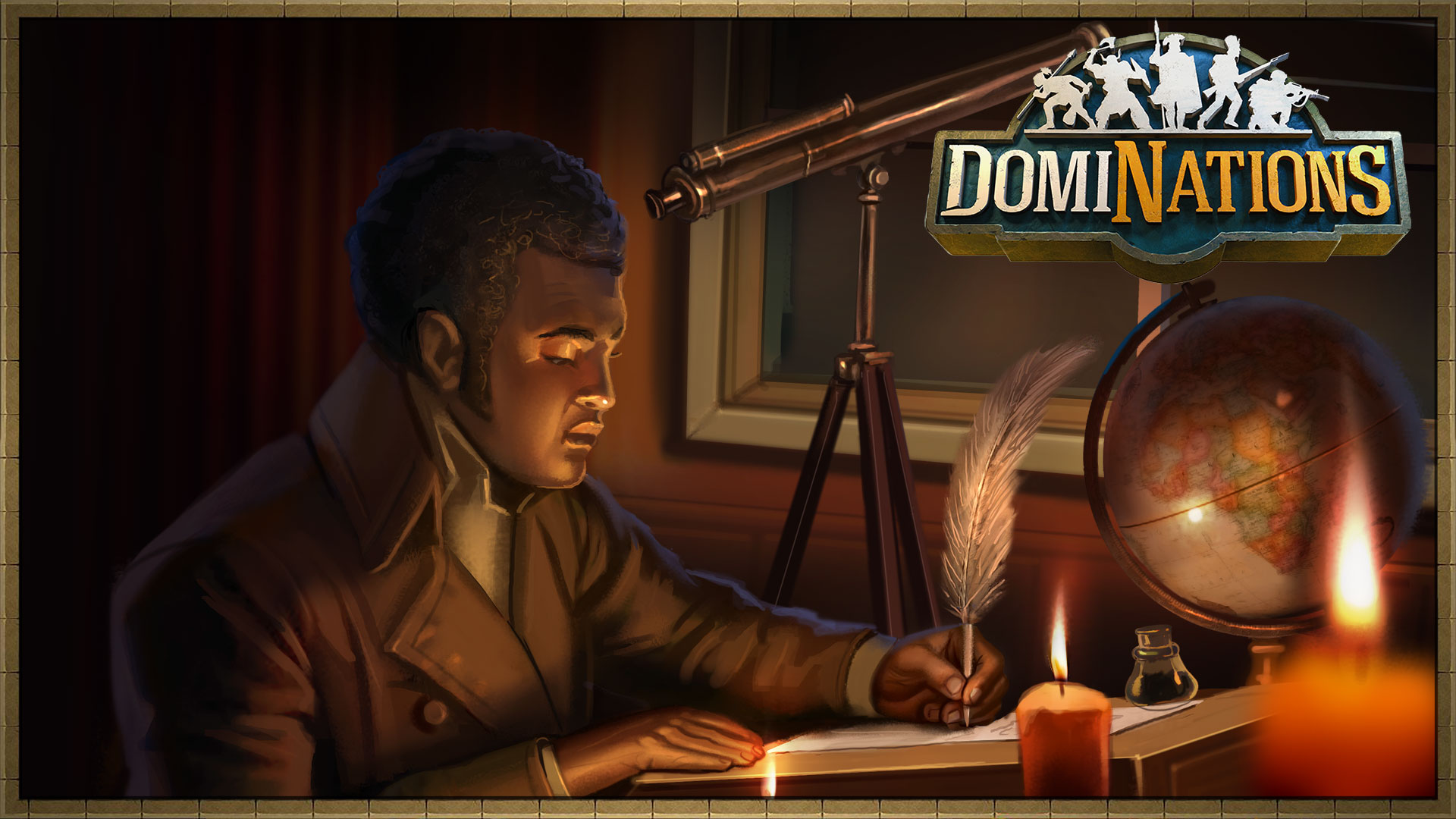 Banneker's Almanac 2/24-2/27
This weekend is our Banneker's Almanac Event!
Benjamin Banneker, born during slavery to free African-American parents, was a self-educated farmer, writer, mathematician, and astronomer who successfully predicted lunar and solar eclipses. He helped survey land for the new capital of the United States and corresponded with Thomas Jefferson, challenging him to ensure racial equality. Banneker is best known for the almanacs he published from 1792-1797 which contained a wide array of scientific and literary writings, including his own astronomical calculations.
Enjoy these discounts for a limited time!
33% off the following General upgrades:
• Cleopatra
• Napoleon
• Zhukov
• Sun Tzu
Sales
Here are some sales that you'll want to keep an eye out for this week!
Recon Sale 2/20-2/22
Recon Plane Troop Tactic and Speed Ups at multiple steps!
Winter for the Ages Resource Sale 2/24-2/27
Stock back up on those resources spent throughout the Winter for the Ages Event!
Helicopter Hangar Step-Up 2/24-2/27
Acquire the Helicopter Hanger and continue to get Helicopter Troop Tactics each step!
Step-Up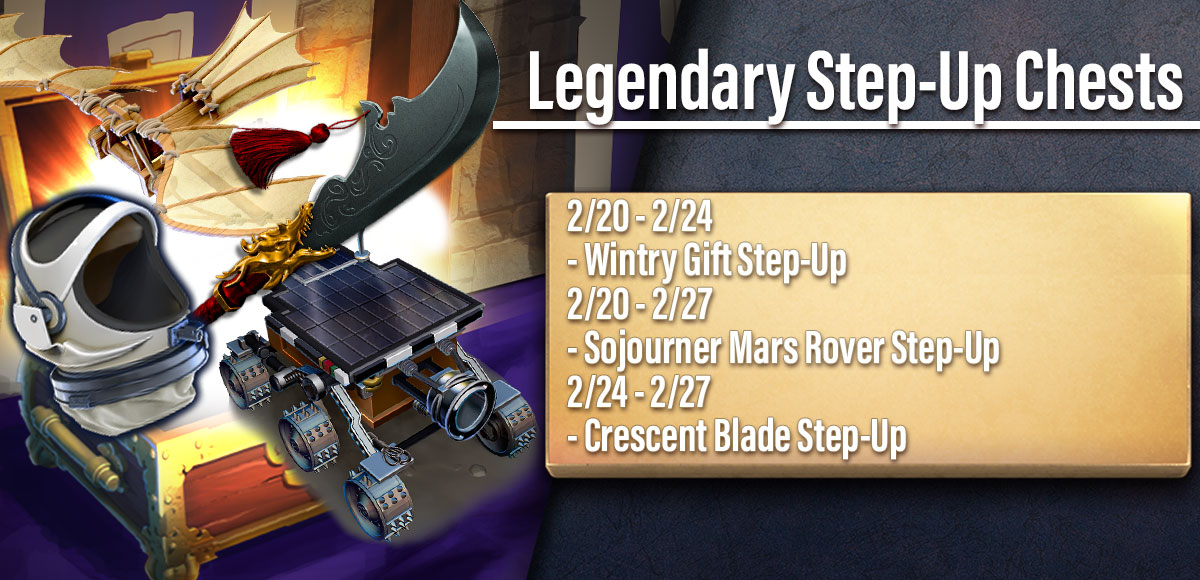 Wintry Gift 2/20-2/24
Tons of Legendary Tokens inside the Wintry Gift Double Token Chest Step-Up. Each chest also gives chances at some Legendary Artifacts including Da Vinci's Flying Machine, Gemini 8 Helmet, and more!
Sojourner Mars Rover Step-Up 2/20-2/27
Multiple chances at the Sojourner Mars Rover Legendary Artifact, with a Guaranteed drop in the final step!
Crescent Blade Step-Up 2/24-2/27
Multiple chances at the Crescent Blade Legendary Artifact in this Step-up!
Treasure Passes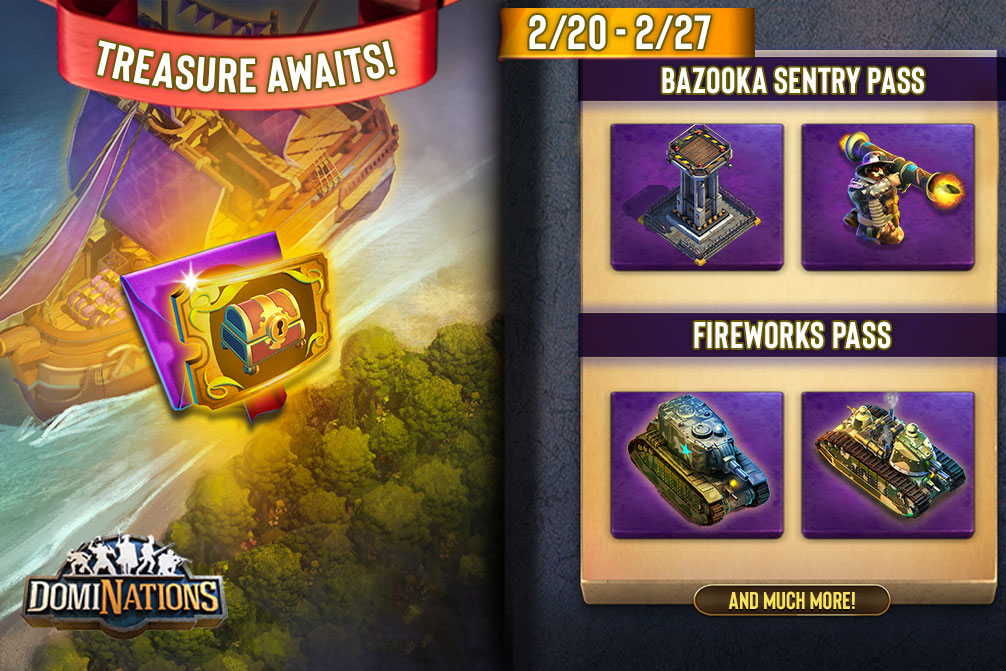 ​
This week's upcoming Treasure Passes include the Bazooka Sentry Pass starting out with, of course, the Bazooka Sentry building but added with a Marine Bazooka and AT-4 Bazooka Troop Tactics. You'll then get daily Kagnew Infantry and Veteran Bazooka Troop Tactics!
You can also look forward to the Fireworks Pass opening with KV-2 Dreadnought Tank and then Daily Char 2C Tank Troop Tactics.
Additional Treasure Passes Include:
Legendary Pass

Daily chances at the Jade Olmec Mask Legendary Artifact

Tank Pass

Opens with a Heavy Tank Troop Tactic and continues with a daily supply of Heavy Tanks!
Last edited: