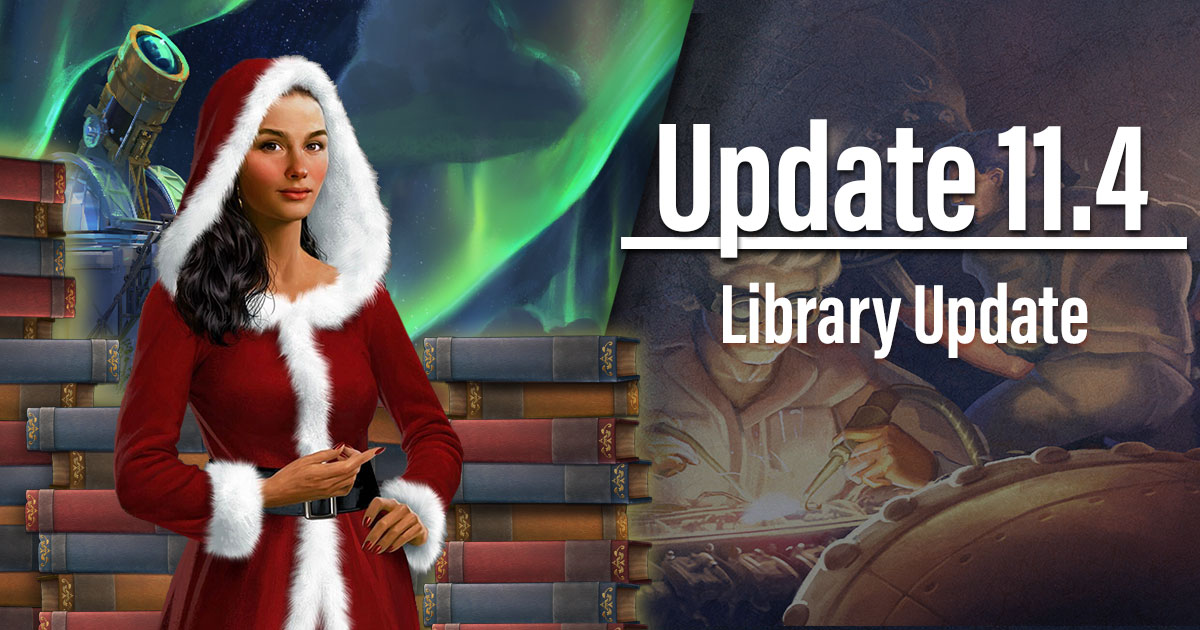 Greetings Leaders,
Update 11.4 is on the way with a tentative release date of Monday 12/12 (target release date could change should our final checks reveal major issues). Players will need to prepare to update to this version in order to participate in Wars. This is a major update to your Library research! We've also implemented a few UI updates to correct some visual issues that have been appearing. Additionally, we've done some cleanup on Drone Command related issues that popped up as well!
Defensive Library Bookcase
In our push to bring Defensive players up to speed, we've added a new bookcase to the Library that focuses exclusively on defensive improvements.
This new Bookcase will be unlocked as soon as the Library is built with all Level 1 books unlocked by default. The topics of research are as follows:
Upon Unlock of Library
Tower Defense


Level 1 - +5% Tower Damage
Level 2 - +5% Tower Health
Level 3 - +7% Tower Damage
Level 4 - +7% Tower Health
Level 5 - +10% Tower Damage
Mortars


+5% Tower Damage
+5% Mortar Health
+7% Tower Damage
+7% Mortar Health
+1 Mortar Limit

(Towers refer to Towers, NOT Mortar Towers)
Bulwark


+2% Wall Health
+5% Bastion Health
+2% Wall Health
+5% Bastion Health
+3% Bastion Slow
Sally Forth


Spawn +1 Troops from Garrison

(Max Defenders)

Spawn +1 Troops from Armored Ambush
Spawn +2 Troops from Garrison

(Max Defenders)

Spawn +3 Troops from Ambush Trap
Spawn +3 Troops from Garrison

(Max Defenders)
Industrial Age
Protector


+5% Tower Damage
+5% Ballista Tower Damage
+5% Sniper Tower Damage
+5% Redoubt Damage
+5% Catapult Damage

Safeguard


+5% Tower Health
+5% Ballista Tower Health
+5% Sniper Tower Health
+5% Redoubt Health
+5% Catapult Health

Disruption


-5% Enemy Heavy Tank Damage
-5% Enemy Commando Health
-5% Enemy Heavy Tank Health
-5% Enemy General Damage
-5% Enemy Machine Gun Infantry Damage

Stronghold


+5% Stronghold Damage
+5% Stronghold Health
+7% Stronghold Damage
+7% Stronghold Health
+10% Stronghold Damage
Digital Age
Battle Stations


+3% Mortar Fire Rate
+3% Redoubt Fire Rate
+3% Missile Silo Fire Rate
+3% Bunker Spawn Rate
+1 Anti Tank Gun Building

Fortify


+5% Garrison Health
+5% Stable Health
+5% Rocket Arsenal Health
+5% Bunker Health
+1

Max

Defenders from Bunker

Early Preparation


+10% S.A.M. Battery Damage
+10% Claymore Damage
+10% Armored Ambush Damage
+10% Caltrops Damage Reduction
+1 Armored Ambush Trap Limit

Blackout


-10% Enemy Recon Plane Duration
-10% Enemy Generals' Damage
-10% Enemy Bazooka Damage
-10% Enemy Bomber Damage
-10% Enemy Heavy Tank Damage

Capstone

Additional Drone Age Point Upgrades
This update adds additional upgrade levels to the following:

4 additional Command Post Levels

We're implementing these additional levels to make sure the Tubman Capstone Skill is caught up to where the skill was previously left off based on the Garrison Building. As such we will be discounting the resource cost by 50% for the four upgrade levels (starting with Space Age) upon release of 11.4. When the discount goes live it will last for 7-days. The discount will only appear if you have downloaded the 11.4 update, so be sure to manually update when this becomes available for your region.

War Academy
War Tactics: all receive one additional level
Decoy (Trap) one additional level
Ambush Trap one additional level
Winter Aesthetic
Winter has arrived in Dominations! We've updated the map with a winter theme to match the season.
Additional Fixes
Maori War Club buffs now apply to Troop Tactics

A small oversight as other Legendary Artifacts applied to both Generals and Troop Tactics in the past, Maori War Club is no exception to that rule.

Fixed errors in UI for Marco Polo

Removed an additional Oil Barrel sprite when in the resource trade window
Corrected the position of the tooltip box when tapping right side items at Marco Polo

Fixed visual issue with offensive drones in battle prep window
Wrong Default unit selected in troop tray corrected

Removed the second normal rally icon that appeared for some players in the troop tray

Retraining Troops not retraining all units after Drone Command Release
Corrected issue where a charged directive would lose a charge after friendly challenge
Implemented a fix to remove an exploit where Players could win wars with impossibly fast times.
Update 12/14
Added clarity to some definitions of the Defensive Bookcase in regards to Mortar Chapters, Sally Forth Chapters, and Fortify Chapters.
Last edited: