Joined

Jun 8, 2020
Messages

186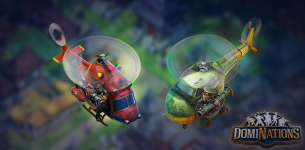 Greeting Leaders,
We understand that any time the word 'rebalance' comes into play, there are certain to be some strong feelings about the choices made. Above all, DomiNations is intended to be a diverse strategy game that offers fun and interesting challenges when building your army. When we have a single unit that can essentially make or break your attack it's our responsibility to balance that unit and allow players to explore alternative options.
For quite some time now, Generals Zhukov and Eisenhower have proven to be overperforming units and we've often thought about how to better incorporate varied strategies when using them. Eisenhower with high health, high damage, long-range, two lives, and splash damage, is simply too much power to put in a single troop. Safely floating above the battlefield provides an additional hidden healthpoint stat due to some percentage of units unable to attack him in this form. Once the meta developed, Eisenhower became a key part of army rollouts and we realized some changes need to be made to bring him in line with other troops, and to open the door for new unit strategies on both offense and defense.
Firstly, we are slightly reducing General Zhukov's range to help tone back his impact on battle. We think this small change will be enough to balance him in the overall meta while still allowing him to maintain the strengths that make him so desirable and effective.
Second, and more noticeably, we're introducing a new version of the Eisenhower unit which will be known as General Eisenhower Army. While this new unit version will work the same as the previous Eisenhower, he will have reduced range, health, and damage in Helicopter form, reduced health in his grounded form, and reduced splash damage radius. Because Eisenhower is such a widely used and effective unit we have treated his rebalance with the utmost respect, and have spent months hammering out the best stats for him to be an impactful unit.
The previous Eisenhower units will not be affected, but we are also discontinuing the ability to earn this unit in-game or through sales. We wanted to make sure not to negatively impact players who have unused Eisenhower troops, while also improving these units' impact on the game in the long term. Eisenhower will still provide a competitive impact on any battles he is deployed in but now war battles should also feel more balanced and less focused around how many Eisenhowers are in play.
We're excited to see new strategies you come up with using the new Eisenhower troop. We'll be closely monitoring the performance of these units after these changes go live. We look forward to hearing your thoughts/feedback once the changes are live in our next update.