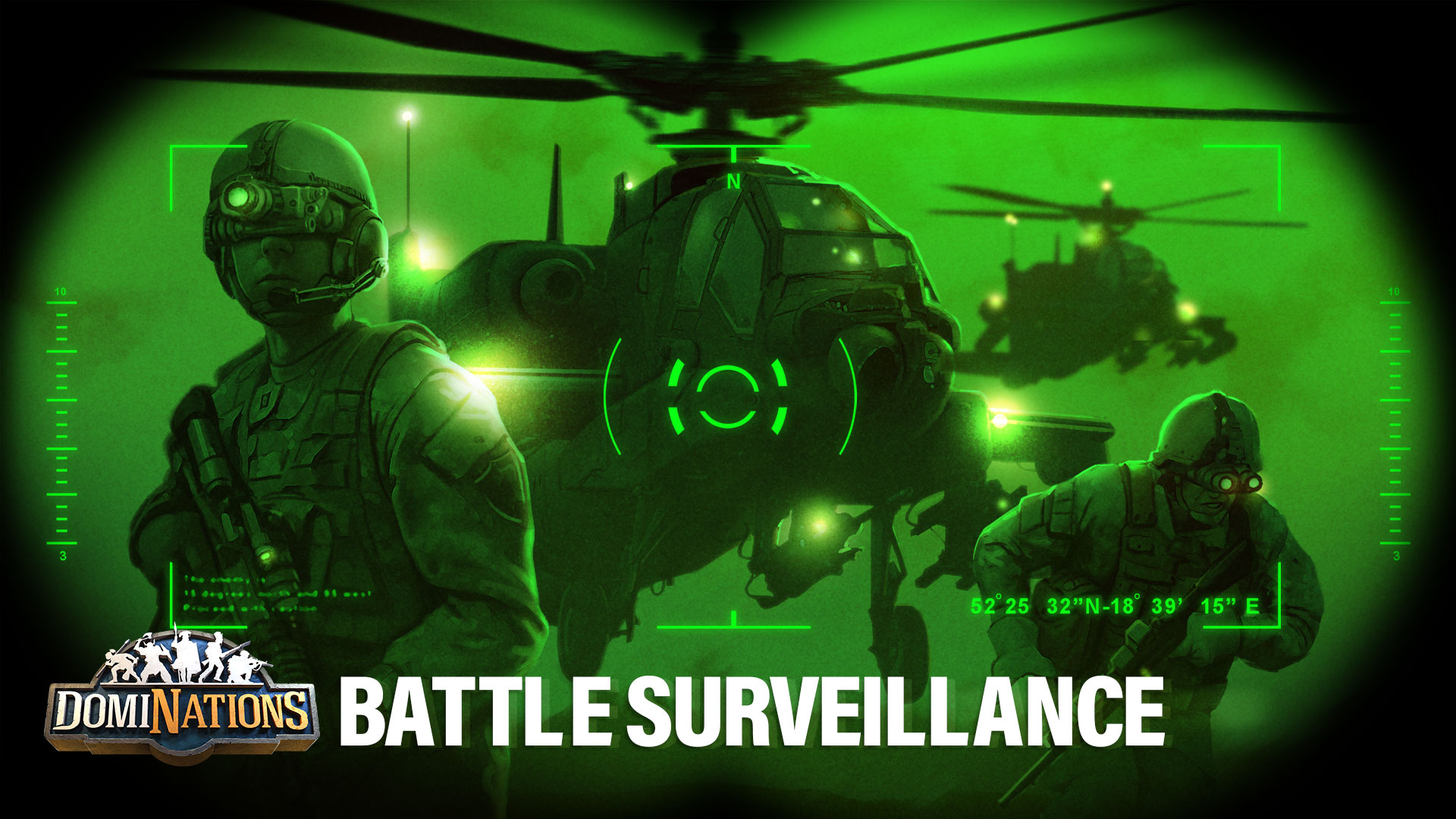 Greetings Leaders,
Season 5: Battle Surveillance kicks off tomorrow and lasts until 12/10! You'll officially start progression on your season pass 9/24, and can start picking up Season 5 Supply Drops the same day.
---
Here is the full reveal on the upcoming changes to Season 5: Battle Surveillance:
Season 5: Battle Surveillance is here! Dominate your opponents with powerful General and Heavy Cavalry bonuses, as well as Supply Vehicle bonuses to keep their allies healthy. Cause destruction by stealing more defenders with Betrayal, or using this Season's new strategies around Recon Planes to enhance your troops potency! But attackers be warned, there are of the equally powerful Generals on the defensive side, as well as other powerful buffs to stand against you.
New Strategies!
Recon Plane Scan Radius-50%
Recon Plane Hitpoints +30%
Recon Plane Cooldown -30%
Offensive Bonuses:
Terra Cotta Army Heavy Infantry Amount +100%
Terra Cotta Army Ranged Infantry Amount +100%
Heavy Cavalry Hitpoints +30%
Supply Vehicle Heal Bonus +25%
Bazooka Range +0.5
Betrayal Troops Stolen +2
Demoralize Directive Power +50%
Valor Directive Attack Speed Power +100
Defensive Bonuses:
Terra Cotta Hitpoint Bonus +100%
Wall & Gate Hitpoints +30%
Bastion Hitpoints +50%
Tower Damage +40%
Mortar Tower Range +1
S.A.M. Battery Damage +25%
Ambush Trap Troops Spawned +3
Wall Blessing Power +30%
Interference Directive Power +50%
Barbed Wire Directive Power +20%
Bazooka Sentry Damage +30%
Bazooka Sentry Hitpoints +50%
Special Troop Bonuses:
All Castle Generals Hitpoints +25%
Cleopatra Damage +50%
Macarthur Damage +50%
Recon Mk6 Plane Scan Radius -50%
Recon Mk6 Hitpoints +60%
Recon Mk6 Cooldown -30%
Guan Yu Damage +50%
Centaur Tank Hitpoints +60%
Supply Convoy Heal Bonus +50%
Ball Tank Movement Speed +100%
Ball Tank Hitpoints +50%
KA-25 Assault Helicopter Damage +35%
Mil Mi-25 Hitpoints +40%
AH-1 Super Cobra Damage Bonus +25%
Additional Bonuses:
Alliance Law Donation Gold Cost -50%
Temple of Tikal Resource Refund+660%
Space Needle Cooldown -4 days
All Expeditions Troop Tactic Reward Amount +1
---
Season 5 Supply Pack
You can pick up a quick start on Season 5 with this bundle for Crowns. This pack features Guan Yu, Ball Tank Troop Tactics, and more!
Season 5 Chest
During Season 5: Battle Surveillance you can find these special chests filled with chances at various season-boosted Troop Tactics. It even has the possibility to drop C-119 Hangar and Bazooka Sentry Buildings. The Chest can also drop the Legendary Artifact Yukimura Sanada's Armor! You'll be able to find this chest on the Season 5 Pass both for Free and Premium, and available through Marco.
Season 5 Special Sale
This special sale pack includes the Season 5 Chest and even more Season Boosted Troop Tactics to better prepare for the battles ahead!
Battle Surveillance Season Pass Pt1 9/24 - 10/15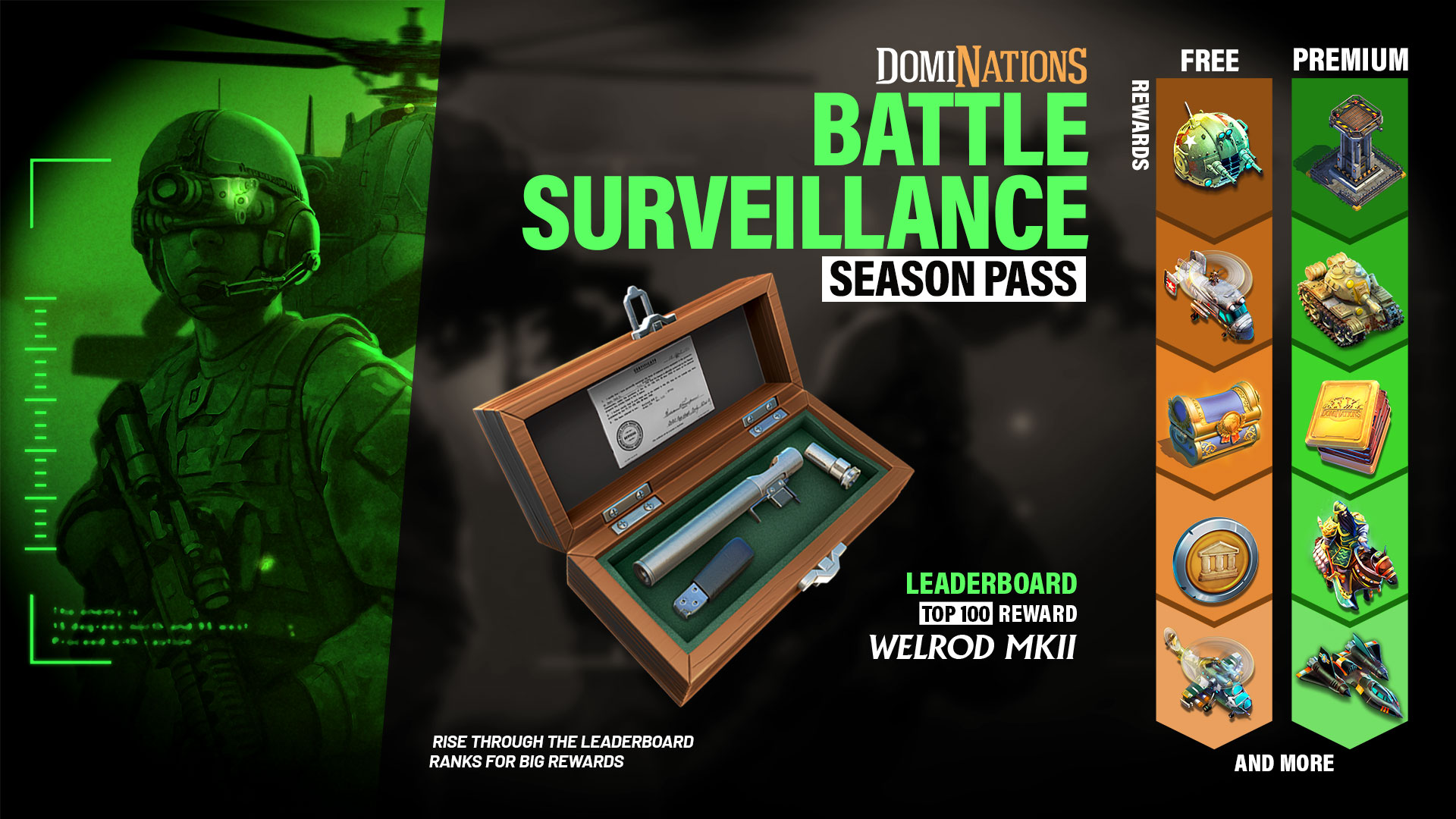 The first Season Pass of the season will get you regular access to Season Boosted Troop Tactics. You can expect the Ball Tank, Ka-25 Helicopter, and even the Mil Mi 24 Troop Tactics for Free! You'll also find 3 Legendary Tokens and a Season 5 Chest on this tier of the Season Pass. That's only a sampling of what to expect over the next few weeks as you'll also find Speed Ups and even more Troop Tactics to leverage against your foes.
If you pick up the Premium Pass you'll get even more Season 5 Chests, and 6 Legendary Tokens. This tier will also provide you with Recon Plane, Guan Yu, and Centaur Tank Troop Tactics all of which are boosted this season. You'll even find Superior Recruitments as you clear goals throughout the first part of the Season. Most notably the Premium Pass kicks off with a Bazooka Sentry for your base!
The Top 100 Leaderboard challenge will feature the Welrod MKII Legendary Artifact!