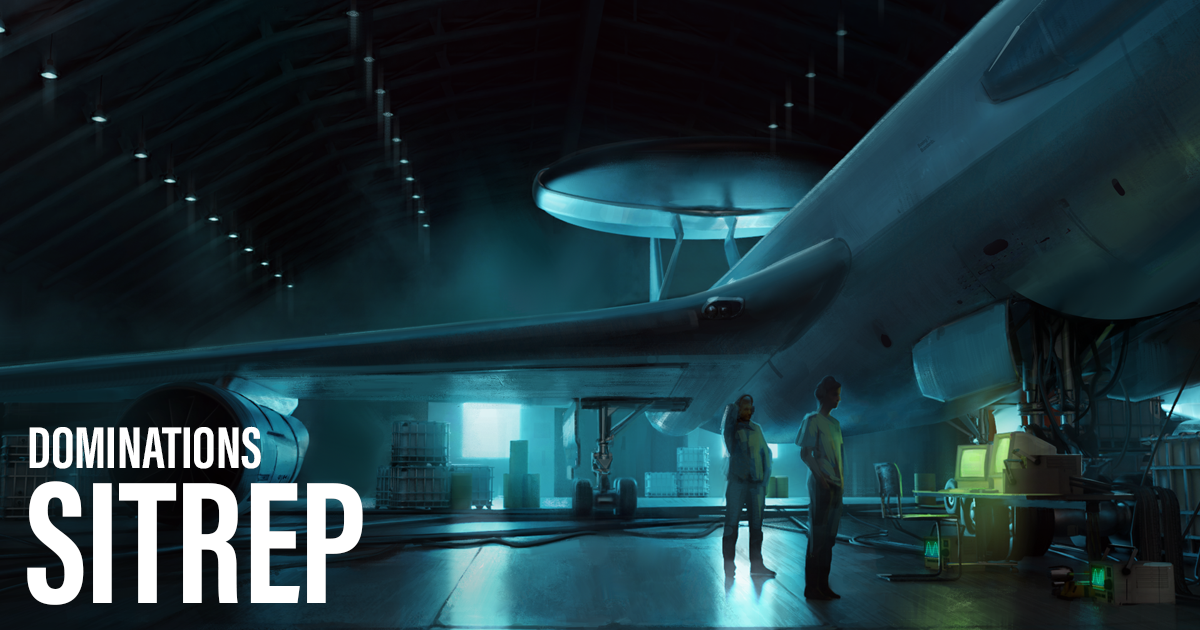 Greetings Leaders,
Welcome to our first Sitrep!
For the future of DomiNations, we wanted to be able to share the content you, as Leaders, can look forward to, all in one easy place. Our goal with Sitrep is to bring you up to speed on the state of DomiNations, including new features, updates, and opportunities for the community to get involved.
The team has been hard at work on upcoming features for Drone Age. We just released a teaser of things you can begin to think about regarding the Drone Command building. However, that doesn't mean we have been leaving other aspects of DomiNations behind. We're taking a look across the board at the economy of resources within the game and listening to player feedback that you've been sharing on the forum and social. We're also looking at Troops across the ages, your experiences with features, and how players approach combat. Thanks to your generous feedback and passion, I'm happy to share that we have a few updates in the works!
85% Cap Update
In 11.2.5, we're taking a look at how your modifiers from all sources impact your buffs and debuffs. We're going to readjust how these stats interact before the battle. There were some instances in which High-Quality Artifacts that you built toward the Defensive end could create a scenario that didn't feel great when focusing on these strategies. This gave advantages to offensive Museum Artifact builds and would sometimes create scenarios where Defensive Artifacts could lose their impact due to the level of buffs that Offense would have.
Before this update, the Debuff modifiers would be calculated as follows:
Player A: +200% Infantry Health VS. Player B: -200% Invading Infantry Health

200 + -200 (Caps at -85) = 115
Result: Player A's Infantry will have 115% Health in battle as the Defensive Modifier cap would be applied before the final calculation.
Before the currently planned update, the Debuff cap would occur before the end result, meaning that anything higher than -85% would be lost.
The following is an example of what you could expect when these changes roll out:
Before your battle begins, we calculate the total of both the Buffs and Debuffs from the Attacking Army and the Defending Army. Once the result is calculated, the 85% cap is applied. The following example shows a standard matchup in which the stats negate each other, and no changes impact the Invading Infantry.
EX:
Player A: +200% Infantry Health VS. Player B: -200% Invading Infantry Health

200 + -200= 0
Result: Player A's Infantry will receive No Change in stats, and the battle proceeds as normal.
But what if your Debuff greatly overshadows the opponent's Buff?
Player A: +100% Infantry Health VS. Player B: -200% Invading Infantry Health

100 + -200= -85
Result: Player A's Infantry will have -85% Health in battle, which is the highest a Debuff can be valued!
The cap will apply to all Battle-Related debuff modifications affecting units and buildings. To be clear, the example here is just that and is subject to change. We'll cover finalized details on the update to this modifier cap as we get closer to release.
Oil Economy Update
We also have a quick update on a resource in DomiNations. Based on feedback, we are re-evaluating the Oil Economy within DomiNations. These updates are planned to roll out in 11.2.5. We will have plenty more to share in the coming months, including a deep dive into the Drone Command Building.
Let us know what you think in the comments, and thank you again for your continued support for DomiNations!
Update
Greetings Leaders,
First, thank you all for your feedback. With such a big balance update, we wanted to be able to get it in front of the community ahead of time, and we've heard your suggestions and concerns regarding the upcoming changes.
Because of this, we have decided to hold off on implementing the 85% debuff cap for the time being. We feel that these changes are still very important to DomiNations, but we will be going over community feedback to take a look at the concerns we've heard from the community regarding the impact on more Defensive playstyles.
Thank you again for your dedication and passion for DomiNations! If you have any additional feedback or suggestions on what you would like to see, feel free to let us know in this thread.
Last edited by a moderator: