Greetings Leaders,
Things have been quite busy over the last few months! We've been hard at work implementing the next steps for introducing Drone Command, the titular building for Drone Age! In August, we gave you a sneak peek at the latest building to be implemented into DomiNations. Today we'll be taking a closer look at what that brings to your arsenal with the addition of Directives, Offensive Drones, Defensive Drones, and War Defensive Drones. Directives are the core of the Drone Command experience, and they're going to be taking center stage here today.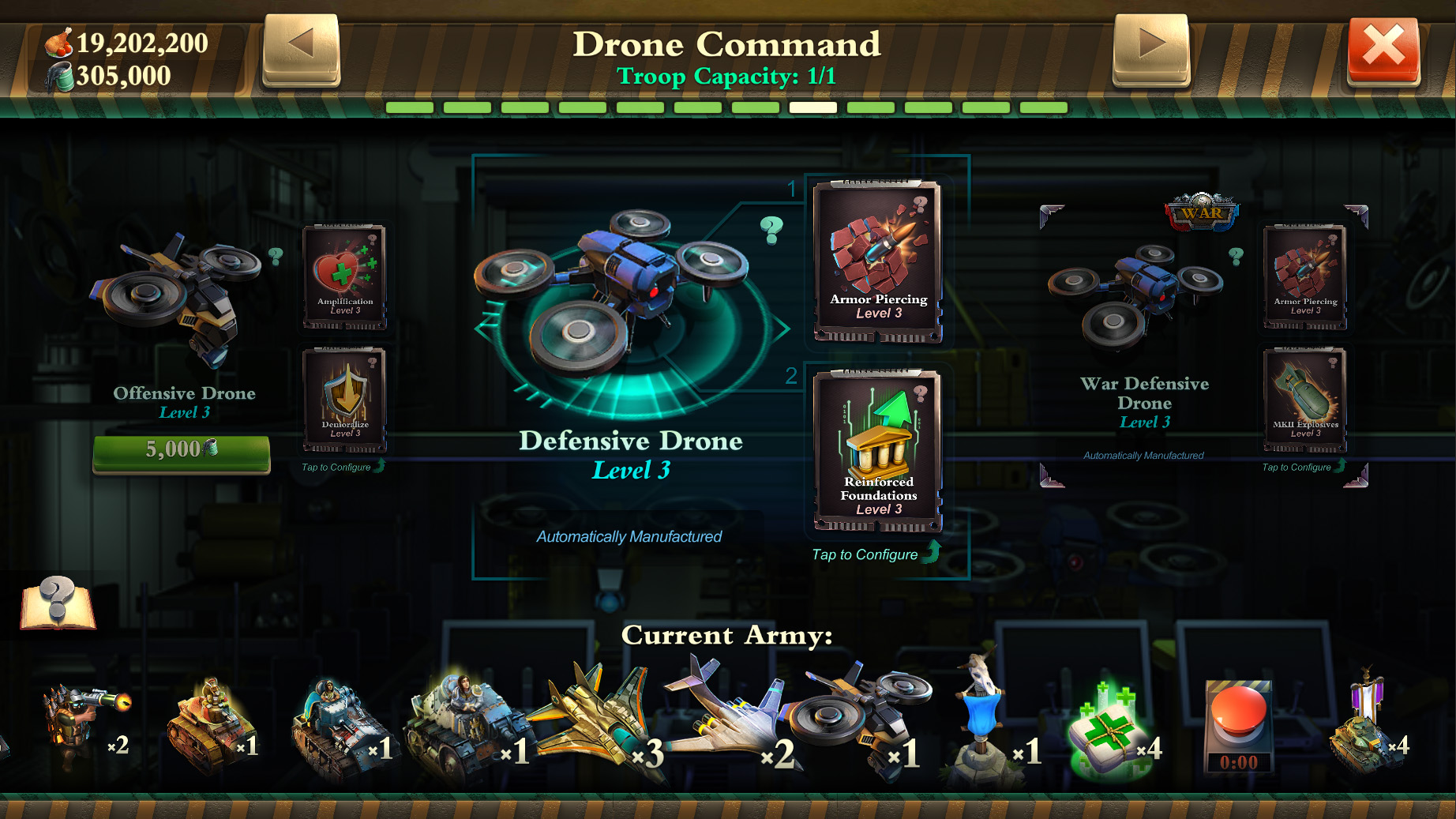 As we shared in our August update, the Drone Command building will start with One Offensive Drone and One Defensive Drone, then a separate War Defensive Drone that will be active on Defense to give you additional strategic flexibility when joining in World Wars. Each will have a core set of Directives that you can freely swap in and out before battle. When entering combat, the order in which you set your Directives will directly correlate with how the Drone will activate them. Currently, each Drone will only be allowed to program two Directives at a time.
To gain access to Directives, you'll need to research them at the Drone Command. Much like your War Academy and Tactics, you'll be able to upgrade and research your Directives via the Drone Command Building. You'll be able to research up to two Directives at a time, and each Directive currently has a maximum level of 3. Researching Directives will have a resource cost in Oil. At launch, you'll have access to 8 Defensive Directives and 4 Offensive Directives. Offensive Drones will also have access to 4 Charged Directives, stronger consumable Directives, that have a limited amount of uses.
The following are some of the first Directives that will be available. These Directives may change at the release of Drone Command:
Defensive Directives
Reinforced Foundations

MKII Explosives

Allied Mortar defensive structures gain increased damage

Mobilize

Defensive Units spawn from buildings faster

Electrified Walls/Barbed Wire

Ground Attackers take damage when attacking walls

Based on a percentage of damage dealt

Interference

Decreases damage of invading air units

This includes Paratroopers

Surveillance

Commandos can be targeted by the Tower defensive structure

Counter-Intelligence

Defensive buildings cannot be Sabotaged for a time

This will remove existing Sabotages
Blitzkrieg's sabotage effect will also be removed, and the building cannot be affected by Blitzkrieg

Armor Piercing

Anti-Tank Guns gain increased damage
Offensive Directives
Amplification

All Healing is increased

This only applies to allied units

Agility

Friendly Units gain increased attack speed and movement speed

Inspiration

Factory troops gain increased damage and increased movement speed

This only applies to allied units

Demoralize

Spawned Defensive units have less health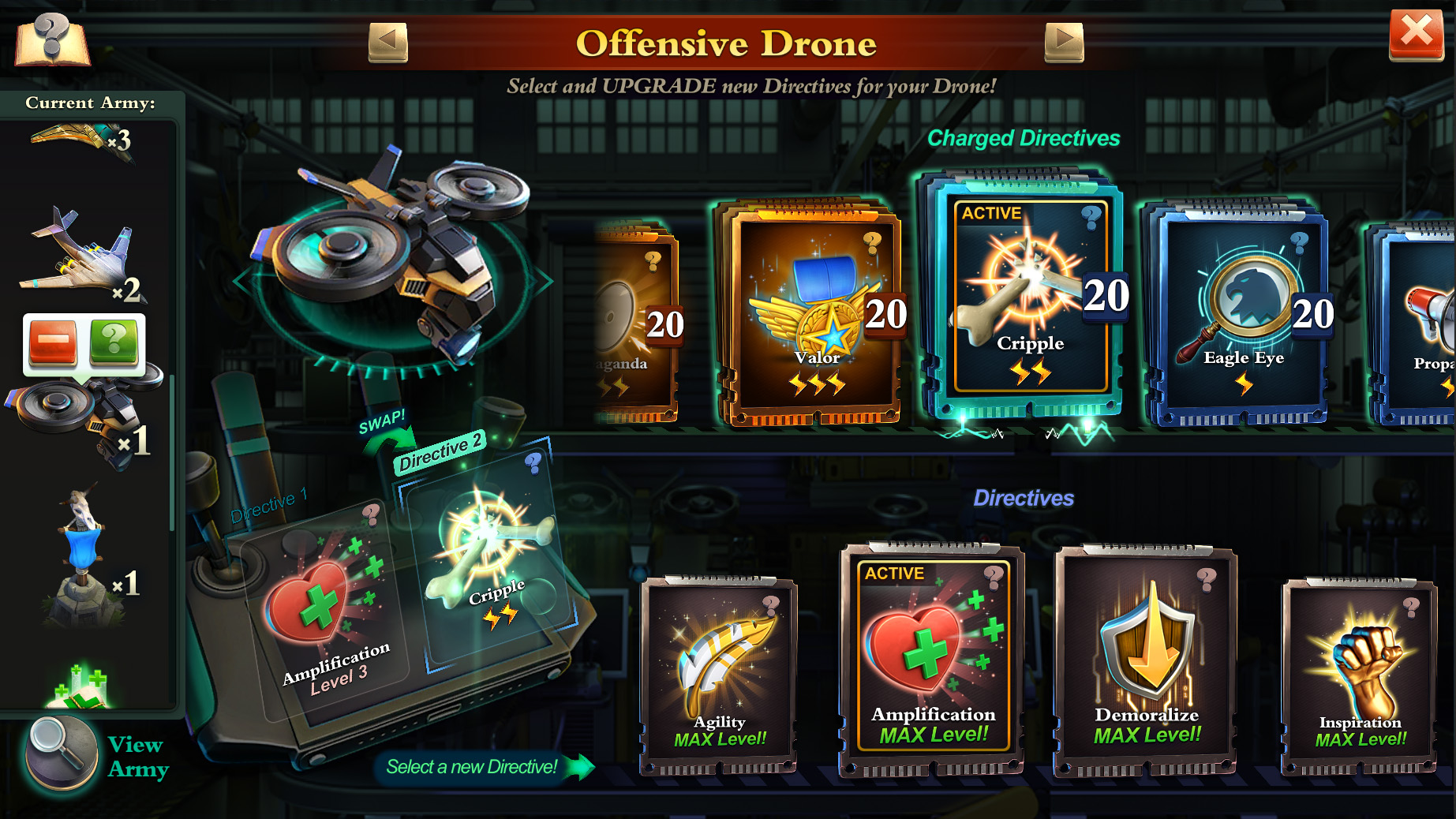 Charged Directives
Charged Directives come in three tiers, and each increased tier will have the effects of the previous tier and then some. These still function the same in battle as your Offensive Directives. Should you expend all of your Charged Directive inventory, it will return back to one of your regular Offensive Directives. These Charges will not be consumed unless you utilize the Offensive Drone, just like your Troop Tactics. You obtain Charged Directives in the same ways that you'd receive Troop Tactics, either War Chests, Marco Polo, or Event Passes, etc.
Cripple

(Uncommon - 1 Charges) Defending Heavy Tanks and Heavy Cavalry have 25% less damage
(Rare - 2 Charges) Defending Heavy Tanks and Heavy Cavalry have 15% less attack speed
(Legendary - 3 Charge) Defending Heavy Tanks and Heavy Cavalry have -1 Range

Eagle Eye

(Uncommon - 1 Charge ) Reveals Traps in the area
(Rare - 1 Charge) Disables Traps during Directive effect
(Legendary - 3 Charges ) Additional Charges

Valor

(Uncommon - 2 Charges) Allied Generals have 15% more damage
(Rare - 3 Charges) Allied Generals have 10% more attack speed
(Legendary - 3 Charges) Allied Generals have +1 Range

Propaganda

(Uncommon - 2 Charges) Randomly casts Betrayal every 5 seconds in the area (This does not use the current level of your Betrayal tactic)

The Betrayal cast by Propaganda will always target a random enemy unit and cast the effect centered on them.
If no enemy units are in the Area of Operation, Betrayal will still cast at the center of the affected area, but essentially with no effect.

(Rare - 2 Charges) Units affected by Betrayal gain increased damage
(Legendary - 3 Charges) +1 Traitors per cast
Between battles, you can swap out your Charged Directive, but you don't need to use all charges in order to swap it out. When it runs out of charges, it will be replaced with the last Offensive Directive used in that particular slot.
There are plenty of possibilities to theorize about how Directives and Drones will work alongside current Army Compositions. Drone Command offers a powerful tool that has the potential to sway the battlefield in tremendous ways!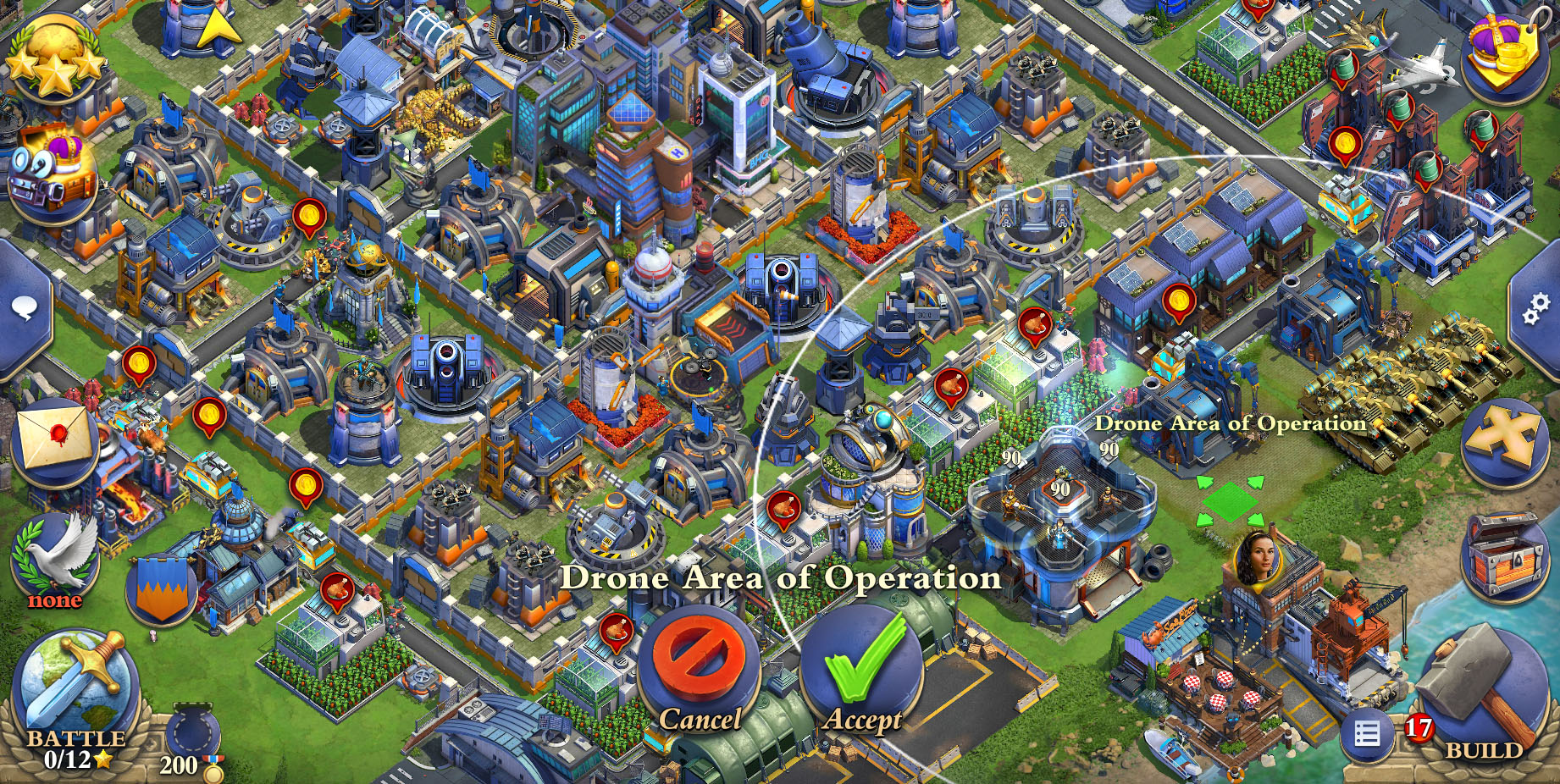 We want to ensure that Drone Command has a successful launch, and as such, we'll be offering the opportunity for some of you to participate in our Early Access Build. In this Early Access, you'll have the ability to explore the entirety of Drone Command in its current form! During this time, keep in mind that it is in Early Access, which does mean there may be some instability while playing as this will be a Beta Environment. Content included in the Early Access doesn't necessarily mean it will be included in the final product. If you'd like the opportunity for a first look at how the tide of war changes with Drone Command, you can Sign up today!
Slots are limited for the Early Access build, and you'll want to be swift. We'll be randomly selecting players in waves once the sign-ups close. Sign-ups are open for both Android and iOS, but keep in mind that they will both require your Google or Apple email in order to gain access.
Check out this thread for more info on how to Sign-Up!
Last edited: