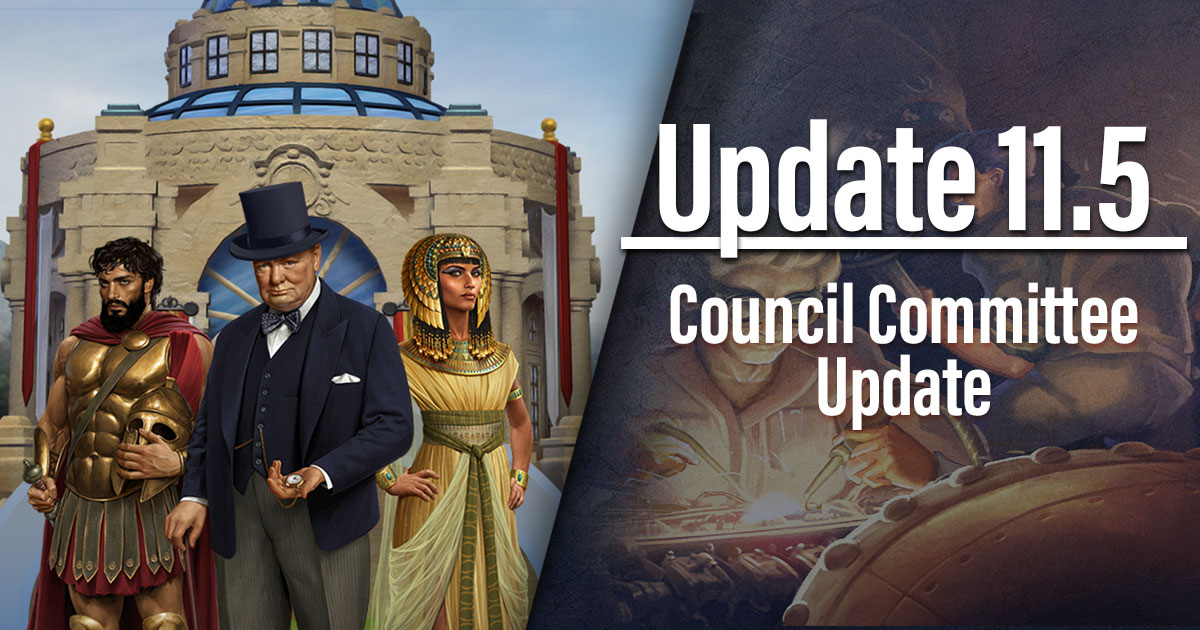 Greetings Leaders,
A brand new year kicks off and it's time for growth with your Alliances, and a fresh new perspective on how you'll interact with the Council Chamber. Update 11.5 is on the way soon, featuring both of these updates alongside some additional fixes to help maintain gameplay stability.
Council Chambers and Committees
In update 11.5, we'll be introducing the next step of the Councilor Chambers. The Council Chambers will be upgradeable to the Digital Age offering an additional seat in both Primary and War Council Chambers! This will help to fill out multiple Committees, a new feature being added to the Council experience that will give additional bonuses to your Army and Base. You'll also want to see if you can complete the entire set of Councilors available as the more you collect the more opportunities to pull Legendary Recruitment Packs, Crown Rewards, and the new Heroic and Mythical Recruitment Packs to unlock!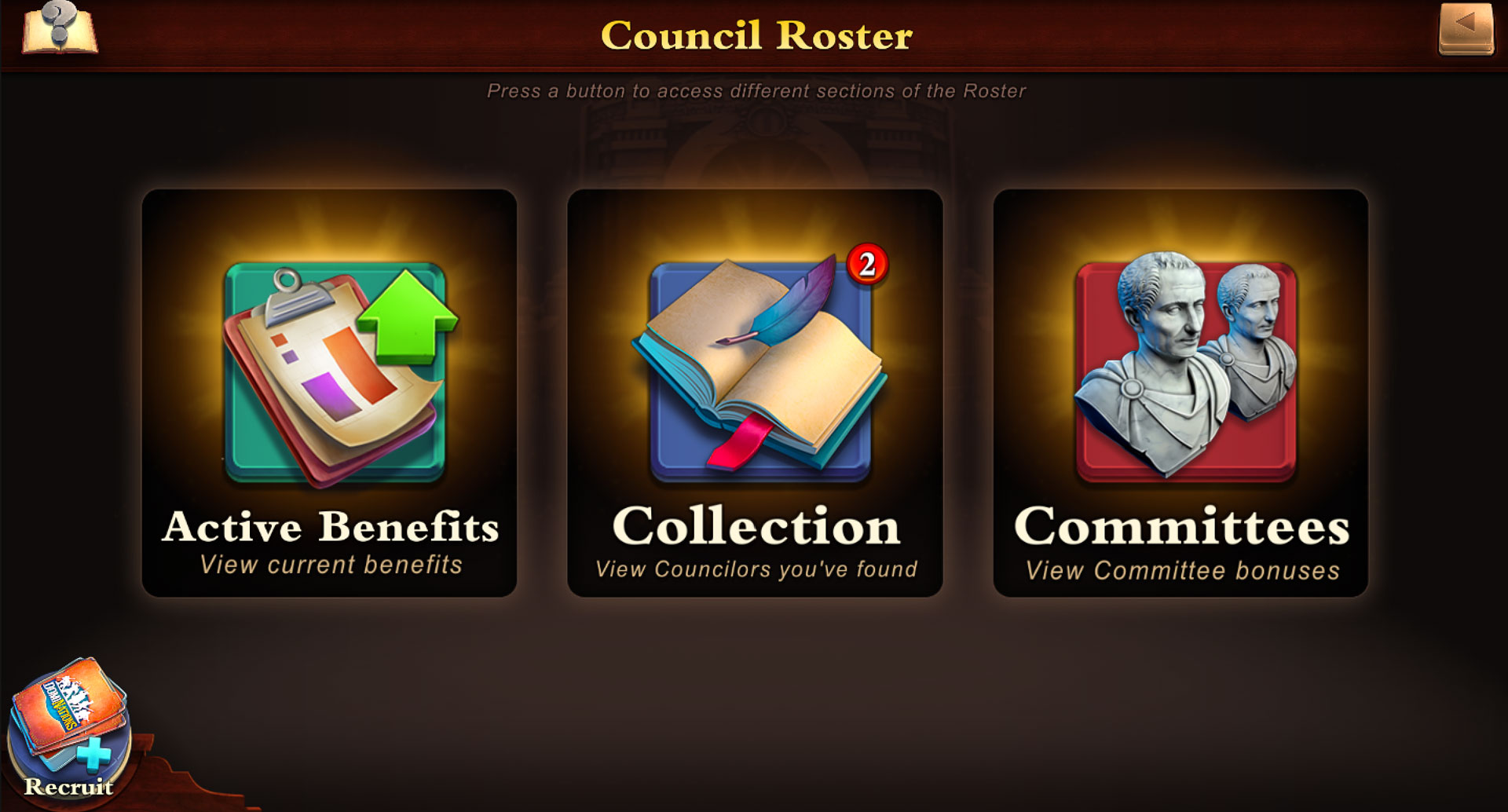 Collection Milestone Rewards
With the update to Council Chambers you'll be able to see the entire collection of available Councilors and check them off your list to build toward tiers of rewards. The current rewards include Crowns and additional Recruitment Packs, including Legendary Recruitment packs and the new Heroic and Mythical Recruitment packs to help fill out your collection! Milestone rewards will be the only way to acquire Heroic and Mythical Recruitment Packs! The Heroic pack features only Rare and Above Councilors, and the Mythical Packs include Epic and Legendary which will surely help round out your full collection.
The more Councilors you collect the better your rewards. Your Collection Milestones will be filled retroactively, so if you've already fused a weaker version of a Councilor in favor for a higher tier opportunity that old Councilor will still build toward your collection progress. Duplicate Councilors will not add to your Collection Milestone progress.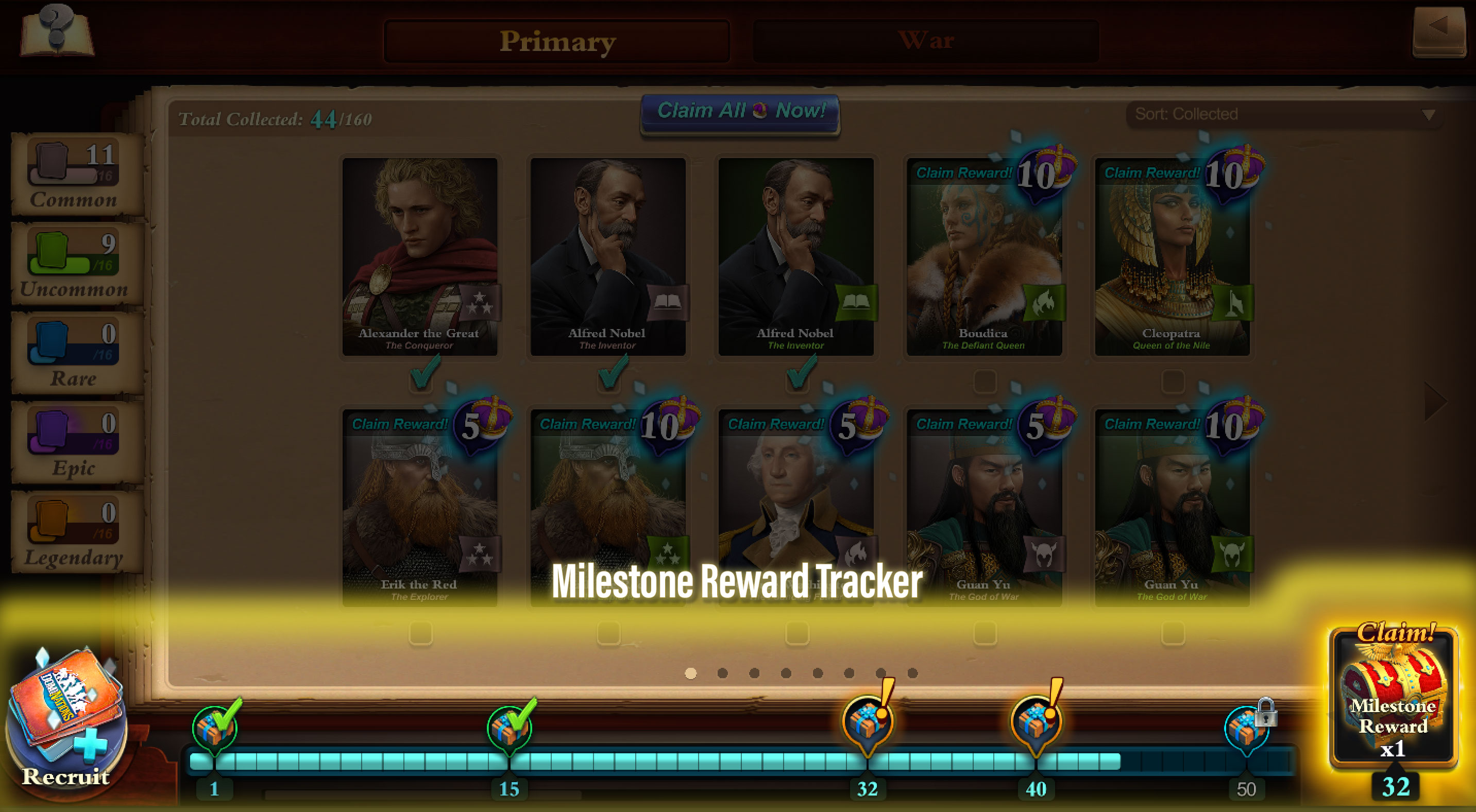 Committees
Going forward, in addition to your normal Councilor benefits, you'll also gain additional benefits from Committees. These are benefits that are automatically added to your Councilor benefits based on the combination of Councilors you have seated in your Primary and War Chambers. Each of these Committee seats requires Councilors with specific Duty titles to be added to your Council Chamber in order to gain the Duty Benefits associated with the Committee. These Duty titles range from Warrior, Leader, Diplomat, and Royalty, to name a few. You will only receive these Duty benefits in a Committee if the Head Councilor of the Committee is accompanied by another Councilor that fulfills at least one of the Duty Requirements.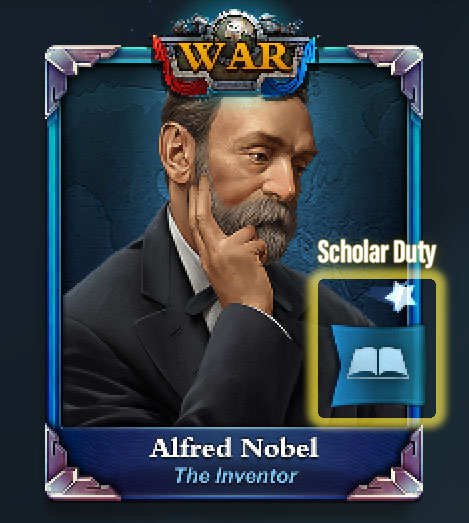 (An example of a Rare Alfred Nobel Councilor, the bottom right shows the Duty that Alfred Nobel fulfills. In this case, it is Scholar)
​
A Committee can have up to two Committee Bonuses to unlock, each requiring a combination of Duties to fulfill. If your Council fulfills all the Duty Requirements of a Committee, you'll not only receive the Duty Benefits but an additional Capstone Bonus. In order to receive benefits from a Committee, you'll need at least one of the Duty Requirements filled.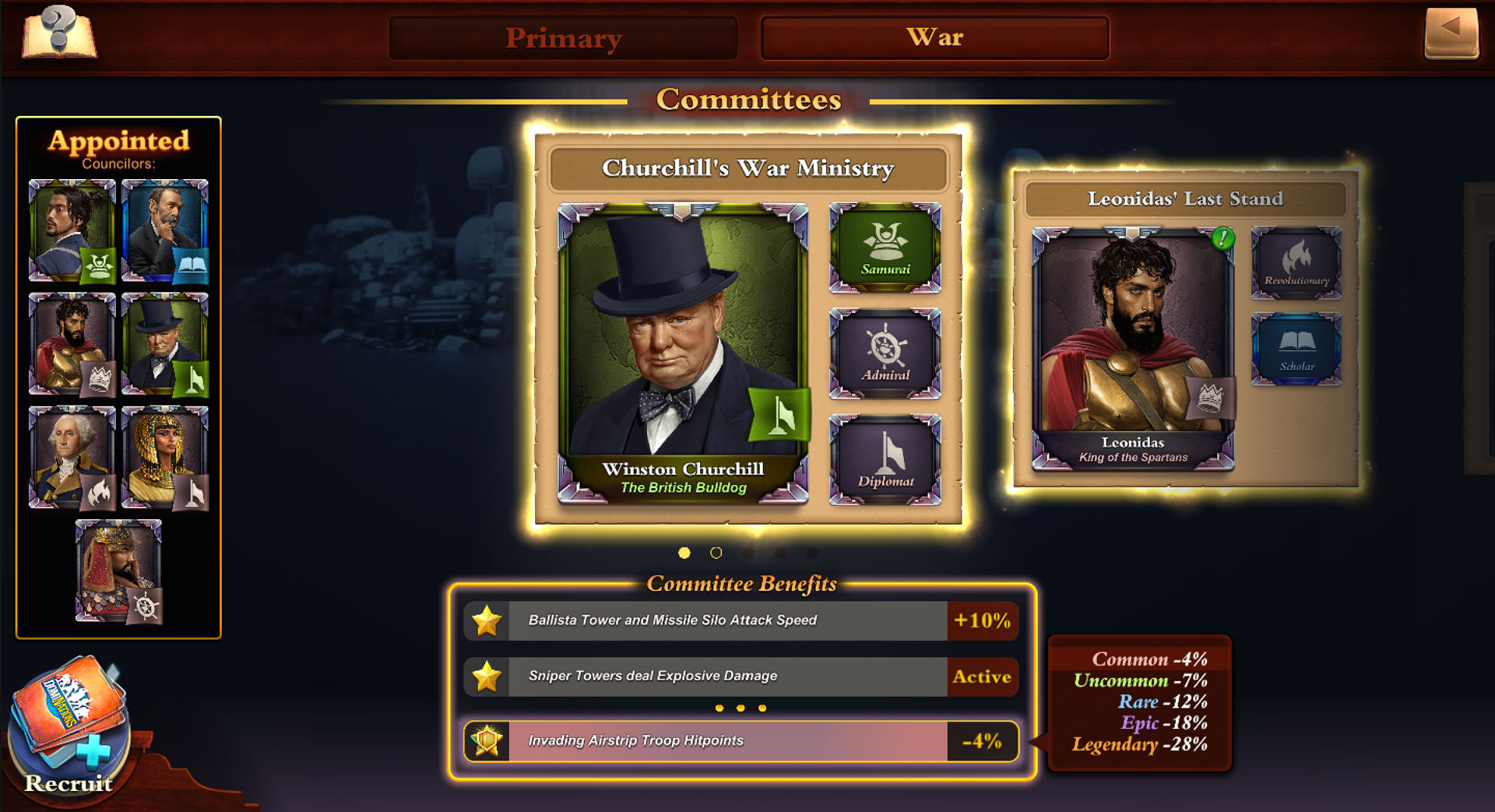 For example, the Committee Churchill's War Ministry features Winston Churchill as the Head Councilor required to be assigned to your Primary Council Chamber for this Committee's benefits to apply. That Committee requires Councilors that fall under the Samurai, Admiral, and Diplomat Duty Categories. In the image here, we've filled the Primary Councilor Chamber with Miyamoto Musashi who has the Samurai Duty Title, Admiral Yi whom of course has the Admiral Duty Title, and Cleopatra with the Diplomat Duty Title. Because all of the Duty Requirements are fulfilled, this Council Chamber will receive the Capstone Benefit of "Invading Airstrip Troop Hitpoints -4%" in addition to the "Sniper Towers deal Explosive Damage" and "Ballista Tower and Missile Silo Attack Speed" benefits. However, if we were missing Cleopatra in this example we wouldn't get the Capstone Benefit. But we could if we were to later appoint a Councilor with the Diplomat Duty Title at another time.
Duty and Capstone Bonuses
Duty Bonuses are additional benefits gained based on the composition of your Council Chamber. To determine which Duty Bonus you will receive is dependent on which Committee you fulfill the requirements for. These Duty Bonuses will only apply to your Council Benefits when you have a Council Seat filled with a required Head Councilor of that Committee and at least one Duty Requirement fulfilled after that. Completing all Duty Requirements in a Committee will unlock the Capstone Bonus. Duty Bonuses do not have a change in strength even with higher quality Councilors, only the Capstone Bonus increases in strength.
A Committee Capstone Bonus strength is based on the Lowest Quality Councilor fulfilling the Duty Roles in the Committee. In the Guan Yu's Glory example, if your Guan Yu is Epic, your Warrior Councilor is common, and your Revolutionary and Diplomat Councilors are Epic, your Capstone Bonus will be Common. In another instance if a Committee calls for Warrior and you have multiple Councilors that fulfill that Duty Requirement in your Chamber, the Committee will utilize the highest tier to fulfill that requirement. You'll be able to note the Quality/Strength of the bonus based on the text color of that bonus.
To prepare for this update you'll want to check out our Lunar New Year Event Pass available 1/19 that features up to 27 Legendary Recruitment Packs! This will help you to get a head start on filling out your collection milestones when 11.5 releases.
Additional Alliance Levels
Update 11.5 will give five more levels for your Alliances to grow into.
Level 21 - Your War Base's Buildings and Traps have 5% more HP and damage (up to 20%)
Level 22 - Alliance Gate Cap increased by 3
Level 23 - +1 Defender from all spawning buildings in first wave during World Wars. (Will not spawn additional unit if at Defender Unit cap.)
Level 24 - All healing increased by 10% in War Battles
Level 25 - Donated Troops are automatically upgraded to Space Age (affects units below Space Age only)
Glory Loss/Gain Threshold
We've implemented an update to Glory for instances where a High Discrepancy of strength between Alliances occurs. Before this threshold in these cases if the Losing Alliance was the weaker of the two they would lose 0 Glory. However, if the weaker Alliance somehow won they could gain additional Glory. On the flip side if the Winning Alliance was the stronger Alliance they would gain 0 Glory, but could still lose Glory if they somehow lost to the weaker Alliance.
For 11.5, the minimum gain an Alliance will receive is +15 and the minimum loss will be -15. In the case of a draw, both Alliances will gain at least +15 Glory.
In a server update we implemented earlier this month, there was a change on the backend which caused this to work incorrectly for a brief time. This error would give losing Alliances +15 Glory.
We'll continue to monitor the values for this Threshold in the meantime and these may or may not change based on how this update impacts World War Leaderboards.
Additional Notes
Fixed an issue where players would run into a soft reset when viewing ads that give rewards.
Reworked Event Supply Drops so players wouldn't miss out on rewards

In this update, Event Supply Drops will automatically be added to your inventory in cases where the Drops can't find an open location available on your map

Fixed an issue where some players were unable to claim Daily Museum Fragments
Fixed an issue found where some players were unable to place their first house when starting a new game
Removed the ability to refund resources spent on some research upgrades

Additional fix to follow in a future update to cover the other areas of research that have this bug
Be sure to keep an eye out here for when update 11.5 officially begins rolling out or on our socials!