Joined

Jun 8, 2020
Messages

186
Greeting Leaders!
These past five years have taken Dominations all across the ages, and have allowed us to expand even further since release as we continue to explore time. Many of you have been a part of this journey, as we introduced the Industrial Age, blazed a path to the Global Age and took to the stars in the Space Age. Just last year, we released our fourteenth Age, Digital, but we're not stopping there.
We're incredibly excited to enter the 15th age in Dominations with you, The Information Age! We're happy you can't get enough of the details so today we'd like to showcase the wonderful new additions you'll find with this age.
What's New In The Information Age?
As with the new addition of any age, there will be plenty of buildings and troops to upgrade in the Information Age. We wanted to share just
some
of the new art you'll see with this age: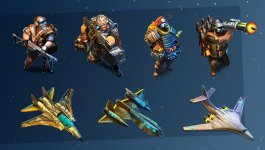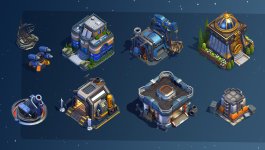 Our art team has created some fantastic new units, including three new Information Age Mercenaries!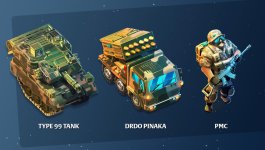 GCI Radar
The GCI Radar is a new anti-air trap that summons an Interceptor Airplane to fire an air-to-air missile at an enemy aircraft unit when it enters within the detection radius of this trap. We asked our design team to share their thoughts on this new unit:
What is a GCI Radar and why did we choose to include it in DomiNations?
Ground Controlled Interception (GCI) is an air defense tactic that has been used by militaries around the World since World War I. It involves using radar systems to communicate with aircraft, warning and guiding them to incoming aerial threats. Due to the offensive power spike provided by the player's second Airstrip building in the Atomic Age, we wanted to explore how Ground Controlled Interception could be used in DomiNations to help defend against Air units in the late game.​
What makes the GCI Radar unique?
Unlike other anti-air buildings in DomiNations, the GCI Radar summons an Interceptor Aircraft to defend your base against enemy air units. This is the first time that players can use airplane units to help defend their base in combat.​
What is the strategy to using the GCI Radar?
Players should consider using the GCI Radar to protect key defensive buildings like the Missile Silo from being destroyed by air units such as the Bomber.​
What did you enjoy most about designing the GCI Radar?
It was interesting to brainstorm new possibilities for traps in DomiNations and to explore mechanics that would allow players to use airplane units on defense.​
Library Techs
Since its introduction in the Classical Age, the Library has been a place to research new Technologies to improve troops, defense, and economy. Four Library Techs are being introduced with the Information Age:
Aerial Interception is centered around the new GCI Radar
Counter Offensive focuses on the Machine Gun
Orders of Council is centered around Parliament and Law Research
Assault Battalion increases various attacking units
Details of each Technology's chapters will be listed in the upcoming Update Notes.
We asked our design team a few questions about their process when creating these new techs:
Were there any specific problems you were trying to solve when designing these?
Each Library Tech tackles different problems. Aerial Interception gives the GCI Radar the ability to become immune to the Satellites tactic, preventing attacking players from disabling this trap without having their troops interact with it. Both Assault Battalion and Aerial Interception provide buffs to underused Factory and Airstrip troops while also giving meaningful buffs to defensive players. Orders of Council provides buffs to the Parliament building that incentivise the player to engage with our new Laws system.​
How will these new techs affect gameplay?
With the addition of the GCI Radar trap, players will need to think more carefully about their tactical use of air units during combat.​
Which one are you most excited for?
I am excited about all of our new Library Techs, but the Aerial Interception tech stands out to me in particular, because it provides powerful buffs to a brand new feature, the GCI Radar.​
New Wonders
We've been teasing some of the new Wonders that are being introduced with the Information Age, but these beautiful new additions really deserved a thread of their own. You can take a look at their final reveals
here
.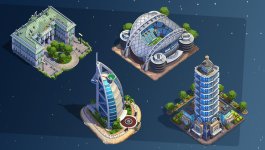 We can't get enough of all the stunning new content coming out in the Information Age. What are you looking forward to?
Last edited: