Joined

Dec 16, 2014
Messages

30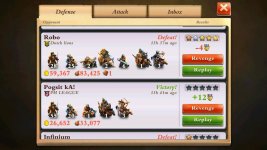 I am in Classic age trying to save my ring off to get upgrades in the areas of 300-500k and I am being pantsed by gunpowder aged ppl. I attack and it takes upto 20 mins to rebuild my army but within 15 mins I often find I have been hit for more than I make in half a day because the first person doesnt get a victory. I have been attacked successively 3 or more times at one point. This hurts. I only get 20k in my attacks at best of both resources and I cant keep up.
Can there be a handicap for those who attack from higher levels is my request if it is valid?
Can anyone else relate or am I just complaining?